Higher Education Business Models Under Stress
Achieving Graceful Transitions in the Academy
By Melody Rose and Larry D. Large
PRINT EDITION
$76.00
(Member Price $54.00)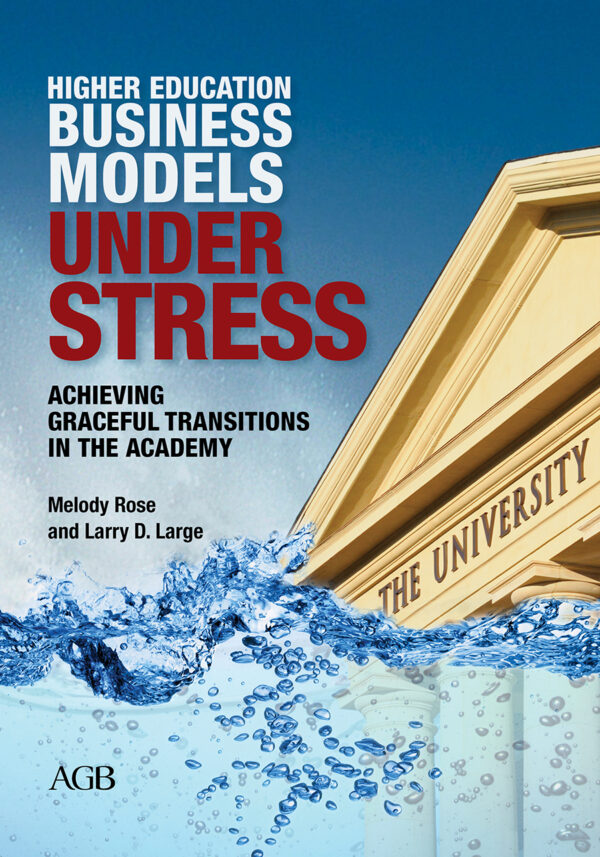 PRINT EDITION
$76.00
(Member Price $54.00)
About:
The business model of many U.S. higher education institutions is under serious stress from changing demographics, heightened consumer demands, flagging public confidence, and new competitors for educational credentials. Many institutions are struggling to sustain the suite of amenities and support services that students need or expect given the unfavorable enrollment trends, declining public subsidies, and flat net tuition revenues. Moreover, the 30-year pattern of using increasing rates of tuition discounting to achieve enrollment goals and broaden access for lower-income students is at its limit.
In Higher Education Business Models Under Stress authors Melody Rose and Larry D. Large assert that under these conditions the business model may no longer be sustainable. Higher education leaders must instead reimagine the business model in ways that will lower costs, restore financial viability, and at the same time expand access for first-generation and low-income students (and ensure their educational success). Such changes might span a range of possible business transformations, from mergers to targeted partnerships with other colleges as well as municipalities, local businesses, and national corporations or service providers. Institutions, whether public or private, must work together, they argue, to take greater advantage of the benefits of scale by sharing administrative services, curricula, faculty, and technology.
Board members, as fiduciaries and thought partners, must monitor the institution's key financial ratios and performance metrics, which are essential for making the strategic decisions required to chart the best direction for the future. One alternative for some of the most financially challenged institutions could be closure. And yet, if the board makes a closure decision too late, it could make an already desperate situation even worse. A more graceful closure process requires embracing the values of a functional commitment to protect the institutional mission and mitigate against risk but also an attitudinal commitment to understand how the decision will impact students, faculty, and staff and a focus on continuing transparency, communication, and support for those most affected.
Graceful closures have four distinct phases, which are detailed in chapter 3 using examples, questions for board members, checklists for administrators, and a discussion of potential pitfalls. The closure of Marylhurst University in 2018 (overseen by Melody Rose) is described in chapter 4 as an example of a graceful closure along with documentation of some of the key moments in the four phases of that multiyear process.
Despite all the challenges, the future holds real opportunities for institutions if their boards have the courage and vision to pivot to meet the moment. A modified business model, especially one that embraces economies of scale, can reduce expenses and lower tuitions. Even college and university closures, if handled with grace, can ultimately bring positive benefits. A graceful closure allows for the reimagination of a former campus in service to its mission through different means. By conducting a graceful transition, institutions and their governing boards can help improve the affordability of a postsecondary education as well as make the future for those involved brighter, more equitable, and more secure.
Contents
Foreword by Henry Stoever
Introduction
Chapter 1: Disruption and Danger Zones: A National View through Six Lenses
Chapter 2: Stress Testing the Business Model: Indicators and Alternative Models for Effective Strategic Decisions
Chapter 3: Closing with Grace: Definitions and Processes
Chapter 4: Closing with Grace: The Marylhurst Experience
Chapter 5: Achieving Graceful Transitions
Title Information 
A bulk discount is available for orders of 10 or more copies
Publication Year: 2021
ISBN: 978-1-951635-12-1
140 pages
Learn more:
About the Author:
Melody Rose, PhD, is the chancellor of the Nevada System of Higher Education and is a passionate advocate for improving equitable educational access and outcomes, identifying cutting-edge innovations, and leading data-driven, student-focused change. She has been a campus president, and previously served as the chancellor of the Oregon University System after having served in numerous leadership roles at Portland State University (PSU) including special assistant to the president, vice provost and dean, and as an academic department chair.
Larry D. Large, PhD, the founder and principal of L.D. Large Consulting, LLC. , is a retired university president and a professional campus administrator with more than four decades of experience. He is president emeritus of Oglethorpe University in Atlanta and also served two years as the interim president of Sierra Nevada College and was the interim president of Willamette University in 2010. Large previously served as the vice president of the University of Oregon, the vice-chancellor of the Oregon University System, the executive vice president of Reed College, and the vice president at Willamette University for 10 years. His consulting practice specializes in strategic and financial planning for public and private colleges and universities.