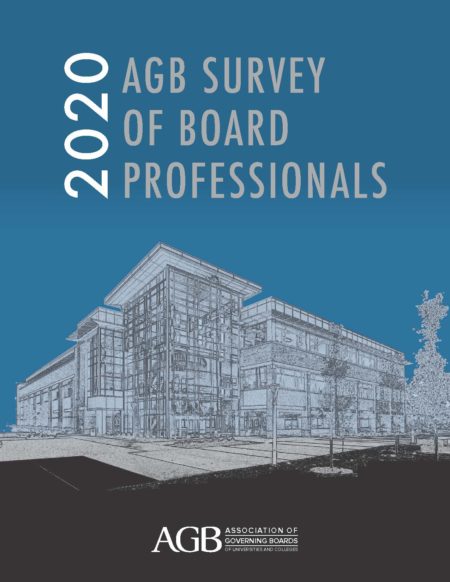 Board professionals play crucial planning, coordination, and support roles in the day-to-day life of college, university, and foundation governing boards. Their work is often conducted behind the scenes but is critical to board success and performance. The coronavirus-necessitated switch by higher education to new modes of operation, often at high speed, has created new challenges for these liaisons between boards and campus leaders.
Since 1991, AGB has surveyed this group to capture the changing nature of their roles over time. The 2020 Survey of Board Professionals, a follow-up to a study conducted in 2015, continued to investigate this topic, including their reporting relationships, compensation, years of experience, and more. Study results indicate that board professionals today are being asked to do even more than in the past five years as higher education institutions and their related foundations face increasing challenges.
The downloadable full report provides a detailed profile of today's board professional in a particularly tumultuous time for higher education.
AGB would like to extend its appreciation to the AGB Council of Board Professionals and its ambassador Lynnette Heard, the AGB Board Professional Leadership Group, and all of the AGB board professionals who participated in the survey.
Publication Year: 2021
Share on LinkedIn