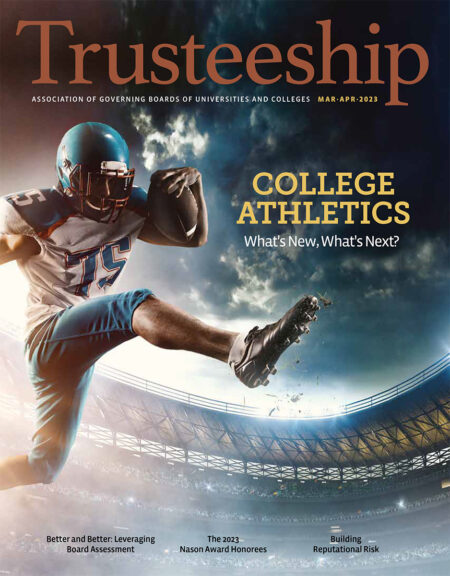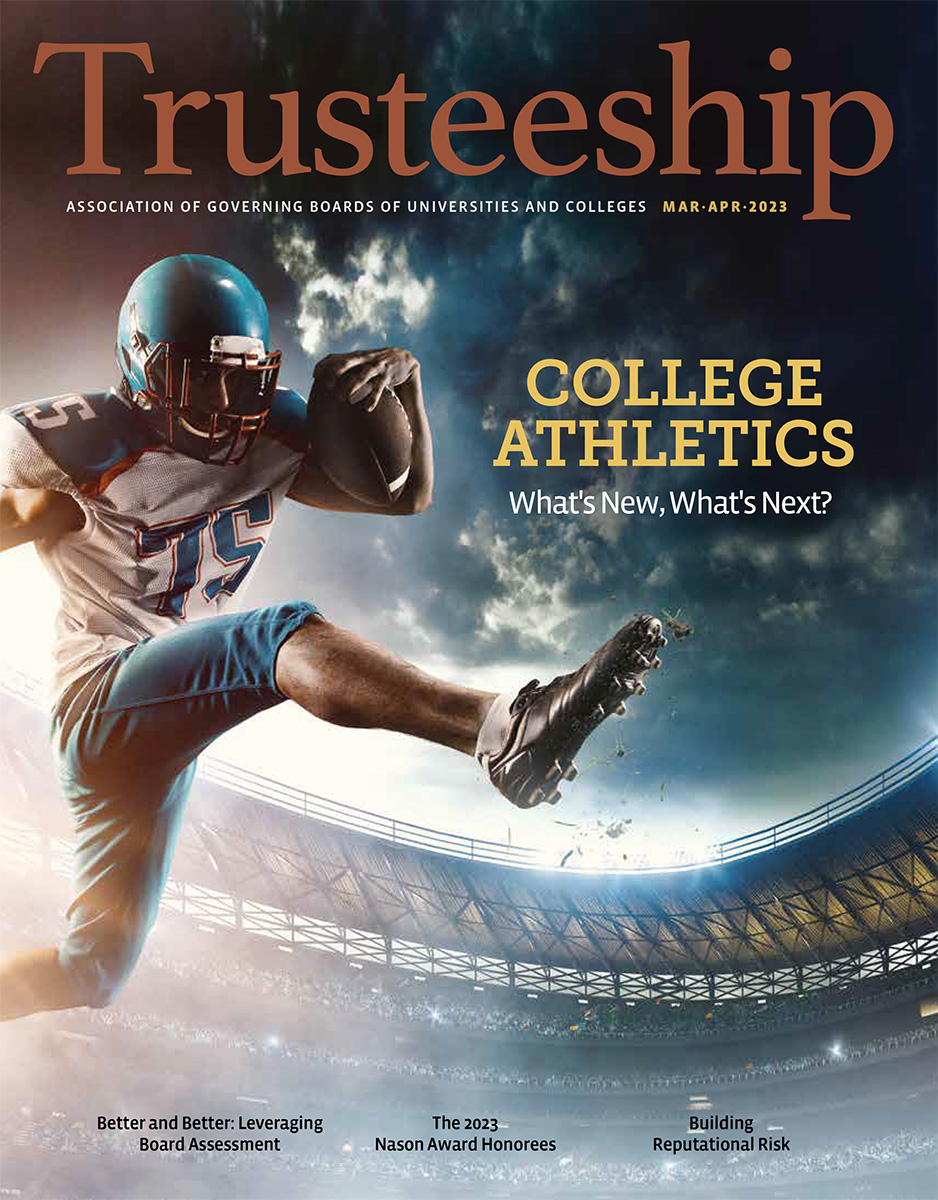 Takeaways
---
Be more deliberate and action focused on intercollegiate athletics.
Work toward establishing NCAA protocols for athlete deaths or heatstroke, as well as enforceable guiding principles in the event of a racist incident or racist speech at a sporting event.
Be strategic about Name, Image, and Likeness for student athletes and collectives that could be perceived as part of the institution. Support athletes to help them navigate risks and prepare them for the additional responsibilities and good financial management.
Reimagine athlete education by breaking the status quo—rethink how to better serve athletes in many different sports; reimagine what a college
scholarship means and what academic credit looks like.
College athletics has been described as "the front porch of the university" because it is the most visible part of American higher education for many onlookers. It's a cozy description of the juggernaut that is intercollegiate athletics, but the world of college sports is changing so dramatically in myriad and unprecedented ways that divining the impact on the future of higher education presents a tremendous challenge.
The 2022–2023 academic year began with the "bombshell news" that the University of California Los Angeles (UCLA) and the University of Southern California (USC) would be joining the Big Ten Conference, the oldest Division I collegiate athletic conference in the United States, founded in 1896 as the Intercollegiate Conference of Faculty Representatives. The move created a unique and unexpected breadth of the Big Ten that will, by 2024, reach across four time zones—from Rutgers University in New Jersey to the two new California schools.
A History of Constant Change
According to Victoria Jackson, PhD, a sports historian at Arizona State University who researches the intersection of sport and society, who was also a cross country and track and field athlete for the University of North Carolina at Chapel Hill and Arizona State University and who is a professional runner endorsed by Nike, the history of college sports has always been like this. "It's a history of constant change," she said in a recent podcast with Future U's Jeff Selingo and Michael Horn. "And that's in part a reflection of the weirdness of this system," she adds. "We're the only place in the world that moved away from soccer. American football was invented on college campuses out of that game…and so the history of American college sports is a history of college football. And then we clung to amateurism when the rest of the world moved away from it."
Jackson notes that college football's history has involved a 40-year process of institutions trying to reclaim football money and power from the NCAA [the governing body of collegiate athletics]. Efforts have ranged from busting the NCAA TV monopoly in 1984 to now trying to run college football like a 21st-century sports business by hiring NFL conference commissioners and athletic directors, making media rights deals, and launching the college football playoffs in 2014.
Outside Forces Push Colleges for Change
Yet even through all of these developments, Jackson contends that university leaders have clung to "these old ideas of what it means to be a college athlete—that a football athlete deserves what all other students at a university deserve, and that a priceless college scholarship is a fair trade-off for this massive growing economic system." But this view has been increasingly questioned as revenues have ballooned, because Jackson notes, "they haven't brought along football athletes for the ride." As a result, outside forces since 2014 have been pushing universities to do better and treat college football athletes similarly to how professional athletes are treated around the world.
The big change since 2014, according to Jackson, is that public opinion has shifted. "People understand that football athletes deserve a better deal," she says. For example, California passed the Fair Pay to Play Act. This statute allows collegiate athletes to acquire endorsements and sponsorships while still maintaining athletic eligibility. Other states are considering similar legislation. The move by states to pass laws that apply different rules from those of other states has weakened oversight by the NCAA and the concept of amateurism, and she adds, the move "makes this moment distinctive from the past."
Impact of the Big Ten Switch
Adding to the chaos is the switch to the Big Ten by UCLA and USC. They made the change in part to access the Los Angeles television market. But that is not the only reason, says Matt Brown, who writes Extra Points, a newsletter that covers all the offfield issues that shape college sports. "LA is a gigantic center for not just college football fans generally, but a lot of Big Ten graduates also end up in Southern California," says Brown. "It's an important place for athlete recruitment, primarily high school football, but also volleyball, basketball, softball, and a lot of other sports that produce four- and five-star athletes in Los Angeles and the surrounding areas." He adds, "it's not just a complete television cash grab here. The Big Ten schools might not all be Midwestern anymore, but they're all large, research-focused institutions that are generally recruiting similar kinds of students. That mostly fits the profile of USC and UCLA."
This realignment, Jackson says, is "going to have a pretty wild effect on athletes who play other sports—and by that, I mean all sports but football." The greatest impact of this move for UCLA and USC students will be among the Olympic sport athletes and those on volleyball, softball, baseball, and hockey teams. "That doesn't mean just distance travel. That means time zones. That means red eyes. That means extra travel days added on and that means less sleep. And what we know about less sleep for college athletes is that [it can lead to] a mental health crisis—pre-pandemic college athletes had already identified a mental health crisis. And one thing I know that really exacerbates mental health is disrupted sleep." Jackson also cautions that missed classes can affect academic performance and athletes will be more at risk for injuries if they are tired and stressed. "So this isn't great for athletes in other sports."
On the other hand, she notes, "I think the opportunity here for other sports is to realize we need a different system, that football decisions driving what's happening in other sports isn't the best way forward. And my hope and my optimism here is that we're going to see soon from leadership within intercollegiate athletics, a kind of separating out of organizational design and structures for football and for other sports."
The Domino Effect
These realignments are far from finished, Brown says. In fact, he contends that recent moves such as the University of Texas and the University of Oklahoma joining the Southeastern Conference has set off a "domino effect" that will lead other conferences to make moves and add teams. For example, he noted that Washington State and Oregon State have "brought in television consultants [and] attorneys to better assess the value of their institutions from a broadcast perspective. They're obviously much smaller markets. They don't have the same history [or] the same fan base, but they are still big time AAU schools" that bring their own unique perspectives to the table.
The politics of college athletics also is coming into play, Brown notes. "By adding USC and UCLA to enormous brands, the Big Ten also takes a step toward consolidating political power and administrative power within the NCAA." Revisions to the Division I constitution that will take effect on August 1, 2023, were approved on January 20, 2023. The new constitution provides for student-athlete voting representation on each division's presidential body (Division I Board of Directors, Division II Presidents Council, and Division III Presidents Council) as well as on the NCAA Board of Governors. It "prohibits pay-for-play but embraces providing additional educational and other benefits, including those for name, image, and likeness," according to an NCAA press release.
NCAA Protocols, Leadership
The NCAA itself will likely be impacted by these moves, perhaps even being usurped by the conferences. "We have not seen strong leadership and clear, assertive, enforceable principles from the NCAA, which has had so many opportunities to introduce them," says Jackson. For example, she notes that the NCAA has not established protocols for athlete deaths or heatstroke, and it doesn't have enforceable guiding principles when there's a racist incident or racist speech at a sporting event. "If we had strong leadership, we would've seen the NCAA come out hard against the Dobbs opinion [overturning Roe v. Wade] because that's an access issue for women college athletes—educational access and the access to play school sports. And so there was a leadership vacuum and I think the conferences have stepped into that," she adds.
The leadership of the NCAA is in flux as well this year, with the current commissioner retiring in June 2023. College presidents have led the NCAA for decades, but there are calls for a new type of leadership. Brown is "inclined to think they need somebody different, but a lot of this depends on a question that's still trying to be solved right now, which is, who do we think should make up the NCAA?" It is a membership-driven institution, and it is structured as it is because some presidents (such as those at Michigan and Washington and Louisiana State University) want it that way, "even though people criticize its inability to act quickly or decisively or at all. But beyond those kinds of schools, there are a ton of different kinds of institutions, even just in Division I right now. And this is one of the central points of tension, because the issues that are important for LSU athletics or for Ohio State or Arizona State—places that have athletics budgets north of $140 million—are very different from those of importance to institutions such as Ohio University and Grand Canyon University."
Many questions lack consensus, Brown says. "I am skeptical that there's going to be truly transformational change within NCAA governance because we're still dealing with the same people who set up the system that everyone agrees is broken. It's probably more likely that if transformation does occur, it will be because of outside pressure [from] the courts or lawmakers or activists" that push for change.
One big change could be universities attempting to wrest back the power of their brands and dollars and control from the NCAA. According to Jeff Selingo of Future U, "It largely comes down to college presidents and whether they want to take this on—I'm not quite sure they do. College presidents really have to say, 'We're going to wrest control back on college athletics. We think the NCAA is a great organization to do that. We're going to install somebody who is going to be a reformist in a way, who is going to take on the conferences.' But if all the power and the money and the media is with the conferences, I think in some ways it's too late and I'm not quite sure who they're going to hire to do that." He continued, "At the end of the day, colleges and universities need money to run these athletic programs and that money for the most part now, especially at big institutions in the power conferences, is coming from the conferences, not from the NCAA."
From Amateur to Professional
Many of the shifts in college sports have been long in the making, including the switch in mind-set from amateur sports to professional sports. Future U podcast cohost Michael Horn notes that this switch to a pro-sports, revenue-generating mentality "really started with the launch of stations like the Big Ten Network on TV, but it's also the case that the commissioners are gradually starting to come from more sports backgrounds themselves…there is this undeniable trend." Universities, he said, "want to monetize something that is clearly monetizable, bringing in revenue and the look, the role of live sports. It's the one part of the TV stack, maybe alongside breaking news, that's currently holding its value in this era of streamed everything."
Brown, of ExtraPoints, agrees that the trend of college athletics becoming more and more indistinguishable from professional sports is moving quickly. However, he predicts this will happen not just at the power five level, but at midventure places as well. "You're going to see these schools try to license and slap their logo on everything that they possibly can, including things that 20 years ago would have seemed horrific. You're going to see more and more pressure from not just athletes themselves, but also from outside groups and from within the faculty about better empowering and protecting athletes, not just financially, but [also to] protect them from abuse, protect them from forces that might rob their ability to pursue their academic dreams and major in what they want to and study what they want to, and to protect them from injury. This has been a common push for reform. This is what a lot of the college athletics reform movement outside of NIL has really pushed for."
Name, Image, Likeness (NIL)
The NCAA's recent adoption of a policy that, in essence, affords athletes the opportunity to benefit from their name, image, and likeness, or NIL, could have far-reaching impact on student athletes. Brown notes that there are different types of NIL—for example, market-driven NIL, where a brand, a camp, or somebody wanting private lessons will partner with an athlete because they want bona fide commercial benefit from the interaction. Says Brown, "They're doing it because they're trying to buy earned media or buy access to their accounts. There's a lot of friction in this marketplace. I would argue, and I think a lot of other close observers would agree, that the system is better than what we had before, particularly for women athletes, who, by and large, don't have the opportunity to make $500,000 in salary after graduation, and maybe who are enjoying the peak of their potential popularity, which is not always true for football and men's basketball."
Other NIL arrangements involve third-party collectives, local businesses, or charity groups that provide direct financial support to athletes—what Brown and others sometime refer to as the "bag man" market.
Much of this is not new, but according to Brown, "What's new today is the institutional caliber fundraising around these endeavors. There are some significant gaps in the infrastructure to support athletes. I have a lot of concern that the bag man market is creating a different kind of exploitation by different people, especially by agents."
Brown explains that in the NFL or the NBA, agents must be certified by the players' union with strict qualifications, including possibly a law degree and years of negotiating experience. "It's in the union's best interest to say, 'We don't want any yahoo off the street to come in here and rip off any of our people.' But now, he says, there's nothing stopping a 19-year-old who is still an undergrad from saying, 'I'm an agent now,' and representing their dormmate. That literally happens today." This dynamic can lead to harmful advice for athletes, he said, "advice that's really meant to enrich the agent in the short term, advice that may be pushing the [athletes] to transfer schools, or to pick schools that they don't really want to attend, or that aren't aligned with their academic or long-term professional athletic earning potential." Of particular concern is the potential to get into trouble with the IRS. "I would be shocked if we don't have some significant NIL lawsuits over the next six months, either with the IRS not being paid, with an athlete not being paid, or with a brand not getting their deliverable. Part of that is just because this system was created with absolutely no guardrails whatsoever."
The Challenges to Unionizing
Truly elite athletes such as Olympic-caliber gymnasts will attract interest from an established, well-regarded, well-trained agency firm, Brown notes, "but that's not the case for most athletes." With the bag man dynamic, "you're seeing a rush into this profession among undergraduates, people [who] run other kinds of marketing firms, and people [who] maybe we would colloquially refer to as street agents, or runners, or affiliated parties that have always been a part of college athletics. It is a significant problem, in my opinion, that there aren't great voices" representing most athletes.
"The NCAA, in court and in practice, has made it clear that's not coming from them," Brown says. "Athletes, in their informal governance, have comparatively very little voice." He adds, "It would be much easier if athletes could collectively bargain over their working conditions and their playing conditions with management, like they do in other sports." Obstacles to doing so, however, include legal, operational, and logistical challenges to organizing. Such an entity, according to Brown, would be one of the youngest and most transient unions in the world. "Anybody on the labor side would say, 'Organizing unions is really, really hard.' What we saw in the pre-COVID era, with the fits and starts of athlete organization[was that] most of them just got completely steamrolled. When the rubber hits the road, there isn't a great centralized voice to say, 'All I care about is advocating for this group of athletes.'"
Pay for Athletes
Consensus has been building for student athletes to get a cut of the proceeds from the Big Ten deal. Jackson suggests that the easiest solution regarding pay for athletes is for institutions to "introduce pay for football players, and to grant them employee status. That's a lot easier than trying to control all the chaos," she says. This could happen as a result of antitrust lawsuits in the courts today concerning NIL being sold in media rights deals. "So that's precisely how we can get pay for athletes. The value in these massive billion-dollar media rights being sold is athlete performances, and those athletes deserve a cut of that deal."
The other piece related to this, Jackson notes, is that "professional sports around the world have collapsed the boundary between sports and education. Most professional sports leagues include education in their compensation packages so this 'no payhard line' [stance] because it's 'education' just doesn't cut it."
Jackson also suggests the creation of a structure in which all sports have a potential to benefit from media rights revenue sharing. For example, "If volleyball takes off, volleyball athletes deserve a cut of that deal, too. You build in media rights revenue sharing for all sports as the foundation, and if it's being tapped into, it's being tapped into. If it isn't, it isn't." The problem with this idea, she says, is the pretense that all sports are the same and that all athletes are deserving of the same benefits. "Football is a sport apart," she says. And for Olympic sports, she suggests a two-tier model. "I want to see vertical integration with national governing bodies, so that my sport, USA Track and Field, is involved in the collegiate space and the hosting of championships at the elite, Olympic development level." She also advocates for a return to a scholastic sport model. "What we saw in women's college sports before Title IX, ironically, when it was run out of women's PE [physical education], was more participation opportunities at a local scale, high school sports writ large."
Says Brown: "Publicly, there is support for NIL and pay for athletes, but there is a difference between a school saying, 'We care about NIL, we want to give our athletes the resources to develop that part of themselves and to be successful,' and what is actually happening in practice." He estimates that college athletes spend at least 30 hours a week on their craft as an athlete in addition to going to class, playing video games, or doing something that has nothing to do with athletics. "Which means," he says, "when they get hauled into a meeting to talk with a representative from Fidelity about retirement planning and financial freedom—nobody is listening. I hear this from so many athletes—a lot of well-intentioned educational programming is just not clicking, even at gigantic big-brand institutions. The percentage of athletes who are doing anything with NIL right now is under 40 percent. I think people want to do the right thing, but they haven't figured out how to do it yet."
Football Athletes Sell College
Jackson emphasizes that it is important to understand when talking about collegiate athletics, that "athletes in Division I football and men's basketball represent only 3.5 percent of the total number of college athletes." While the percentage may be small, she stressed the outsized benefit those athletes have on higher education. "Those athletes sell higher education to American families. College is not an education. Education is one part of what it means to go to college. What schools are selling is a college experience, and football represents that—on big screens in homes around the country. So these athletes do matter more than that 3.5 percent, because they're selling what it means to go to college beyond their campuses. The industry of higher education is dependent on college football as much as the industry of college sports."
That holds true even though the participation rate of students in varsity sports is really low: Division I institutions have an 11.5 percent participation rate; Division II is 15.7 percent; and Division III is 21.5 percent, Selingo added. "So we're still talking about under 25 percent of students participating in sports at any of these institutions…. And among Division I men's basketball and football, which, of course, gets all the attention on TV and in the press, we're talking about only 3.5 percent of total athletes." However, as Jackson noted, "these athletes really sell college, and the idea of college, to American families. Because college is that experience, and not just the classroom."
That said, Jackson advocates for "introducing lifetime scholarships in a substantive way, getting better at building NIL education into academic programming for athletes, and getting more creative with what a college scholarship means, what academic credit looks like, and slowing down timelines. The opportunity here is to rethink how to better serve athletes in the many different sports that they're participating in. Defending the status quo is what, in large part, has prevented the reimagination of athlete education. What we need is an opportunity to empower them to get to work, to build it. Now is the best time to do that with everything in flux."
"I'm not quite sure a lot of [presidents] have a strong view," as to whether athletes should become paid employees, Selingo says. "If they do, they're probably against it. But I think, overall, presidents are woefully unprepared for what's happening right now in college athletics. I think presidents, in particular, given all the things that they're dealing with, tend to cede that power until something bad happens." Similarly, college and university boards of trustees have a role to play in college sports. A starting point, Selingo notes, is for boards to ask, 'Is this really in the spirit of what we want our university to be doing?'"
Editor's Note: This article is based on excerpts from the Future U podcast, hosted by Jeff Selingo and Michael Horn. Used with permission.
Futureupodcast.com
Laura Wilcox is a communications executive experienced in media relations, project and event management, marketing, strategic communications, and publications. Earlier, she served for 17 years as vice president for communications at the Council of Independent Colleges in Washington, DC. laura@wilcoxm3.com
Share on LinkedIn