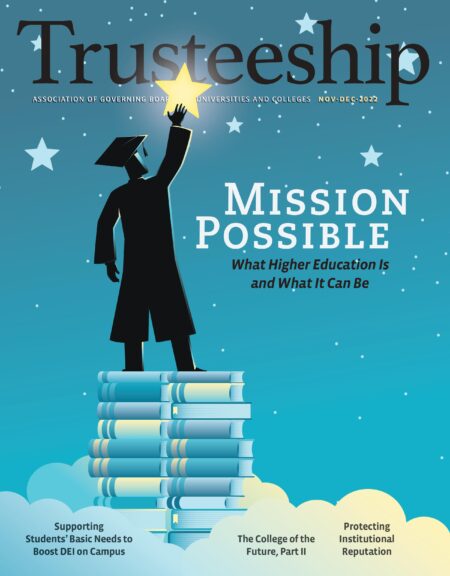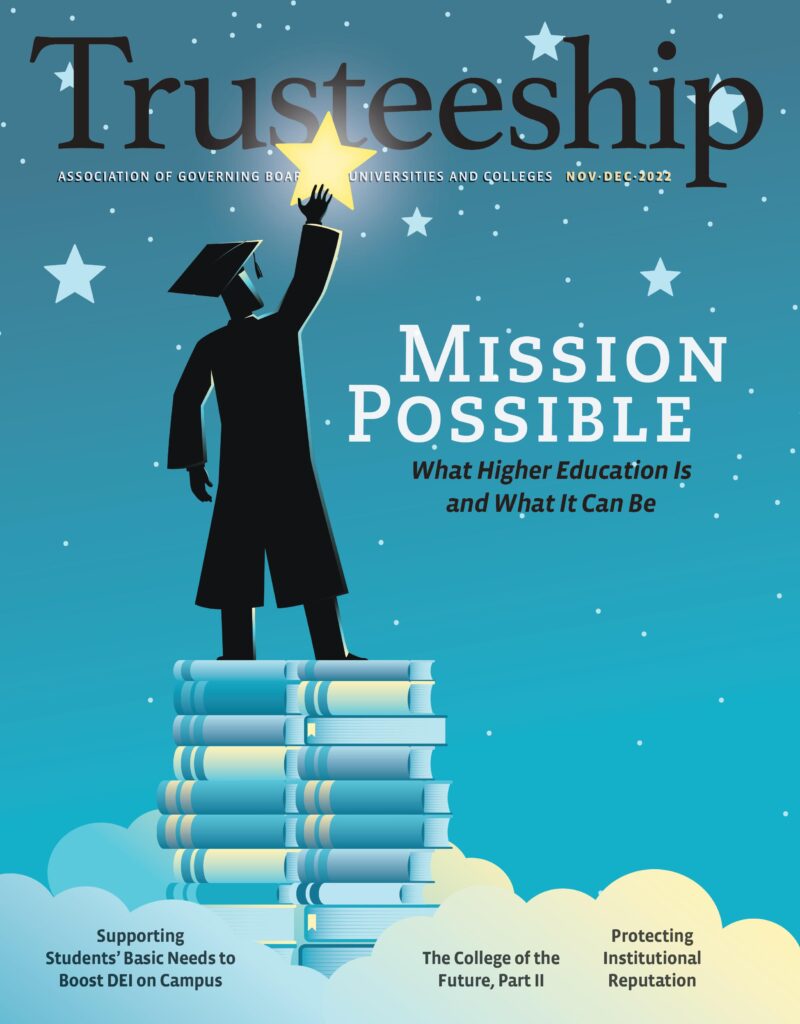 For much of his 35-year career as a college president, William E. Troutt did not look forward to meetings with his board. But in the last decade or so of his career, he says, "learning how to genuinely engage trustees and how to partner with them changed my life . . . and also changed my institution [and] changed the board." His feelings about working with the board went "from dread to delight."
Trustees' talent, wisdom, and experience are often underutilized, says Troutt, who serves as a specialist with AGB Consulting and has authored A President's Guide to Effective Board Leadership, published by AGB in 2021. Fully engaging trustees as thought partners, rather than just managing them, can be "a real game changer" for any institution or foundation, says Troutt, particularly in times of great challenges and change. Trustees can bring fresh thinking, insights, and perspectives that can help a foundation think more broadly about solutions to big strategic questions. It also makes each individual trustee's experience more meaningful. In fact, a trustee once thanked Troutt for asking for his thinking, not just his giving, and allowing him to feel "like more than an ATM machine."
"You have to understand the value of all of those thought partners around the table [and] how you can raise up those talents and get them working together for the benefit of the institution," says Carol Cartwright, a former college president and an AGB Consulting senior consultant, who specializes in working with foundation boards. Ultimately, when foundation chief
executive officers and board members partner with trust and mutual respect, their partnership can be transformational, bringing the board, foundation, and institution to new levels of performance.
Foundation boards can be critical thought partners to both their foundation chief executives and other senior staff as well as institution presidents and administrators. Foundation boards often have deeply rooted ties to the institution, valuable connections with regional business leaders, insights regarding opportunities for public-private or philanthropic partnerships, and professional expertise. Their perspectives can be of particular value to the administrations of institutions within a system that does not have a dedicated campus governing board.
A Positive Board Culture
Effectively leading a foundation board involves building a positive culture, drawing on shared values while respecting differences of opinion. Cartwright encourages foundation boards to build such a culture deliberately and intentionally. "We have to understand our shared assumptions, our shared beliefs, our shared values, because they are the bedrock," says Cartwright. "That is what guides our decision-making, and those decisions result in actions that change the course of the organization."
Board members might begin by reflecting on what is desirable about their current culture and what might be missing. She suggests using AGB's Principles of Trusteeship: How to Become a Highly Effective Board Member for Colleges, Universities, and Foundations as a starting point for board members to engage in dialogue and conversations about their roles as members of the collective board and their roles as individuals. Regular and ongoing board and board member assessment is also critical in identifying opportunities to strengthen board culture and individual and collective engagement.
As they consider their individual roles, Cartwright says, board members might think about individual commitments they will make, such as committing to being prepared, to listening respectfully, to sharing ideas even if they are not popular, and to encouraging colleagues with different perspectives to share their ideas as well. In addition, Cartwright recommends drafting an official board commitment statement that clearly establishes the board's values and communicates what board members are expected to do and how they should work together. This can be an effective way to recruit new board members by making expectations clear. Some boards also have all their members sign the statement each year to reaffirm their commitment to the board's values.
"Governance is a team sport," she says. "[Be] willing to put yourself out there as an individual but also always [remember] that it's the board as a board that really matters."
Vulnerability and Self-Reflection
A positive board culture should reflect mutual respect, trust, candor, and self-awareness. Both Troutt and Cartwright encourage foundation chief executive officers and board members to be open, transparent, and vulnerable with each other. "If we want to have an engaged board, if we want to have a true partnership, we've got to be authentic, real, honest, candid all the time," says Troutt. Foundation chief executive officers should "share your fears, your dilemmas, your challenges, and receive confidential feedback" from the board.
Foundation chief executive officers, board chairs, and leaders can also give permission for board members to be vulnerable and self-reflective. When board members are encouraged to share what's on their minds, what worries them, and what excites them, for example, it can be "absolutely magical," according to Cartwright. She recalls that after one board engaged in such an exercise, members were "literally glowing" for the rest of the afternoon. Troutt suggests asking each board member to take five minutes at the end of every board year to write down what they think the board did well over the year and what it could improve, as well as what they as individual board members did well and could improve. He says that these reflections then become "a treasure trove of information."
Once this mutually respectful, open, honest culture has been established, chief executive officers and board leaders should ensure that meetings include plenty of time for asking "why" questions and engaging in strategic thinking. (See box for ideas on how to accomplish this.) "Trustees thrive and foundations prosper when the board focuses on big, upstream, directional questions," says Troutt. "I believe well-governed foundations, like well-governed institutions, grow in the direction of the questions trustees ask."
Some Practical Guidelines for Effective Foundation Board Governance
1. Examine current practices and future possibilities. Troutt believes that the best way to start a major governance shift is by launching a governance self-study, ideally led by a trustee ad hoc committee. Committee members review literature on good governance and talk to leaders of boards they admire. They also examine the board's own practices, priorities, bylaws, and structure to assess what is working and what could be improved.

2. Be intentional about board recruitment and orientation. According to Cartwright, a foundation board should have a matrix of desired skills and experiences in mind as it searches for new members, but it should not overlook outstanding candidates who might not tick the exact boxes on a checklist. Once new trustees are recruited, Troutt suggests a day-long orientation, capped with a student-led tour. He also encourages boards to assign a trustee mentor to every new board member. This mentor would sit next to new trustees in meetings and would be available to answer questions and give feedback.
3. Plan productive and meaningful meetings. To help make time available that the board can use for strategic thinking, Cartwright suggests providing routine reports in advance of the meeting. Troutt recommends forming an agenda committee to focus on designing meaningful meetings, including determining what strategic questions the board should discuss.

4. Ensure that all board members are fully engaged in board discussions. Board chairs and committee chairs can play a key role here, according to Cartwright. They might invite quieter board members with great ideas to contribute to the discussion and or give positive reinforcement to less loquacious trustees when they do speak up.
5. Keep communicating between meetings. "I tried to not let 10 days pass without sending something that I thought would be useful for the board to know," Troutt says.
This article is adapted from the session A Foundation CEO's Guide to Effective Board Governance held at AGB's 2022 Foundation Leadership Forum.
Emily Schuster is a freelance writer and editor based in Silver Spring, Maryland. She is the former coeditor in chief of Liberal Education and the former editor of Diversity & Democracy, both publications of the American Association of Colleges and Universities.
Share on LinkedIn