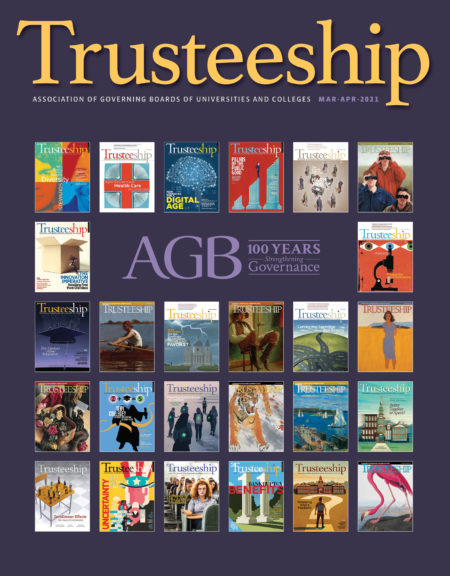 One hundred years ago, a small group of board members and presidents came together for an "educational conference" to exchange information and discuss academic papers on topics still pertinent today: "The Salary Problem" and "Student Fees and Tuition Charges." Recognizing that sharing insights and information among board members could be of mutual benefit, the group established the Association of Governing Boards to bring board members together and develop programs and opportunities that highlight best practices, facilitate peer exchange, and advance higher education leadership. This group also understood the importance of trustees and presidents working in partnership.
With this column, I want to call attention to AGB's century of service to our 40,000 members across 2,000 institutions and foundations in the U.S. and abroad. Indeed, since 1921 AGB has effectively supported our members as they navigated through uncharted waters and paradigm shifts and have made a number of strategic pivots necessitated by the changing landscape of higher education. AGB has been there with its members every step of the way. I hope you will join me in celebrating our century of work at the National Conference on Trusteeship (AGB.org/NCT) next month, April 12–14, 2021.
I also want to share with you the direction that AGB will take this year and beyond. Most of all, we will continue to strive to serve as your expert strategic thought partner to help you evaluate and answer board-related matters and questions that shape well-informed decisions. "One AGB" seeks to deliver this expertise through timely insights and relevant information so you can focus on the critical issues facing your board. It is more important than ever that we provide you with the information and tools you need to respond to the ongoing transformations in higher education and society broadly, such as workforce expectations, the pandemic, economic and political divides, calls for racial justice and equity, the tensions between freedom of speech and inclusiveness, and other forces. I have heard from many board members who describe this environment as if they are running in the dark without night vision goggles, with deep concerns about what is on the horizon, and if they are missing something critical.
Even as the future may seem hazy and even though many institutions are struggling to remain viable, my discussions with our members have paradoxically given me a sense of optimism. At AGB, we believe these vast changes in society, while challenging in the near term, will ultimately infuse higher education with a new sense of purpose as we think in new ways about all that we do.
For years, AGB and its members have recognized that maintaining the status quo should no longer be the goal for boards. At AGB, we recognize that advancing higher education will require boards to not only embrace diversity of thought, expertise, and perspectives, but also to devote more time than they have in the past to think strategically. Perhaps most importantly, the advancement of higher education will demand in many cases greater vision to better align resource and programmatic priorities with student success, institutional vitality, and workforce expectations. Achieving this strategic alignment requires leadership, collaboration, and courage from the board, president, and cabinet members.
As a result, AGB is evolving its own strategy and plans to intentionally focus on empowering board members to govern strategically. Our strategic priorities include justice, diversity, equity, and inclusion (JDE&I); the principles of trusteeship; and business model optimization. In the coming months, you will hear more about leveraging our new Principles of Trusteeship project as well as the Justice, Diversity, Equity, and Inclusion Initiative (AGB.org/JDEI).
Further, we are developing resources that complement these strategic priorities that will provide boards with necessary expertise in terms not only of student success and financial sustainability, but also in terms of crisis leadership, risk management, and other topics that help board members focus on what matters most.
My colleagues at AGB and I are passionate about the association's future and are committed to the value that strategic governing boards—in collaboration with their president and leadership teams—can provide to facilitate student success and long-term vitality for institutions and foundations.
Henry Stoever, AGB President and Chief Executive Officer
Share on LinkedIn