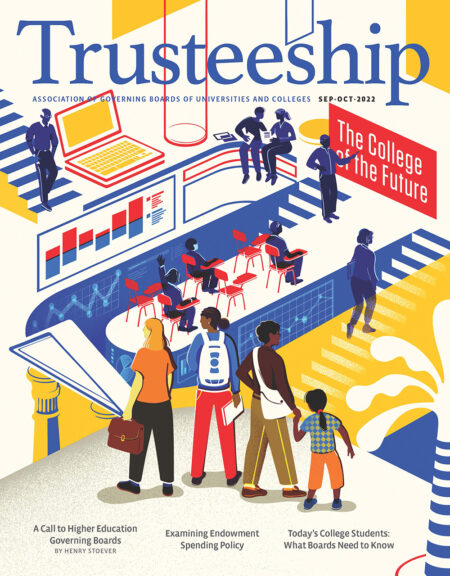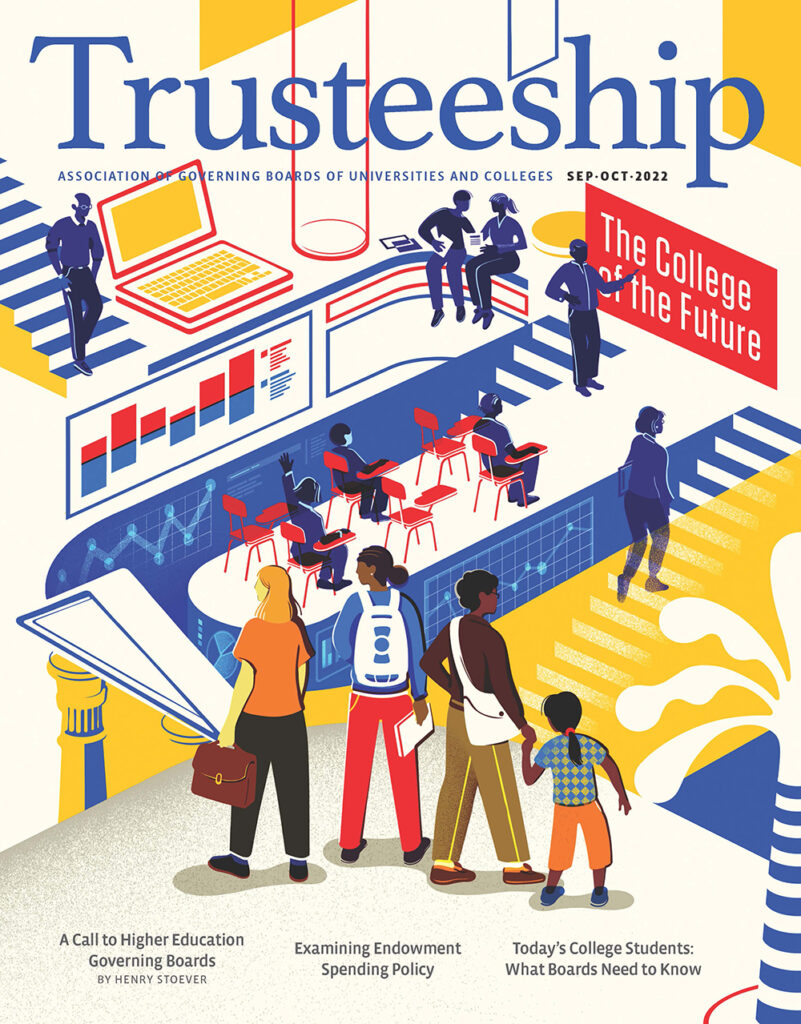 As the academic new year begins, I encourage board leaders, in collaboration with their chief executives, to schedule time to discuss institutional identity during upcoming board meetings. This topic is critical to your ongoing discussions related to institutional mission, strategy, priorities, and outcomes. It is also integral when considering the challenges I highlight in "American Democracy Is Threatened: A Call to Higher Education Governing Boards" in this issue of Trusteeship. Specifically, to address the core question "How can your institution and/or foundation help reinforce democracy?" I suggest you begin with a more fundamental question: "What is the institution's identity?"
At a macro level, an institution's identity is the result of its mission, strategies, policies, positions, and culture that collectively shape the character of the institution. At an operational level, an institution's identity is built upon the beliefs and actions of institutional leaders, staff, faculty, students, and an affiliated foundation if there is one. For clarity, institutional identity is not only how the institution intends stakeholders to characterize the institution, but also how stakeholders truly perceive and envision it. These constituencies act on and develop their perspectives based on their observations of how an institution executes its mission through core values, academic and nonacademic programming, community engagement, and more. Further, institutional identity is also influenced by student, alumni, and donor impact; geography; historical context; reputation; enrollment strategy; and more.
Understanding your institution's identity is important because it touches every meaningful facet of the educational experience. It informs and ideally inspires faculty, staff, students, alumni, donors, community leaders, employers, and policymakers. Institutional identity can bolster or weaken enrollment, and it can help inspire alumni years after graduation to contribute their time, treasure, and talent to continue the college or university's efforts for future generations. Further, an institution's identity can guide important board dialogue that may inform conversations across the campus community.
Some institutions have identities that are easy to understand. For example, minority-serving, religiously affiliated, and gender-specific institutions have distinct identities that assist them in determining who and how they serve their communities: Their identities may be reflected in tailored missions that encompass the historical context in which the institution was created. Some regional public universities and small private colleges cement their identities in their geography: They are seen as partners strengthening the communities in which they exist. Many institutions ranging from Research I to national liberal arts colleges and universities have reputations for academic rigor. Then, there are colleges and universities that have multiple identities that overlap and interact.
Discussing institutional identity can help boards and executives effectively and efficiently review and frame high-level strategies and priorities to discern what and how policies may substantially affect stakeholders. Everyone who interacts with the institution has a sense of the institution's identity. Gathering stakeholders' feedback about your institution's identity helps the board align impact and priorities.
For hundreds of years, many colleges and universities have developed identities in a slow, organic fashion. However, in today's rapidly changing environment, many boards and their chief executives may need to make significant changes if they are to thrive in the coming decades. In some of these cases, institutional identity may also need to change to align with evolving enrollment, academic programming, or other aspects of student life and support.
Identity is not a single metric to measure, but rather it is the convergence of metrics that influence identity. As a leading practice, consequential, strategic boards regularly ask, for example, "How is this policy accretive to advancing our mission?" and "How does this policy or program align with and favorably impact our institution's identity?"
In closing, I suggest that during your next board retreat or board meeting consider discussing "What is our institutional identity and how can our strategies and priorities more favorably impact and strengthen our desired identity?" With these thoughts and the following Trusteeship articles in mind, I hope you perceive AGB as your "go-to" strategic board governance partner and that your upcoming board meetings and retreats are insightful. Your commitment to exemplary, consequential board leadership and determination to oversee and lead your colleges, universities, and foundations inspire me and the AGB team.
Henry Stoever, AGB President and Chief Executive Officer
Share on LinkedIn