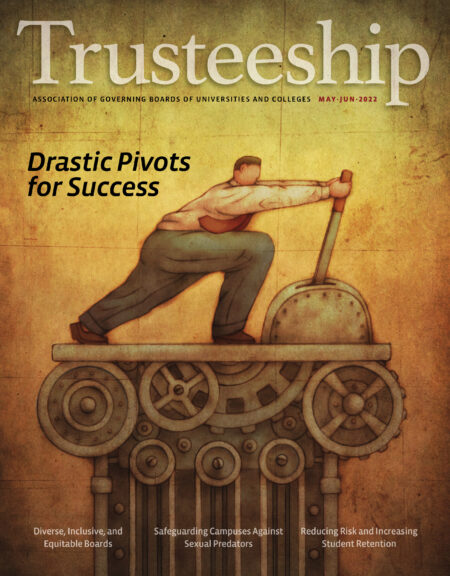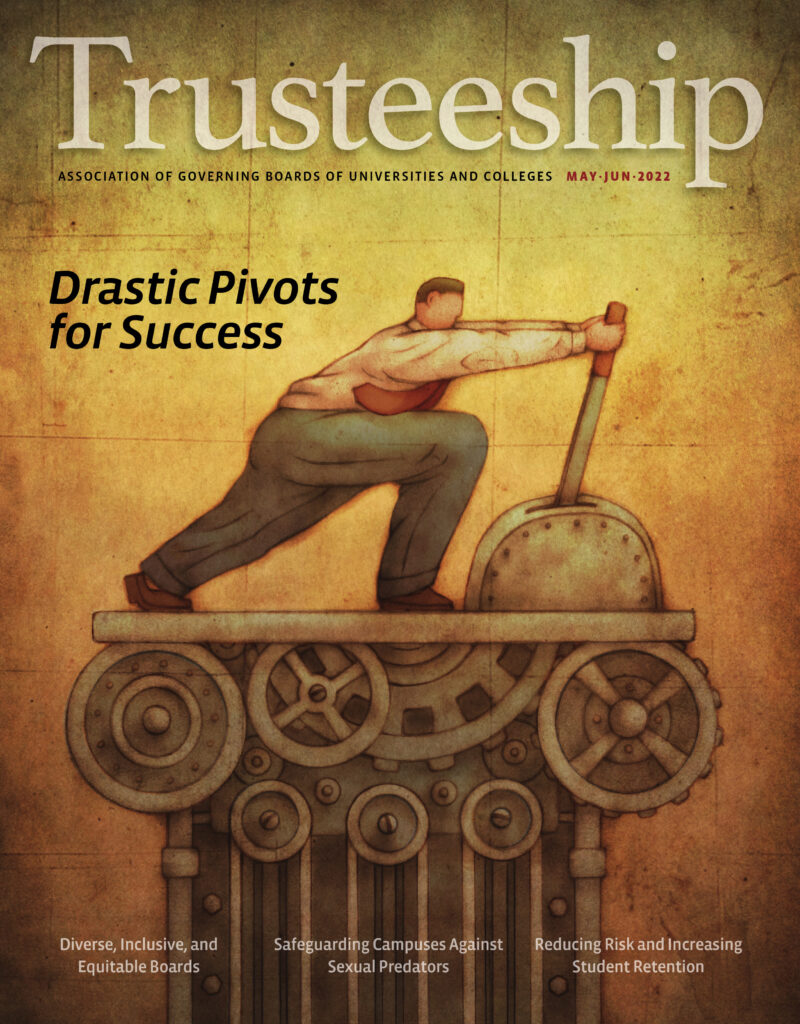 One of the three central tenets of AGB's Principles of Trusteeship (AGB.org/Principles) is that board members "think strategically," something easier said than done. In my many conversations with board members, I often hear that even when overseeing the development of a strategic plan, some members too often reflect on the past. Unfortunately, this rearview lens perspective misses the opportunity for board members to share with their colleagues and the administration what might be fresh ideas about the vision and direction to the institution, system, or foundation.
Future Focused
Whatever the context, strategic thinking should be intentional, deliberate, and focused on the institution's future. It is a mindset. As Larry Shinn points out in Strategic Thinking and Planning in Higher Education (AGB.org/StrategicThinking), "Strategic thinking explores the future of an institution at the micro and macro levels in ways that further its overall mission without being bound to 'the way we have always done it.'"
Strategic thinking is not always a straightforward process and takes time and effort to do well. There also may be disagreements between and among board members as well as between the board and the chief executive. In an ideal world, these disagreements may lead to new ways of thinking and eventually action.
As your board focuses on the future, please do so in the context of both your institution's mission as well as its current challenges and opportunities. In this regard, I encourage you to think about the topics identified in AGB's Top Strategic Issues 2022-2023 (AGB.org/TopStrategicIssues). For example, board engagement in accreditation is an excellent opportunity to engage in strategic thinking. As board members engage in the accreditation process, they can contribute unique insights from their experience. To that end, in order to educate, inform, and inspire board members to oversee, engage in, and benefit from the accreditation process, AGB and the Council for Higher Education Accreditation recently published a joint statement on governing boards and accreditation (AGB.org/AccreditationStatement). We think these recommendations will be beneficial for both higher education boards and executives.
Consequential
I also want to draw a contrast between strategic thinking and strategic planning. The latter frames an institution's mission and why it exists, whom it serves, how desired outcomes will be accomplished, what initiatives and resources should be prioritized, and how progress toward those outcomes should be measured. Strategic thinking for its part is essential to developing a consequential strategic plan that moves the enterprise forward. The AGB Knowledge Center (AGB.org/Knowledge-Center) offers numerous tools and resources to help inspire your strategic thinking. Based on a recent AGB Council of Presidents (AGB.org/CouncilPresidents) meeting, I offer three recommendations:
Collaboratively define your outcomes and metrics. Institution, system, and foundation boards should work with their chief executives and leadership teams to establish desired goals and how these goals will be measured. To put it another way, it is critical that boards come to an agreement about both desired outcomes and appropriate metrics.
Align goals among stakeholders. Gathering from institutional stakeholders—e.g., faculty, staff, students, policy makers, alumni, and donors—can help a board peer around corners and make determinations with buy-in from multiple constituencies. This leading practice also helps to establish alignment across campus communities. As outcomes are shared and input is received and evaluated, it is critical that board members think independently and act collectively.
Ensure sufficient resources. Higher education boards serve as the long-term guardians of their institutions and foundations. Indeed, their most important fiduciary responsibility is to ensure the long-term financial sustainability of the enterprise. Strategic plans (informed by strategic thinking) must acknowledge what resource capacity is required to carry out the plan's priorities and achieve its desired outcomes.
Finally, effective strategic planning is often one component of more integrated planning, a discipline of planning that coordinates the complete portfolio of institutional priorities. Integrated planning combines board insights and direction, operational strategies, financial planning, and tactical decisions to improve the likelihood that a strategic plan becomes consequential.
As we celebrate commencement and the end of another academic year, I hope you will take some time to reflect on strategic thinking and strategic planning, and how they can benefit your efforts to lead higher education forward in 2022 and beyond.
Henry Stoever, AGB President and Chief Executive Officer
Share on LinkedIn