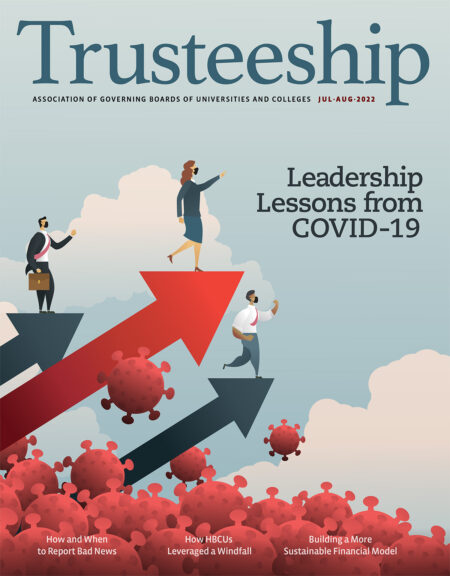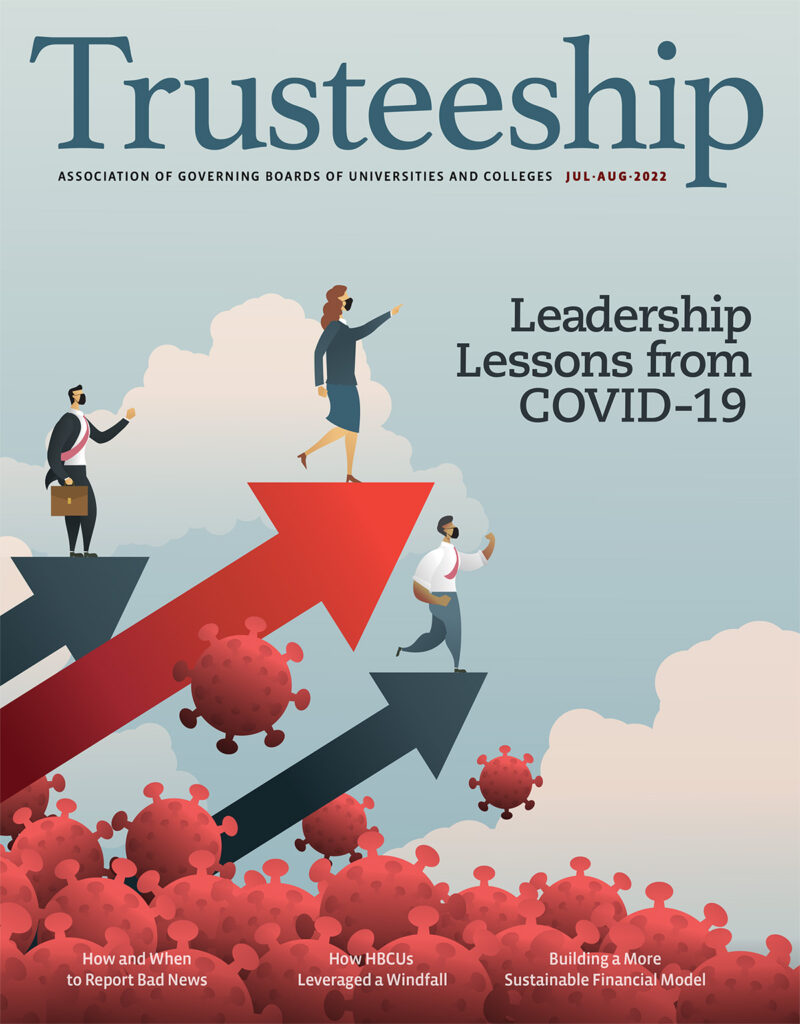 Takeaways
---
In a crisis, quickly establish alignment among administrators, board members, faculty, students, and other stakeholders. Ensure that messaging is consistent, clear about challenges, and builds trust.
Form special task forces to focus on discrete, urgent recommendations. Be sure each task force is representative of campus stakeholders.
Manage the crisis, but work to keep other key initiatives moving forward.
Engage the larger community. How can your institution help others? What support do your students need from off-campus resources?
Use scenario-based planning to fully examine the impact of decision making. Use short-term and long-term models.
Make observations about how the board functioned. Are there lessons for the future?
Monitor and care for student well-being. Ensure you can respond to their needs throughout the crisis.
Colgate University president Brian W. Casey didn't need to hear from students about the challenges of dealing with COVID-19 during a 17-day period in fall 2020 during which students were asked to quarantine in their rooms for 14 days—he lived through it with them.
Over that period, Casey lived and worked out of the same dorm as students who had just recently returned to in-person instruction at the liberal arts college in Madison County, New York.
"It was energizing, because we were trying to do something really hard, and I was glad to be part of it," Casey says. "I would go down to the common room to pick up dinner, just like the students, so I saw them all the time. And then I left my door open, so they always knew I was there. Every morning at eight a.m., my assistant would hand me papers to review and things to sign through the open window. So I was running the university from my 10-foot-by-11-foot dorm room."
In a crisis, the importance of establishing alignment among the university administration, board, and various stakeholders—particularly students—became a critical lesson learned, Casey says. Living with the quarantined students, for example, sent the message that he was fully invested in their experience and fully aware of the challenges it posed for them.
"By staying in that dorm room, I was saying to those students, 'I'm in it with you,'" Casey says. Negotiating COVID-19 was trial by fire for many higher education institutions, their trustees, and their executives. But from all the stress and strain of two years of rapid adjustments needed to balance COVID-19 health challenges while remaining true to college and university missions and their obligations to students, faculty, staff, and other stakeholders, institutions learned important lessons about adaptation, resilience, cooperation, and managing expectations. This article presents lessons learned by top executives and trustees at six diverse institutions: Colgate University, Centre College, Bucknell University, Reed College, The University of the South (Sewanee), and Gateway Technical College.
Leaders at all six institutions reported being able to successfully negotiate the pandemic. And all, after an initial period, have returned fully or nearly fully to in-person instruction.
To avoid repetition, the descriptions below use a single institution to describe each particular lesson learned, notwithstanding that in many cases some or all of the other campuses reported similar lessons learned and best practices followed.
Colgate University
At Colgate, Casey says that establishing a modicum of normalcy in those chaotic times also meant delivering a daily update from his dorm room discussing the status of quarantine and how the institution would address masks, remote education, and what the fall semester would look like.
Casey says that successfully negotiating the pandemic was greatly facilitated by a governance review that the university had completed two years before the pandemic, one designed to increase transparency and simplify the governance of the institution. As a result of that review, 24 separate board committees had been replaced by just four board committees—on campus life, academic life, finance, and outreach.
That thinking contributed to a governance-related approach that Casey implemented during the pandemic. He created two special task forces to address the key challenges that confronted the institution then: how to negotiate the remote education that was implemented in the early months of the pandemic and how to manage students' return to the campus in fall 2020.
Each task force had board members, faculty, students, and staff attached. Notably, the task forces contained no financial staff members. "We said, 'we want you, as a task force, to make the recommendations that you think are essential to our mission, and then we, the leadership, will figure out a way to pay for them,'" Casey says. "We were worried that, if we put financial people on the task forces, they would start driving the decisions, and the board agreed with that. It was the right decision because, for example, when the return-to-campus committee decided, without any consideration of finances, to bring all the students back, everyone on campus understood that that was not a financial decision.
So it worked out in terms of messaging." The move also ensured that the key constituencies were able to contribute to the debate over potential solutions, even if they did not agree with the decisions ultimately made. "It was important that people had faith in the decision-making process," Casey says.
"I don't think for two years, even with respect to people who disagreed with recommendations, I ever heard anyone say, 'this is an illegitimate decision-making process.' I saw so many campuses go through faculty votes of no confidence during the crisis because actions of their top management felt too top-down to them. That has not happened at Colgate despite the difficult decisions we have made."
Board chair Michael Herling also praised the approach. "We had wonderful feedback loops to the entire board and administration," Herling says. "Setting up that framework allowed us to make smart, informed, efficient decisions about how to open and how to modify our approach to teaching during the pandemic."
The reports that the task forces delivered to Casey were shared with senior leadership of the university and provided a foundation for briefings of the 37-member board of trustees. The reports also were posted publicly.
Herling says having emergency operational experience on the board also helped the board negotiate COVID-19 challenges. "Colgate's task force on reopening had epidemiologists, biologists, and public health experts. So we would get regular reports from them," Herling says. "Board vice chair Gus Coldebella, formerly general counsel for the U.S. Department of Homeland Security, also served on that task force."
Herling says another governance lesson learned is just how much is lost by remote board meetings. "Remote meetings are not as effective as in-person meetings," Herling says. "We made fully informed, efficient decisions. But we could not benefit from the idea exchanges that we enjoy when we're together for breakfast, lunch, and dinner. We couldn't have impromptu sidebar conversations during breaks to delve deeper into perspectives on topics that might suddenly have come up during a session. People had to text each other instead, and it just wasn't the same."
Herling, like many other board members interviewed, mentioned the importance of good executive leadership. "If you have a great leader, which we do in Brian Casey; if your team is committed and properly resourced; if you have a shared vision and common goals, you can get the job done. And they did. It was a business-school case study to see how well they handled the situation."
Centre College
For Centre College, a Danville, Kentucky-based liberal arts college, the question posed at the onset of the pandemic, at a time when each week seemed to bring a new COVID-19 development, often with new dangers, was whether a new president could launch a major, five-year strategic plan while also coping with the pandemic.
In the end the decision was made to proceed with the new plan, despite the complicating factor of a leadership transition: Milton Moreland, as had been planned prior to the pandemic, joined the institution in July 2020 as its new president.
"We had to decide whether this was a moment to try to really keep driving the institution forward or was this a moment to kind of pull back?" Moreland says. "The board set the tone: 'Let's keep driving forward; let's keep ensuring that we're going to get out of this but, through implementation of the plan, in a way so that when we get out of this, we're going to be an even healthier institution.'"
Moreland says he personally favored proceeding with the plan, given it otherwise could have been a missed opportunity to mark a new phase at the institution under new leadership.
"There was a strong consensus to do that," adds Board Secretary Crit Luallen. "I think we might have had a little hesitation that we were putting too much on Milton and his new team, to encourage that. But Milton was convinced that we needed to move forward aggressively. And you know, as I look back at this now, that's our single greatest accomplishment as an institution during the pandemic, because not only did we address the pandemic and the crisis at hand effectively, but Milton launched a very aggressive, historic strategic plan for Centre College in the midst of it."
Adds Luallen, "And he was simultaneously bringing on largely a new team that was coming in and coalescing around his leadership and this plan, at a time when they were also navigating the crisis at hand, which, as I look back on it, was a pretty remarkable set of achievements, given what we were facing. The board was fully supportive of that."
Despite the challenges, implementation of the new strategic plan has proceeded as intended, both Moreland and Luallen say. It has three areas of focus.
First, it seeks to significantly increase staffing and resources to support students' career readiness and to increase career-exploration opportunities for all students.
Second, it seeks to increase retention by moving from a high to a higher four-year graduation rate. "We're very good there already; we were at 85 percent in 2019-20," Moreland says. "But we actually want to move that up about five percent in the next five years."
The third prong of the plan is to increase wellness at the university, as defined by a variety of metrics.
Since 98 percent of students reside on campus, "we have a real opportunity to infuse training about mental health, healthy lifestyles, healthy living, nutrition, and so forth into our Residence Life program," Moreland says. "In wellness, we would also count a major initiative for athletic excellence. So we're building a new 135,000-square-foot facility here, a new natatorium, and a field house that has some other really interesting spaces for students." And, he adds, "our current food service contract comes up for reexamination, so we have really been diving into a different idea for our food and nutrition program."
The University of the South (Sewanee)
The University of the South, familiarly known as Sewanee, is a liberal arts college and graduate seminary in Tennessee that was forced to negotiate two separate university management departures in the midst of COVID-19. In February 2020, longtime Vice-Chancellor John McCardell (Sewanee follows the British model in which the vice-chancellor, rather than the chancellor, is the university's chief executive officer) announced that he would be stepping down. In June 2020, as the university was coping with the pandemic, Reuben Brigety, a former George Washington University dean, joined the university as vice-chancellor. He arrived at Sewanee from Washington, D.C., at a time when that city was one of the epidemic's national centers. Then, in December 2021, Brigety himself announced that he would depart the university to become the Biden administration's nominee for U.S. ambassador to South Africa. In December, Sewanee's provost, Nancy Berner, was named vice-chancellor pro tempore and then later acting vice-chancellor.
"Early in the pandemic, a lot of folks just had very different perspectives on how bad or how significant COVID could be," says Sewanee Board of Regents Chair Reid Funston. "Reuben's wife was an emergency room physician who was dealing with COVID cases early on, so Reuben had a heightened sensitivity to and understanding of the growing implications. Others felt the pandemic would be over in the fall. So it was a dynamic of working with those two viewpoints, which was challenging."
Berner, the acting vice-chancellor, notes that Sewanee had to make decisions about closures and quarantine measures that would have an enormous impact on the larger isolated Sewanee community. "Sewanee is a relatively small institution," Berner notes. "It's essentially the university and a small village where the vice-chancellor acts as the town mayor. That said, the university is one of the largest employers in the area. So, early on, based on direction from the board of regents, senior leadership was committed to keeping everyone employed even if they were not able to work on campus due to the pandemic. That policy decision was received very positively. Canceling the Fourth of July celebration, not so much."
Pressure built as to whether the campus would or would not be open to students for in-person learning in fall 2020. Berner said she tried to marshal the facts supporting both in-person and fully remote approaches.
"Starting in about April 2020, as we started thinking about the fall and what it might look like if we couldn't have any students on campus, we did some financial modeling," Berner says. "And then we were having meetings with the board about every two weeks. And each time, we would have a few more details about what it would look like if we couldn't have students on campus. We really had to organize around which decisions about the fall needed to be made first. And then from there, how did the rest of the decisions fall out? So, we worked on three or four scenarios, including a completely remote, a completely in-person, and a hybrid option. By June, we had to decide at the regents' meeting whether we were going to invest a couple million dollars in technology so students and faculty could teach and learn in a hybrid mode. What are we going to do with our calendar? When are we going to start? Those were some of the decisions that the regents were really involved in—changing the calendar, saying yes, we're going to invest in this technology, and, yes, we're going to try to open in person."
Adds Berner, "Our financial modeling showed that if we had nobody on campus, we would give up $11 million in revenue from room and board fees per semester." And she adds, "We calculated that if we could spend less than that in mitigating COVID, it would be worth it from a cost perspective.
"We ended up with a hybrid model in which we told students that they could be on campus, or they could be remote, and that every class could be taken in person or remotely, with classes ending before Thanksgiving, and students then taking their exams remotely. The move was the right decision, particularly from a financial perspective, given that we invested only $6 million in COVID-related mitigation expenses to reopen for the 2020-21 academic year."
Funston notes the management transition challenges Sewanee faced during the period highlighted the importance of depth in managerial ranks. "Nancy was, as provost, really running much of the day-to-day operations, particularly around COVID," Funston says. "And she was running it well."
Gateway Technical College
Like many similar institutions, Gateway Technical College, a community college operating in Racine, Wisconsin, and surrounding counties, faced the particular opportunity and burden of serving the educational and employment needs of the essential workers who served its three campus communities, says Gateway President Bryan Albrecht. The institution's extensive array of technical programs and skilled faculty, staff, and students allowed it to play a supportive role for surrounding communities during the pandemic, Albrecht says.
"The pandemic caused us to think differently about how we prepare and put together our emergency response, in the sense of communication and the way that we're going to continue or at least try to continue to deliver services," Albrecht says. "It was really important for us to truly understand what role Gateway played in protecting our communities, and provide as much guidance as we could, related to the types of services that our communities were in most need of—for example, health care.
"We knew immediately that we needed more nurses; we needed to make sure that we made available the resources that we had, because we had personal protective equipment (PPE) in storage. We were training nurses at the time and we deployed a really strong focus on what we could do to help secure the broader community that supported Gateway, and in essence, donated our PPE and actually began to mass produce masks and face shields and donate them to local hospitals, as well as police organizations."
That marked a shift in focus for Gateway, Albrecht says. "It took us away from the idea that we were only here for one purpose, and that's to educate and train, and reoriented us to see ourselves as being here for a broader purpose—to respond to the needs of our community."
During the 2020-21 year, students in training areas such as health care, dental-care assistant, commercial truck driver, law enforcement, fire service, EMS, and others split their time between campus lab-based experiences and online learning platforms. Roughly 85 percent of Gateway's students attend part time and their average age is 28 years old. The pandemic also represented a test for the institution's complicated governance model. Gateway, founded in 1911, is one of 16 technical colleges in Wisconsin governed by a local board of trustees that is appointed by the chairs of county boards. Each of the 16 technical colleges reports to a state board, which is appointed by the governor. But decisions based on program offerings and facility management are all left up to the local board of trustees, Albrecht notes.
"Gateway operates under a policy governance model. The board provides advice and guidance for the administration through a series of end statements to guide the direction of the college," Albrecht says. "What we did after COVID started, and we started to get the idea that there were going to be some changes coming, was we initiated what we call the GPS, the Gateway Preparedness and Stabilization Committee." The committee met every other week. It broke up into subcommittees, tried to define what the classroom experience was going to be like and put a website together. Probably the most important element learned in the pandemic was the need for constant communication, Albrecht says. "Our board chair would come to those meetings, listen in, get a feel for how well all of the staff were being listened to. That was important for us; we did presentations to our board, even though our board meetings went virtual. Guests presented to our GPS committee. And I initiated on Mondays a written message to all employees, and on Fridays, a video message to all employees. So every Monday and every Friday since the pandemic, I've sent a message to everyone at Gateway about what is taking place that particular week, and what we can look forward to the week going forward. We will continue that because it's really strengthened our communications."
One comparative advantage of many community colleges, Albrecht believes, is that they frequently already deliver education in remote and hybrid formats. Gateway already had extensive remote-learning options that were being further expanded prior to the start of the pandemic.
"After the pandemic started, we closed the college for three days and had all employees go through the new platforms that were going to be accessible to them, primarily Zoom," Albrecht says, but with a lot of supporting materials for faculty. Every department met and designed the way that it was going to sustain the programs. They're all different, but initially most were hybrid models in which students would take some courses online and then go to in-person classes when they could, Albrecht says.
A further challenge, Albrecht says, is that many Gateway offerings are practical in nature and are tied to accreditation standards requiring in-person instruction. "So the accreditation body for a particular vocation like dental technology or surgical technology or veterinary science or nursing or automotive and aviation, had rules regarding instruction and some of those accrediting bodies gave us some flexibility given the challenges of the pandemic," Albrecht says. "But some, such as our police academy, did not and had to be operated in person. To offer those safely, we had to restructure them, such as offering smaller class sizes and alternate schedules, so there were fewer people on campus at any given point in time. And we invested massive amounts on cleaning infrastructure and a process that we put in place that allows for instructors and students to record whether or not they weren't feeling well, so that we could go back and do contact tracing and manage the situation if we had it on campus."
While several board members lamented remote board meetings, Gateway Board Chair Scott Pierce says that, from a governance perspective, he favors retaining the college's current hybrid mode of both in-person and remote-attendance options for board members. "In all candor, I would encourage us to continue providing both face-to-face and virtual board meetings for the foreseeable future as it not only minimizes the concerns for those who still could be compromised health-wise by meetings in large groups, but also helps to ensure almost 100 percent monthly attendance of all trustees, as well as allowing for greater participation by our public."
Pierce says that while Albrecht and other leaders at Gateway did an "outstanding job" addressing the pandemic, there is a need for greater geographic coordination by institutions in the area Gateway serves to proactively plan to better mitigate the effects of a future crisis. He suggested "a review of services and mitigation steps that were taken in each county to see where we can collectively work together to be more prepared" for future crises. "In my more than 47 years as an educator and school/district leader, I had never experienced such catastrophic challenges that impacted the lives of everyone as those we have experienced these past two years," says Pierce. "The more we can be prepared for such an event in the future, the less likely that there will be major interruptions to our educational institutions."
Bucknell University
While his institution also successfully negotiated COVID- 19, Bucknell University President John Bravman also remains troubled by its longer-term implications. "The truthful answer is that this was scary," Bravman says. "I look at the effects on the economy even before Ukraine. I know most of us don't want to go back to any kind of shutdown. And so another significant wave of COVID will likely be very divisive. And people are fatigued, and it has taken a toll on student mental health. There are also uncertainties about what was lost in the educational process, especially in hierarchical disciplines like mathematics, science, and engineering."
Bravman says that these issues have led him to have conversations with the board and others about the longer term. "These things are going to play out not in six months, but six years," Bravman says. "And we really have to be prepared for that. We're starting to have conversations about things like flexible work: How can we be a residential educational institution that is great, and yet have some flexibility? Some jobs you just can't do remotely. And others you can. And so what's going to be our response? What will we do for next time right now? We're asking, should we lock in hotels [to allow for quarantine] for next year and then commit millions of dollars more? We don't have the answers to that yet."
On the other hand, Bravman says that there are also "lots of reasons to celebrate. Last year, we broke commencement into three events. This year we're having 2022 all together and we are having the missed 2020 commencement—they are back-to-back."
Bravman says he also finds reassuring his realization that past decisions set up the university to enable it to weather COVID-19 more successfully. "A really great example is our investment in information technology and what our IT leadership and staff colleagues did pre-COVID," Bravman says. "In addition, we have new financial monitoring tools in place that we've built over the last few years which gave us the ability to track the impacts of changing financial drivers real-time. Thank God we did."
Basic institutional priorities at Bucknell had been ironed out successfully by management and the board prior to COVID-19, which made its response successful, says Bucknell Board of Trustees Chairman Chris O'Brien. "How a board functioned in this environment— emergencies, high periods of stress, controversy, challenges—in my mind that can make or break the effectiveness of a board," O'Brien says. "The everyday issues are easy on a relative basis. It's the really challenging times when a board and an administration find out whether they function correctly, particularly with challenges in emergency situations. It tells you an awful lot about the culture and the chemistry and the trust that a board has with a president of the university. If we have had success at the trustee level through COVID, and I think we have, I think it was more what we did in advance of COVID than anything we did, per se, in the middle of it. For example, to make decisions requires an understanding about what's more important, you know, health, education, finance, et cetera. If we didn't have a basic understanding about what was the most important thing to Bucknell, I don't think that we would have made half the decisions as successfully as we did."
That reflects more than a dozen years of evolution at Bucknell, O'Brien adds. "If you went back 10 or 15 years ago and looked at the university and the way it operated at the board level, we had passionate, supportive board members back then, but we probably didn't operate in the most effective way we possibly could," says O'Brien, who joined as chairman in 2018. "Our previous chairman was a gentleman named Ken Freeman, who instituted what I would describe as best practices in trusteeship at Bucknell over the nine years of his chair tenure. He slowly built towards best practices. And that means changing the personnel that are on the board to start getting us the right diversity and skills mix," says O'Brien.
"I was able to take that and, in effect, run with what he had established. And we did a complete deep dive as a board as to what are best practices? What is everybody else doing that we don't do? We challenged the committee structure, we challenged how many people should be in it, how we make decisions, what information flows to whom. And we kind of looked at that from the ground up and rebuilt, really rebuilt, the board to where we are today.
And you know, we have people on the board today that are in philanthropy, healthcare, you name it. We've got a much more diverse board versus 15 years ago, when it might have been more financial services people. Diversity in all respects, in gender, in nationality, and ethnicity. And the reason that's important is because that's what your students look like," O'Brien says.
Another facet of the board's diversity and flexibility is that it now also has board members from not-for-profit health care entities and it allowed President Bravman, prior to the pandemic, to also become chairman of the board of the Geisinger Health System, a regional health and wellness organization, which is atypical for a board to allow given the time demands it poses. "But because of that, we had the benefit of a much deeper level of knowledge and a flow of COVID health information that John was receiving on our board and from people on the board who had a deep understanding of that data," O'Brien notes. Fundraising at Bucknell also was successful during COVID-19, but not without having to weather some difficult decisions, says Scott Rosevear, Bucknell's vice president for university advancement. "For the first fiscal year in the pandemic, March to June 2020, nobody knew what the impact was going to be financially on the institution," he recalls. "Are we going to miss our annual fund mark by $1 million or $2 million, and what's that going to do for the budget?'" But he notes, "In fact, we met and exceeded it. And then the same thing happened last year in 2021."
Rosevear observes, however, "We had to be very thoughtful about how the pandemic was going to be disruptive of the economy and therefore disruptive to people's lives and ability to give. In the early days of the pandemic, we wondered if we should even go ahead with planned days of giving. The first one was a planned athletic drive. We ended up postponing it a month from April 2020 to May 2020. And it was a wild success. We raised more than a million dollars for athletic programs. So there was a lesson there: Constituencies rally around things they care passionately about. And we also saw they wanted to know how they could help the school. Over the entire first year, we set a record in terms of their support for athletic programs, a record we surpassed the following year."
Reed College
For Reed College President Audrey Bilger, a positive lesson of resilience was how quickly the Reed community could mobilize to address pressing needs, such as the need for virtual instruction. "Prior to March of 2020, we had zero online classes," Bilger says. "In the last decade, other small liberal arts colleges have increased their online courses. But that's not a direction that we've taken. So when we had to make the move to send everyone to remote instruction, it was really turning on a dime."
That involved faculty finding ways to deliver online programming to help students finish that semester, Bilger says. "In many ways, we have sought to replicate as much as you can in online forums, what we do in our high-touch environment, including, for example, the chemistry department mailing out chemistry kits for students so that they could run experiments. In many, many ways, the faculty were heroic from the outset of this. And our Center for Teaching and Learning worked with faculty to help them think about how to offer online instruction, and our diligent IT staff helped figure out what we had to purchase to do hybrid instruction, such as different kinds of cameras for the classroom."
Adds Bilger, "In terms of talking about what would happen next, we had multiple groups trying to plan what classes would look like, how we would de-densify where classes would take place, how to get a smaller number of students in a room, or, as everyone was, how we could order PPE. It is hard now to even accurately reconstruct the really grinding labor that went into planning the academic program for the fall of 2020." That duty later was complicated by a series of climate challenges.
"Just a couple of weeks into the fall semester in 2021, Portland was hemmed in by wildfires, and we had the worst quality air on the planet," Bilger says. "We had to again go to fully online instruction for about a week just as we were getting into the groove of the fall semester. And we had to think about how we might evacuate people, if need be, during a pandemic, when you can't really get people crowded on buses. A couple of weeks into the spring semester of 2021, there was a major snow and ice storm that caused city power outages. Then we were intermittently online only. The snowstorm also caused the gym to collapse on all our testing supplies."
Bilger says that those challenges have led the institution to think about resilience for the longer term.
"We certainly are evaluating and re-evaluating all of our emergency response programs," Bilger says. "We recognize now that the threats that are coming at us are more numerous, more complex, and will require a level of greater attention. We need to make sure that our processes are able to accommodate that. At the outset of the pandemic, we were using our basic emergency-response model. I then formed a task force because we recognized early on that the people who were in the regular emergency-response model weren't all the people we needed. We needed, for example, our dining services; we certainly needed more people from residence life and student life to be in these discussions. We needed to change who was at the table in order to respond, and then also figure out how to elevate the questions and recommendations so that the executive team could make key decisions."
Conversely, despite Reed's pivot to provide online education initially during the pandemic, the event reaffirmed the critical nature of an in-person experience for students at a college like Reed Bilger says.
"There are those who favor online instruction because, they say, it would be cheaper, and you could teach more people," she says. "And it turned out not to be much cheaper for us, because we still wanted to have small classes. And it was really hard on everybody, and especially the students, because they value not just sitting in the classroom in a structured way, but also taking those conversations out of the classroom and into the hallways and common spaces and going over and having a sandwich and saying, 'Gosh, I really thought that point was ridiculous!' That doesn't really happen in the remote format."
Board flexibility and willingness to let her and her staff lead was crucial during the pandemic, Bilger says. "We were fortunate that our board stayed with us and that they actually didn't insist that we impose cuts on the campus that we were unprepared to make," Bilger says. "We didn't end up furloughing anyone or laying anybody off. That's something that is a point of pride for all of us here: that we were able to get through in that way. In terms of the budget and the finances, the board was ready to take it in a wait-and-see mode and let us see how things played out."
COVID-19 demonstrated the need for more interaction among Reed and other colleges and universities in the Northwest, Bilger says. "The one thing I wish we'd been able to do is more collaborative work with institutions in the area," she observes.
"You saw that happen on the East Coast, among private colleges and universities in ways that were really helpful to them, such as procuring testing resources. We didn't have those kinds of relationships. And it's a reminder that our resilience would be helped if we had more."
Virus testing was indeed a major challenge, Bilger says. "Initially, surveillance testing for COVID was very unevenly available. We had two vendors that over-promised and under-delivered, and we then had to find a third vendor, at the eleventh hour, a vendor who has been terrific."
The increasing importance of mental health support is another takeaway, Bilger says. "We had a health and wellness program coming into the pandemic, but all of a sudden we were spending a great deal of time talking about community health," Bilger says. "Mental health and physical health are important preconditions for student learning. And as our students have faced more challenging conditions than ever before over the past two years, we have been developing resources and prioritizing student wellbeing. I hope we can carry that with us; a holistic way of thinking about our students and how we all look out for one another."
David Tobenkin is a freelance writer based in the greater Washington, D.C. area.