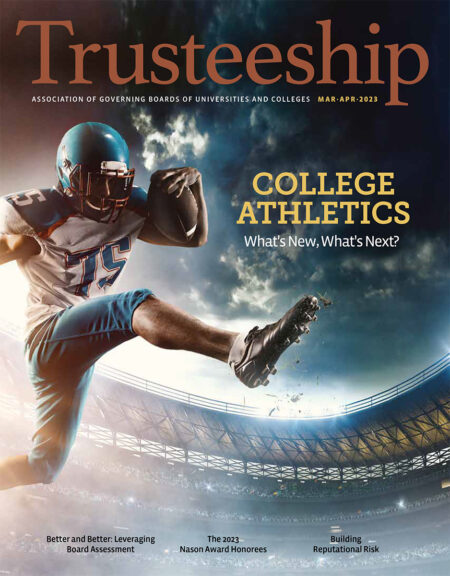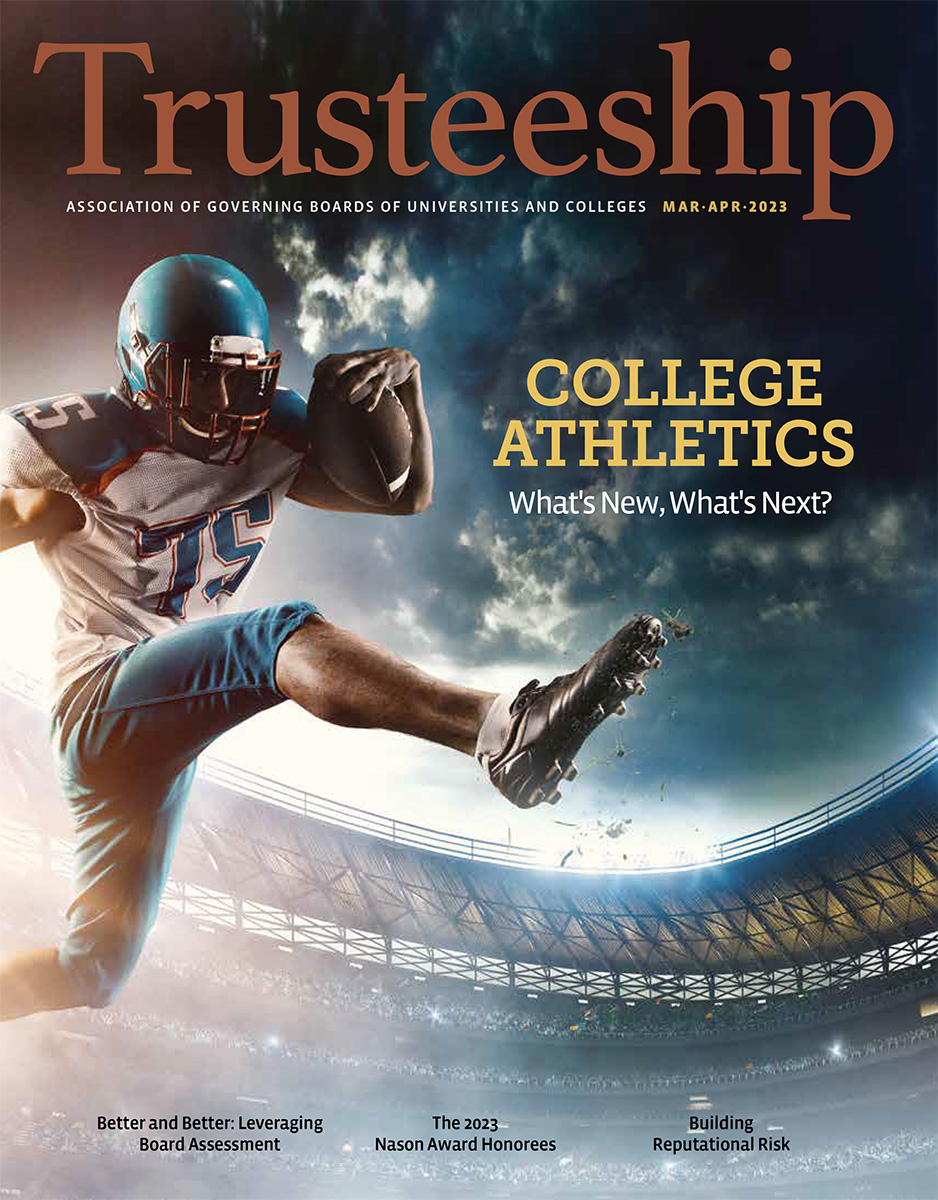 Takeaways
---
Leaders who engaged their boards of trustees, faculty leadership, staff, and students are reshaping their institutions in sweeping and exacting ways.
Key strategies emphasize:
dramatic shifts in enrollment management
Greater availability of hybrid student services, including adjustments in mental health and telehealth delivery
Partnerships with community organizations to assure basic needs for students
A renewed focus on the conflicting demands faced by parenting students
The formation of mechanisms and strategies to address the digital divide.
Summary
In interviews conducted with higher education leaders from around the country—mostly presidents of community colleges, the authors reveal that despite the numerous and pervasive challenges of COVID-19, higher education leaders are engaged in activities that hold exciting promise. Far from standing still, these leaders are charging ahead, making changes at their institutions that respond to the postpandemic world in ways that will redefine higher education for years to come.
Almost daily, there seems to be another eye-catching headline that serves to weaken and question America's faith in the value of higher education. For those of us who have spent our professional lives in higher education, the criticism is disheartening but not without basis. Students, for example, are voting with their feet. Every month, the National Student Clearinghouse (NSC) releases another set of dreary enrollment figures. Between 2019 and 2022 more than 1.5 million students decided to put off higher education for the foreseeable future. A recent survey of 1,675 high school graduates aged 18 to 30 endorsed the idea that "Getting a college degree is not worth the investment, because I cannot afford to go into debt when I am not guaranteed a future career path." Even the general public seems bewildered (at best) about the expensive prospect of sending their sons and daughters to college. Is it worth it? What are the job prospects?
Trustees and presidents may wonder what's going on here. How did U.S. higher education lose its luster so quickly when as recently as 2018, after writing Two Cheers for Higher Education, sociologist Steven Brint, PhD, concluded in the Chronicle of Higher Education that "American universities have never been stronger or more prominent in public life than they are now"? Historian Jonathan Cole, PhD, wrote in The Great American University (PublicAffairs, 2009) that "Our country is blessed with an abundance of first-rate research universities, institutions that are envied around the world." Although Cole's book was published several years ago, his contention is still true today. According to the Times of London's 2021 international survey of higher education, eight of the world's top ten universities are located in the United States. Even more importantly, no nation on the planet provides the degree of access to higher education offered by the 1,200 community colleges scattered around the United States.
The popular explanation for the public's current disaffection with traditional colleges and universities is the pandemic, which revealed deep fissures in higher education's financial and delivery models. For students, especially those from underserved groups, the pandemic's contribution to a widening educational divide was brutal. Whether framed in terms of learning loss, mental health challenges, or the extraordinary numbers of students who simply dropped out of school while struggling to navigate "Zoom University," the prevailing post-pandemic perception is a higher education sector that is, at best, in stasis, and, at worse, in denial.
Our perspective is more positive. Over the past six months we have conducted interviews with higher education leaders from around the country—mostly presidents of community colleges. Through the generous and candid sharing of their pandemic leadership lessons, we have come to understand that despite the numerous and pervasive challenges with which COVID-19 has confronted all of us, higher education leaders are engaged in activities that hold exciting promise. Far from standing still, these leaders are charging ahead, making changes at their institutions that respond to the post-pandemic world in ways that will redefine higher education for years to come.
The leaders we interviewed—and whose efforts we chronicle in this article—have engaged their boards of trustees, faculty leadership, and staff and students in reshaping their institutions in sweeping and exacting ways. They exemplify—as described in the pages of Trusteeship magazine (September/October 2021) by former Minnesota State University System Chancellor Terrence MacTaggart—such essential and discernable qualities of leadership as grit, pragmatism, imagination, and integrity, among other characteristics. Their efforts include a dramatic shift in enrollment strategies; greater availability of hybrid student services, including adjustments in mental health and telehealth delivery; the creation of partnerships with community organizations to assure basic needs for their students; a renewed focus on the conflicting demands faced by parenting students; and the formation of mechanisms and strategies to address the digital divide.
Evolving Enrollment Strategies
Well before the pandemic, college and university leaders were aware of predicted declines in the number of high school graduates preparing for higher education. Carleton College professor Nathan Grawe, PhD, in his highly influential book, Demographics and Demand for Higher Education, estimates a loss of more than 250,000 high school graduates before the end of the decade (the result of what he terms the "birth dearth" of the Great Recession). But this figure is dwarfed by the increasing number of individuals who are bypassing postsecondary education, lured by higher wages in today's job market and electing to go directly into the workforce. A recent Brooking's Institution report notes a 16 percent decline in the numbers of students moving from high school into two-year institutions, and a 6 percent decline in transition to four-year institutions.
The decline in traditional-age students and the fact that many young adults are entering the workforce immediately upon graduating from high school has impacted most of higher education (except for elite and highly selective institutions). But community colleges have experienced these colliding influences most significantly. Total enrollments in the community college sector have shrunk by a dramatic 827,000 students from 2020 to 2022, a 20.9 percent drop, according to NSC. Some critics of higher education believe that these students will never return to higher education. They could be right. During the pandemic, the number of Americans with some college credit but no degree rose from 36 million to 39 million.
Yet visionary leaders are seizing the opportunity to connect to these "new majority" students proactively and meaningfully. At El Paso Community College (Texas), for example, President William Serrata implemented a philanthropically funded "Almost Alums" program that proactively contacts students who are only a few courses shy of achieving their degree. With $2.4 million in grants, this program maintains a focus on student degree completion. As Serrata explained about these new graduates, "They didn't leave [our institution] because they weren't successful. They left because life happened. We provide the pathway to finish in whatever mode works [for students]: face-to-face or online, and with the support they need."
An even more dramatic transformation is being contemplated at Guttman College in New York City. Guttman was established in 2008 to advance students from underrepresented groups into transfer-relevant programs so that they could earn baccalaureate degrees. Guttman leadership implemented policies that reflected the latest insights on student transfer success: Students had to enroll full time, attend a summer bridge program in the weeks before initial enrollment, and complete a series of preselected courses in the first year. Although the college is not abandoning this transformative approach, current President Larry Johnson believes that it may need to be modified in light of student interest and motivation, which appears to be more focused on industry-related credentials with shorter completion time lines. President Johnson said: "We used to believe that 'if we build it, they will come,' but that's not true anymore."
Reimagining Student Affairs for the 24/7 Campus
As the world "shut down" in March of 2020, college presidents suddenly had to find a way for their campuses to offer the same services online that they previously offered face-to-face. These leaders struggled and heroically found ways to keep food pantries open, even if it meant providing contact-free, drive-by pickups of food and other basic necessities. They turned college parking lots into Wi-Fi access points and managed to put computers and hotspots into the hands of their students. These shifts were onerous, and challenging to implement quickly, but they were essential to serving their students. And the lessons learned in these pandemic pivots have, in key areas, resulted in a number of profound lessons. Advising is one of the areas that underwent a profound pandemic-induced transformation. Sunita "Sunny" Cooke, PhD, the president of MiraCosta College, serving north San Diego County, is leading the way, identifying new strategies that will boost her institution's relevance in a redrawn postsecondary landscape. During the pandemic, many campuses provided traditional student services online. And students grew accustomed to the increased access and flexibility of this approach. In the return to campus, Cooke and her team embraced this shift in student expectations because they align more closely with student demand (which, not surprisingly, tends to spike on Sunday evenings rather than 9 to 5, Monday through Friday). President Cooke explains that this expansion into online services has other benefits. It is less costly to hold advising hours on weekend evenings if you don't have to open the building.
This commitment to the remote accessibility of student services appears to be a widely adopted strategy as campus leaders strive to serve their students in a post-pandemic higher education milieu. President Anne Kress of Northern Virginia Community College observed that nearly 80 percent of campus student services continue to be accessed online. She emphasized that, "Students want to access the services, and they want to avoid a long commute or a special trip to campus to participate in a 15-minute advising appointment."
The fragile mental health of some college students—an increasing concern even before the pandemic—was dramatically exacerbated during the shutdown. In response to COVID-19, President John "Ski" Sylgieski of Harrisburg Area Community College (HACC) and his board of trustees quickly leapt into action. At the heart of their student-centric response was the creation of the school's CARE Center. The CARE Center was designed to be a comprehensive "one stop" for food, housing insecurity support, and mental health services. On the HACC campus there was an intuitive understanding that providing critical life supports to students makes successful college attendance and completion far more likely.
The CARE Center has had a notable impact on the HACC campus. There was a dramatic upswing in the use of online mental health services (along with advising and tutoring services). The soaring utilization rates were—at least in part—due to the fact that when students were able to access these critical services anonymously, they became much more likely to use them. Stigma and fear about how they might be judged kept many students from seeking the help they needed. The anonymity of online connections offered them the chance to secure mental health services they might not otherwise have pursued. The center's creation was not without controversy, however, as 21 mental health professionals were laid off in the creation of the strategy. That difficult decision was made in light of students' greater willingness to access mental health services online rather than on campus.
President Sylgieski also noted that if students require fewer on-campus student services, by extension this will also shift the use of campus space. The implication, which has not been lost on other presidents we interviewed, is that this online student-centric focus, along with remote work arrangements for staff, may reshape what the physical campus may look like in the future.
Finally, the college presidents we interviewed remarked that the pandemic impacted their parent students the most. Parents attempting to supervise the remote education of their own children had little time or energy left to pursue their own education. The pandemic highlighted, more vividly than ever, the need for colleges to support families if they are authentically interested in helping their students earn certificates and degrees. President Russell Lowry Hart of Amarillo College (Texas) and his leadership team made efforts to "normalize" families on campus—both by hosting COVID-safe outdoor family movie nights and by providing childcare so parents could register for classes. He stressed that, "We need to double down on what works for our students, not what works for us."
Delivering the Curriculum
Like almost every other college or university leader, Grand Rapids Community College President Bill Pink (now the president of Ferris State) discovered that his institution was utterly transformed overnight by the pandemic. Unlike some leaders, however, President Pink and his board of trustees decided to fully embrace the transformation to remote education. Prior to the pandemic, his institution offered classes that were 80 percent in-person, and 20 percent online. Today, it is exactly the inverse. This flip in instructional modality has meant that the institution can now reach more students who were previously discouraged from enrolling for the simple, but compelling, reason that courses were offered at times unavailable to them. Now, the institution has become much more accessible to a wider variety of students by offering courses in three discreet modalities: traditional in-person, online (both synchronous and asynchronous), and hybrid. Offering a range of modality choices helps students complete their degree requirements, while addressing the evident reality that students possessing different backgrounds and circumstances will require multiple options to access higher education.
Similar to Grand Rapids Community College, Los Angeles City College (LACC) also shifted to a fully remote class schedule during the pandemic. As the community college navigated a return to face-to-face instruction, LACC President Mary Gallagher realized that despite the fact that most students prefer remote classes and 24/7 accessibility, many disciplines require in-class engagement. One notable example is science labs. Combined with the realization that students benefit from—and need—increased flexibility, was the simultaneous realization that on her campus, flexibility was generally easier to request from staff, as compared to faculty. In response, the campus doubled down on flexibility and developed "on-demand" science labs. These 24/7 labs are designed so that "floating" technicians are available to assist students as they complete their required science labs, whenever it works for the students' schedules.
A second LACC response to the pandemic included the creation of a fully online transfer degree, designed especially for working adults. This initiative has proven wildly successful. An astonishing 75 percent of the students who enrolled in this fully online transfer degree program have completed their degree in two years, a rate of success that rivals completion rates for institutions with more selective admissions policies.
Closing Thoughts
President John F. Kennedy stated that "one true measure of a nation is its success in fulfilling the promise of a better life for each of its members. Let this be the measure of our nation." As higher education leaders navigate the challenges of this pandemic-emergent time, we would be wise to reflect on these words. The needs of the many students who dropped out of college during COVID-19, the 39 million Americans with some college and no degree, and the students who never went on to college at all deserve our most intentional, creative, and proactive efforts to connect them to the degree credential they need to better their lives. Although the reported public disaffection with higher education is rooted in long-standing issues that colleges and universities must address, the presidents with whom we spoke are advancing new strategies and innovative policies to serve their students more effectively. In doing so, they demonstrate that leadership—collaborative, yet timely; data-driven, yet bold; and steady yet uncomplacent—has never been more important to the prosperity of U.S. higher education.
Eileen L. Strempel, PhD, is the inaugural dean of UCLA's Herb Alpert School of Music, a professor in UCLA's School of Education, and a trained opera singer.
Stephen J. Handel, PhD, oversees a portfolio of special opportunity grants at ECMC Foundation in Los Angeles. Prior to joining ECMC, he served as the College Board's senior strategist for strategic higher education assessment use and opportunity, and as the chief admissions officer for the University of California System.