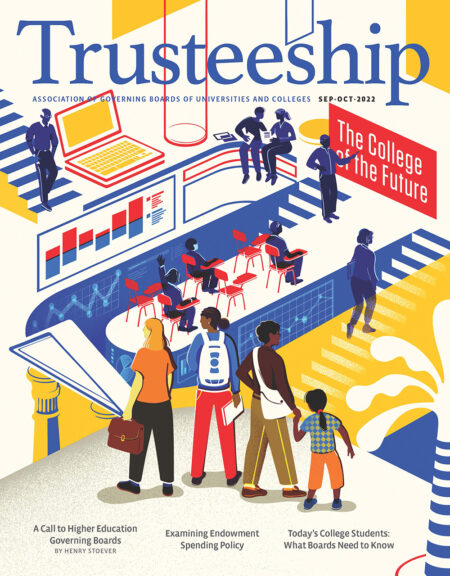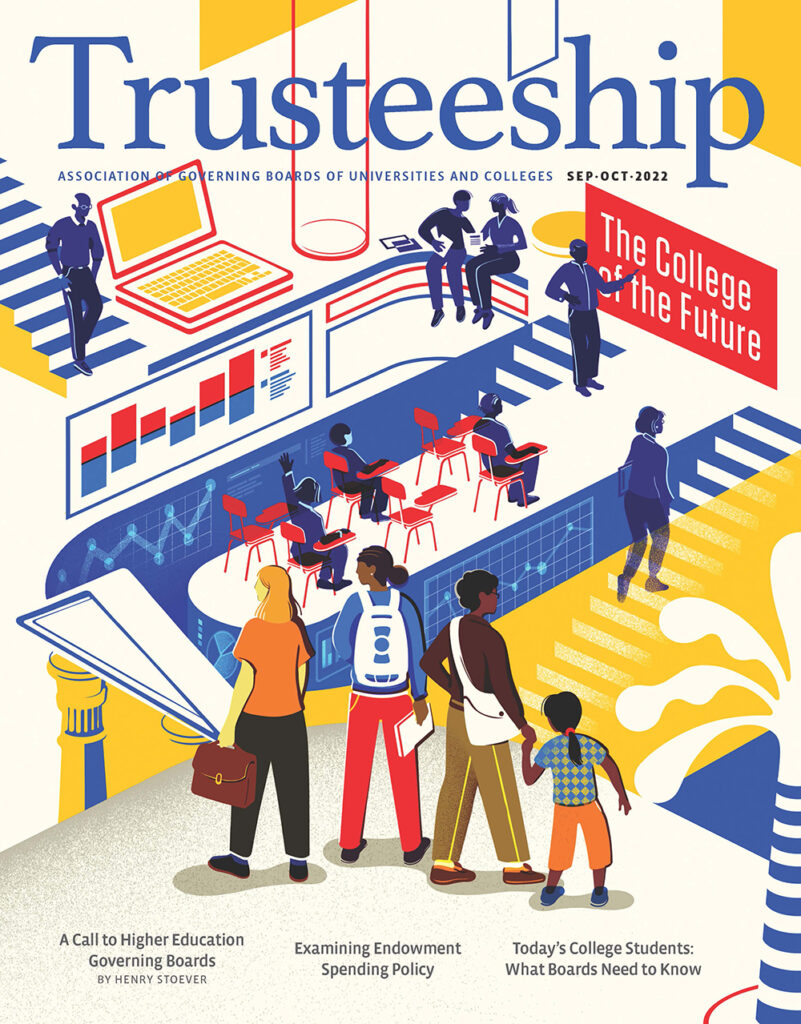 Takeaways
---
Students will demand and get more choices in higher education content and delivery.
Educational stakeholders, including students, employers, institutions, and government officials, will pay closer attention to the value, primarily vocational value, provided by higher education.
On average, higher education students in the future will have fewer financial resources, increasingly be a person of color, and increasingly be adult learners.
Disrupters in higher education include massive online providers as well as employers, particularly those in IT, that offer certificate programs—but degrees will continue to deliver critical impacts on graduates' income outcomes.
The need to keep boards student-centric will increase in importance.
U.S. higher education will increasingly focus on precisely measuring its value and demonstrating as an outcome that students are better at soft skills, such as critical thinking, ethical reasoning, and working on a team.
There may be a pedagogic reckoning in store for many U.S. higher education institutions in the relatively near future. Major demographic shifts, greater transparency as to cost and outcomes, rapid technological deployment, changing student educational preferences, and expanding competition from disruptive emerging higher ed providers all point to a challenging road ahead. This article and a companion piece to be published in the next issue of Trusteeship discuss the challenges that will confront much of the higher education sector in the next 5 to 15 years and chart the general trajectory of the college of the future, according to views expressed by more than 20 higher education leaders interviewed for this article.
The key takeaways? First, students will demand and get more choices in higher education content and delivery.
"I think it's going to be the genius of the 'and' [prevailing over] the tyranny of the 'or,' says Freeman Hrabowski III, until August the president of the University of Maryland, Baltimore County, an R-1 research institution that educates a large number of disadvantaged minorities in STEM fields. "At UMBC, thousands of people are getting credentials without credit, such as certificates, and successfully working at places from the federal agencies, like NSA, to private companies, because many students and employers are more interested in the skills than in the degrees. But many others want to have the degrees. We're going to have both. That's the future. It's the hybrid approach that will work right. And so the future is going to belong to those who are able to be adaptable, who are able to think broadly about how we can use technology. And with respect to delivery, it's not just going to be all classes in person or all classes online, it's going to be both. And we're going to find creative ways of using technology, continue to revise the teaching and learning strategies that faculty use to consider the ways in which universities can use the technology to understand students better, and develop a much stronger understanding of the challenges and the strengths of different groups of students."
Second, all educational stakeholders, including students, employers, institutions, and government officials, will pay closer attention to the value, primarily vocational value, provided by higher education.
"Generally, I think that there is going to be a firmer understanding of the value proposition of higher education as denominated in outcomes, rather than as inputs," says David Rowe, practice area leader, private higher education and foundations, at AGB. "More specifically, there will be an imperative to demonstrate the difference that the education made in the life of the individual. So that requires measuring the delta, the change from beginning to end, as opposed to front-end bragging points like, 'I got into the most selective institution possible,' 'the student body profile is really strong,' and 'the faculty credentials are stellar.' All those things are still going to be important, but I think the key to the value proposition is going to be, 'did it have the desired effect?' And, especially, 'am I able to be employed as a result of it?'"
Still, some higher education leaders express concern that, taken to extremes, existing currents could lead students to pursue lower cost, vocationally oriented higher education that would achieve initial employment while ignoring the importance of a broad and well-rounded liberal arts education to their longer-term career advancement and to their development as well-rounded human beings and citizens, which is one of the strengths of much of the U.S. higher education system.
"At Lafayette College, we think we offer a very specific blend of educational, leadership, and residential and social experiences," says Angel Mendez, a board member at Lafayette, a senior IT executive, and a Lafayette graduate. "And we do that in a very curated, deliberate, and intentional way. We are living in a complex world, full of challenges that require diverse team-based problem solving. You need graduates [who] bring the cross curricular education and the leadership confidence."
Academia needs to do a better job of explaining that value and demonstrating that it resides at more than a small section of elite schools, Mendez adds.
"It's not just small private institutions like Lafayette College," Mendez says. "Look at what Arizona State University has done. Look at what they've done at [the University of ] Central Florida. Both of those institutions have created an incredibly diverse set of programs, leadership and athletic opportunities, and online learning for tens of thousands of students, and they have done so in a way that still sustains students socially, with networking and alumni relationships and connections, and provides meaningful leadership opportunities. It is not easy to do at that kind of scale. But it can be done. The institution's leaders just have to think differently, focusing on affordability and accessibility."
SITUATIONAL AWARENESS
Demographics, the Educational Product, and the Competitive Landscape
Domestic Demographics
To some extent, demographics are destiny. Some aspects of the profile of the college and university students of the future are now known. A national decline in enrollment tied to a demographic decline of young adult higher education entrants will begin in 2026. On average, higher education students in the future will have fewer financial resources, increasingly will be people of color, and increasingly will be adult learners.
"Realistically, the domestic market is the primary source for enrollments, and we see this pretty precipitous drop that's going to start in roughly 2026, which is 18 years after the decline in 2008 births," says Nathan Grawe, economics professor at Carleton College and the author of 2018's Demographics and the Demand for Higher Education. "And so, looking at the next 15 years, we do anticipate a contraction in the number of young people, and that contraction is big enough that it's not realistic to think that we can work to increase matriculation rates in a way that is going to solve the problem. And over the next 5 to 10 years, we can expect those who are aged 18 to no longer be majority non-Hispanic White, following trends in the same direction that have been occurring for decades. That combination of the change in the composition and a contraction in the cohort size makes the next 15 years a really daunting challenge as we think about how do we continue to operate as institutions."
The increasing number of anticipated lower-income students have characteristics that make more support essential, says Anthony Carnevale, the director of the Georgetown University Center on Education and the Workforce.
"Students from the lower-income families who loom larger in our future are also loan averse, work too many hours while in school, and are less likely to attend full time and graduate," Carnevale says. "While the overall size of the college population will decline, more and more students will come from less advantaged families. Those families will need more support. This will only increase the demographic and economic divide between the selective colleges and the rest."
If there is a silver lining, Grawe says it is that the size of the cohort of the wealthier, affluent students who disproportionately contribute to higher education funding will stay relatively steady during this period. The decline in higher education students will largely come from lower birth rates and smaller families from less affluent groups, as the wealthier cohort already was having smaller family sizes, Grawe says.
Colleges and universities that plan around students and economics in a more proactive manner will likely be more successful than those just waiting and responding to the trends when it is too late, Grawe says. "Trustees should start these conversations now."
Another Trusteeship article in this issue examines current trends in student demographics in greater detail: Today's College Students: What Boards Need to Know by Lisa Foss.
International Opportunities and Challenges
U.S. higher education has been a leader in drawing international students but has watched those numbers stagnate, with international competitors from the United Kingdom, Canada, Australia, and China steadily recruiting more international students. Many countries that have sent students abroad in the past are also increasing their domestic higher education capacity. The tide of Chinese international students is receding and the large question is to what extent U.S. higher education institutions can successfully capture more international students from India, which, like China of a decade ago, has an insufficient higher education capacity and an enormous cohort of new middle-class students coming of age.
"There has been a fundamental shift that's been taking place in the last 18 months through the release of India's National Education Policy—the first major overhaul of its education policy since 1986, including an overt statement by the Indian government that it wants to encourage internationalization as part of its next 10- to 20-year education story," says Adrian Mutton, the CEO of Sannam S4, an international student market entry consultant for higher education institutions and other business sectors. "India's latest internationalization strategy sets out similar ambitions to China's ambitions in the mid-1980s. There is a very real potential therefore to see increased teaching, academic, research, and administrative collaboration with Western institutions, including transnational education, flexible degrees and local campuses. However, because India doesn't have the huge financial government funding that the Chinese government put into its university sector, it may take longer to consummate relationships and Indian institutions will be learning their way around the internationalization opportunity."
Given the high price point for higher education delivered in the U.S., the larger potential may be for U.S. colleges and universities to deliver more of that course content in India itself in partnerships with Indian institutions: "Indian institutions are hungry now for meaningful collaboration," Mutton says.
Brandon Busteed, the chief partnership officer and global head of Learn-Work Innovation at Kaplan, which partners with many higher education institutions and sold its Kaplan University to Purdue University in 2018, notes that it remains to be seen whether U.S. higher education institutions can become effective instructors of international students who wish to stay in place and who cannot absorb a price point that is too high for most of the world.
The most ambitious U.S. institutions may dramatically expand through international enrollments, Busteed says. "And so the question is, 'I'm a U.S.-based institution, from a mission perspective or a revenue diversification, do I want to compete for those two billion global, not 36 million U.S., but two billion global middle-class students? And if I say, yes, the answer is I've got to figure out is how to price and deliver a less expensive online degree."
The Higher Education Product
The U.S. higher education product includes a variety of components: a residential product that values being part of an intellectual community and coming-of-age peers; general liberal arts thinking capacity and soft skills; doctorates, bachelor's, and master's degrees; shorter term certifications, many of which are not oriented toward degrees; specific careers and discipline skills and experiences; and research.
Residential colleges offer students an extraordinary experience, if one that comes at a high cost. Given fewer students will be able to afford the outright cost and opportunity cost of such an experience, a reduced number of institutions will vie for those who can, numerous sources said. Relatively more students will seek to forgo much or all of the residential experience to obtain degrees and credentials more quickly in whole or in part online and/or on the side of a job.
Students are asking for educational products in a number of different formats, including online, in-person, and hybrid in-person and online variants, and in a manner that suits their preferences, schedules, and learning styles, says Arthur Levine, a professor at New York University and the author of a book examining the future of U.S. higher education, The Great Upheaval: Higher Education's Past, Present, and Uncertain Future.
As noted above, many say perceived economic value, largely measured by the impact of higher education upon career outcomes will be the order of the day. Competency-based institutions like Western Governors University (WGU), for example, allow students to progress at their own pace, subject to certain minimum-based progress. The unit and semester construct, while convenient for administrators, can be a challenge to students with existing skills or who are pursuing higher education on the side of another job, Levine notes.
Judged as a whole, despite the increasing cachet of many certificate programs, the primacy of degrees, including both bachelor's and master's degrees, is likely to, and should, continue, says Carnevale, adding that degrees tend to deliver critical impacts on graduates' income outcomes.
"Since 1983, we had a doubling in the economic value of degrees," Carnevale says. "The economic growth is going to be in BA and above—79 percent of the BA and above jobs will be good jobs," which Carnevale describes as those that produce midcareer earnings equivalent to $49,000 or more. "The BA is still the locomotive that pulls the train."
The Competitive Landscape
The competitive landscape for higher education is adjusting to these changes. How that will play out for different institutions will continue to vary by institution type and by particular institution, Levine notes.
The elite institutions, such as Ivies, major public and private research institutions, and some well-endowed and popular private liberal arts colleges may be insulated from the brunt of these waves, Levine notes. They tend to enjoy relatively deep pockets, student-and-resource drawing reputations, and have capabilities that distinguish them, such as research and/or meaningful residential coming-of-age experiences. They are likely to continue to do as they have done before and can effectively address many of these challenges described above with incremental changes, Levine notes.
Indeed, many healthy, smaller liberal arts colleges, while pivoting to online instruction during the early months of COVID-19, swiftly returned to their traditional in person experience as soon as it became feasible, affirming the value of in-person education and its centrality to the expectation of their stakeholders.
Less elite residential colleges, community colleges, and regional public and private institutions, on the other hand, may face massive challenges adjusting to the trends, Levine notes. Employers offering higher education and upstart online educational disruptors will likely siphon away students seeking specialized education and greater occupational alignment from these institutions.
The landscape is being disrupted by several institutions that are capturing increasing shares of U.S. students via online offerings, including WGU, Arizona State University (ASU), Southern New Hampshire University, and the University of Maryland Global Campus. In addition to expanding in scope, they are largely accredited and gaining traction from employers, with a recent survey finding that 71 percent of employers believed that online credentials were equal to or better than those earned through traditional means.
"When I joined WGU in April 2016, we had about 67,000 full-time students. Now we're at 133,000 full-time students," says Scott Pulsipher, the president of WGU. "We have graduated more than 200,000 students in the last five years, whereas in the prior 20 we graduated 97,000, which includes graduates from all programs, including bachelor's, master's, and microcredentials. Within a generation, I believe we're going to see a fundamental shift in the makeup of entities and institutions that provide education and work pathways so that people can actually change their lives for the better. There is a growing disconnect between educational outcomes and credentials with the changing nature of work. The fundamental economics of traditional higher education institutions are just no longer sustainable."
Other disrupters include edX and Coursera, massive open online course providers that have experienced tremendous growth. Coursera, launched in 2012, in 2021 provided more than 4,000 courses through relationships with 250 universities.
Employers, particularly those in IT, are also entering the fray with certificate programs, including some, such as Google, Apple, and IBM, which have stated that a bachelor's degree is no longer a criterion for hiring.
"I don't need to go to community college to do a Google IT cert on Coursera," Busteed notes. "I can get that and get into a $60,000-a-year job if I successfully complete it. Google has come out and said, 'hey, we'll treat this as equivalent to a college degree.' And in the airline industry, they're recruiting pilots out of high school and offering to pay all of their pilot school and a stipend. Who wouldn't take that—it's a quick pathway to a high-paying job, right? And so you don't go to community college; you can go directly into an industry program. I think that's a challenge to the community college model."
Mutton expects further corporate expansion into higher education. "I see the likes of Amazon and Google coming into this space in a big way in the next 10 years," Mutton says. "I can see a Google or an Amazon or even a Microsoft building these mega campuses for students and blending it with online, taking an NYU type model where they're given opportunities to go and study at the Amazon campus in Abu Dhabi, or Shanghai, or New Delhi or wherever it happens to be. And I can see that being delivered much more efficiently and effectively by a corporation that's got perhaps the lack of legacy systems and operations. You can just get things done a lot quicker."
Levine notes, "If we believe that students who want just-in-time education, short programs, upscaling, reskilling, and nondegrees are going to be the new majority in higher education—and I truly believe that is the case—then our financial aid, and our other models of progress in higher education don't make any sense. We need to look at the reality that's coming and reformat laws and regulations to mirror those realities."
Educational Efficiency and the Right Metrics
At the center of the changes that will sweep over much of U.S. higher education is a focus on precisely measuring the value of the higher education product and how it compares to its cost. Increased value-based information disclosure about higher ed outcomes could revolutionize the sector, Georgetown's Carnevale says.
"After more than a decade of massive federal expenditures to improve the nation's wage record data system and link it to education records, the United States has built an amazing new data capacity that is being underutilized," Carnevale says.
The upshot: "We already know what every kid in every program at every college in America is going to make when they graduate," Carnevale says. "State governors are getting more and more information, but we have not quite dared to mandate that the information be given to the students. So we're in this funny, awkward moment where people like us, at the Georgetown Center, will publish that data, and we get a lot of visibility. But the government doesn't quite yet have the courage to do the obvious thing, which is to take the billion dollars they spent building this information system and put it to use."
Sooner rather than later, however, students and their parents will demand this data and take it into consideration in making decisions on whether to seek higher education and, if so, where, Carnevale says. Some institutions, such as Georgia State University, American University, and the University of San Diego, make such data available on their websites, notes Ralph Wolff, a former president of the Senior College Commission of the Western Association of Schools and Colleges (WASC) accreditation body who is now an independent higher education consultant. Wolff says accreditation bodies should become more involved in holding institutions accountable for programs resulting in low completion rates, retention, and employability, particularly for disadvantaged minority students.
Rowe and many others say higher education institutions will be expected to provide measurements of soft skills learning. "AAC&U value rubrics and measurements by the Collegiate Learning Assessment give faculty the tools to measure things like critical thinking, oral and written communication, things that we have claimed that we help students get better at during their four years in a traditional program," Rowe says. "But we've just sort of asserted that because we've measured it at the program level that every student has developed those skills. So I see that increasingly being measured, as it should be, at the student level. I think that in 5 to 15 years, institutions will have to be able to demonstrate as an outcome that the student is this much better at critical thinking, this much better at ethical reasoning, and this much better at working on a team. We might even see a soft skill transcript arising."
Often lost in the calculus of keeping massive institutions operational is the need to keep boards student-centric, which will only increase in importance as the value equation comes into focus, says Beverly Seay, the immediate past board chair at UCF and board chair of AGB. "I think it's very easy for the board to focus on the institution's financial challenges, given the number of successful business leaders serving on college and university boards," Seay says. "But the number one reason the institution is in existence is for those students. In my experience, I've seen the focus on student success be set aside, so I am committed, in my remaining service, to keep students at the center of every decision."
A frequent example of insufficient leadership and board attention relates to the impact of course and degree design on student finances and degree progression, Seay says. "If a curriculum is sequential, a lack of flexibility and the unavailability of courses at a particular time can delay graduation and result in increased costs for students," Seay says. "Also, [AGB CEO Henry Stoever] and I have asked how a college education got so expensive? And how did we end up letting everybody have all this debt and not ensure they could pay it off? I believe these are problems higher ed created and higher ed must fix."
A COVID taste of the future
The COVID-19 pandemic offered a taste of the future as most or all instruction, albeit briefly, went online, forcing institutions to adapt to the kind of rapid change that may become more prevalent in the future and by upping the demand for technological proficiency, another long-term trend. A benefit was that faculty and students alike became more proficient at the use of online technology and learned where they were not. Lecturers often learned that editing, the use of graphics and audience samples, and the use of more functional communications software could improve the user experience.
However, colleges and universities that returned to normal operations as COVID-19 concerns eased may have missed the point, Rowe says.
"I think that the more discerning institutions are actually taking an inventory right now about what worked fine online, and what they really missed about being in person," Rowe says. "In particular, the smaller liberal arts colleges should double down on those strengths that didn't work so well online. It's the things that we take for granted at a small residential college, like being able to go and sit in the professor's office after hours and work on homework assignments that you didn't understand, or having the campus experiences of a team or a club, or participating in theater or chorus, or having a good, strong residential life experience that accompanies the educational experience. Schools that have really traded on that residential traditional in-person education, need to ensure that they are extraordinarily good at that.
"But at the same time, they should be taking an inventory of the things that did work well online," Rowe adds. "Imagine what traditional colleges, those that trade on student-faculty relationships, can do with this newfound proficiency. If you have a faculty member who's teaching three sections of the same intro course in a semester and most of the content is the same for those three sections, you could put a majority of the content online for students to be able to access and complete at their pace. Then you could reinvest that professor's time in office hours, problem-solving sessions, or the ability to advise more students—things that play to the strengths of the residential model. Otherwise, we are pitting the faculty member writing the same equation on the white board three times a day against much faster and much more adaptive content delivery systems. But those systems cannot compete with the professor when it comes to personal attention, empathy, and student advocacy."
Harold Martin, the chancellor of North Carolina Agricultural& Technical State University (NCA&T), the largest HBCU in the country and a strong research institution, notes online education "will be a big part of our future and has been, at least for the past 10 years. It is a big part of the University of North Carolina (UNC) system as a whole, so much so that our legislature has invested nearly $100 million dollars in the last biannual budget to start up an organization that fosters online educational delivery of degree programs through the UNC system. We've also targeted [non-residential] enrollment growth for our university. We said five years ago that we would move to 30 percent of our students being online students only, and we have already eclipsed that 30 percent target so we are elevating it to 35 to 40 percent over the next five to eight years. We will increasingly be dependent on enrollment growth through online-delivered certificate programs or actual degree programs."
The Right Metrics
Increasingly, colleges and universities will need to institute more meaningful metrics, ones that examine post-graduation vocational success both in the near and longer terms.
Notes Carnevale, for student vocational outcomes, the importance of institution pales next to the importance of field of study. The impact could be a partial commoditization of institutions, such that for all but top-ranked institutions, overall name and ranking will matter relatively less, he notes.
Work readiness, similarly, and in some cases overlapping with measures of soft skills attainment mentioned above, will be another key criterion, many say. "Universities will increasingly be judged on the type of students that they send to employers, such as if they are work ready or closer to being work ready, which is not currently deemed to be the case with graduates of most universities," Mutton says.
Tuition cost will matter more, many add.
"There are more and more students who are realizing that the value proposition of an emerging adult coming-of-age experience is getting too expensive," Pulsipher says. "They're thinking, 'I don't have the time for it, I've got to start working, and I want to start advancing my life in X, Y, and Z ways, such that I want something that's going to be different than what my parents experienced.' "
WGU uses "factored graduate return" as one metric to measure the net economic return for completing a program at WGU. That measure takes the income gain per graduate within two years of completion, then multiplies that by the remaining number of years the graduate has to the average age of retirement. That total benefit is divided by the total cost to complete the degree.*
Another metric WGU uses is surveying graduates as to whether their educations are worth the cost and whether faculty encouraged their dreams and aspirations. Affirmative responses to those questions, as measured by Gallup polls of WGU graduates, have driven recommendations by WGU graduates to friends and colleagues, Pulsipher says.
The Use of Technology
Colleges and universities must be capable of, and empowered to make, key decisions about technology, says Seay, and notes that boards will increasingly need to manage technology-related issues or fall short of the mark. There is a need for boards and executives to focus on campus technology to make more robust decisions and to master, rather than be mastered by, technology.
Seay says modeling and simulation will be critical to many jobs and critical to managing institutions. A good way to enter this sphere is to use such techniques in their planning.
"In the future, we're going to be using modeling and simulation to create digital versions of objects and systems that can work together and test them," Seay says. "We will be visualizing events [that] will also allow us to look at second and third order effects of decisions or courses of action. I think it'll really impact decision-making; we'll be able to have sensors that can provide a lot of data. And we're going to have to be able to use AI to get through all that data. This is important to university decision-makers because it allows them to build things and play with things and test 'what if ' and model changes to systems without the expense and the risk of actual initiatives. Boards should be able to use this data to work with the administration on placing the bets for investments for the future.
"For example, we have a lot of brick-and-mortar campuses, and the question is what we do with them," Seay says. "A classroom, and the way we use a classroom, is all changing. We may not need as many types of the labs we have currently if we can do a lot more of the research and analysis digitally. With cybersecurity, for example, if we actually tried to see what happens on a system by compromising it, you could ruin it."
Seay also notes that technology poses ethical issues that higher education institution boards and executives must address.
Funding and Costs
With demographics working against most institutions, federal and state funding will increasingly prove key.
"There have been years of cutbacks in inflation-adjusted state funding for higher education," says Robert Anderson, the president of the State Higher Education Executive Officers Association (SHEEO). "After a 4.5 percent increase in state funding to public institutions above inflation in fiscal 2021, driven by federal pandemic funding, Anderson says, "If we return to what has become business as usual, which is $1,000 decreases per FTE over the recent decade, compared to what existed before, students will suffer as institutions have to make hard decisions around cuts or what to do with the limited resources."
Anderson adds, "Institutions must show that state investments pay off for individuals and for state economies, and increasing affordability is key for states to say that it's a good investment. … And that these dollars put in on the front end by states are worthwhile investments that will benefit them regarding their tax base, and the need for other public services are decreased because of their increasingly educated citizenry that now have opportunities within their workforce."
Demonstrated success breeds more funding, say some higher education leaders.
"Our ability to perform as a really competitive public university is one that requires investments and excellence, which, as I've often cheered, is not cheap," says NCA&T's Martin. "And so we have continued to have to push the president, board of governors, and the legislature around increased funding for our university against a culture of inequity of funding of HBCUs in our nation as a whole. In North Carolina, you've begun to see that change quite dramatically for the positive. This past year, for example, just operational dollars as a support for our campus out of a budget last year that the governor signed was a little over $100 million of operational dollars. This was in addition to a little over $150 million dollars for our new engineering building that we just recently opened."
Such support comes in large part because NCA&T has delivered value, Martin says.
"The economic impact of our university in our state has risen from $300 million annually from when I arrived 13 years ago to $1.5 billion of economic impact annually today," Martin says. "The business leadership within this community recognizes that the big jobs of the future are STEM related. And we are a big STEM driver, through research, our graduate programs, and our undergraduate programs. So that connection is our impact. And that will be the framework of a business model for our university that sustains us well into the future."
Strong academic results, and vigorous promotion of them, has also helped NCA&T ramp up its fundraising dollars, Martin says. "When we are succeeding and telling our story, as we all are around things that matter, it excites the business leaders, corporate partners, foundations, and they write checks and invest more in us."
Some say research is an area in which increased expectations of efficiency will arise.
"I think there will be a fork in the road, where institutions that are able to invest in faculty members who can devote a significant amount of time to research will increasingly do that," Rowe says. "But I think you'll find a number of smaller institutions that will probably begin to lessen the importance of independent research in the promotion and tenure process in favor of teaching more and being more available to students. And so I suspect that the profession of faculty member might end up having more pronounced subtracks between a research faculty member and a teaching faculty member as we go forward. Institutions that for the last 50 years have tried to play in both arenas will increasingly break for one or the other."
New types of employment and tenure agreements are being explored, Rowe says. "I would urge institutions to walk slowly through that and figure out the right model to provide a faculty member a stable career and job security while allowing the institution flexibility to adapt over time, to demand," Rowe says.
Rowe cites Shenandoah University as an example of an institution that successfully uses multiyear "evergreen" contracts that provide academic continuity, pathways for promotion and academic freedom protections while also creating a system that can more easily align instructional costs with program expansion and, if needed, contraction.
Whether bricks-and-mortar institutions can become more efficient is also an issue. "There's no doubt that when you have assets in classrooms and offices that are utilized like two thirds of the year, and even when in session on any given day, it's for like five hours of an eight-hour day, the utilization rate of facilities is terrible, right?" Pulsipher says. "Add to that the athletics, when you realize you only have six to eight home games in your football stadium."
At some point, students and their parents are likely to be presented metrics comparing the cost of study programs with educational outcomes and, potentially, less federal resources will be allocated to financial underperformers, Carnevale says.
Some states already measure this. In the wake of student defaults after programs that created large amounts of debt, the State of Florida requires every state university to provide each student, each year prior to registration, electronic access to data including (1) the top 25 percent of degrees reported by the university in terms of highest full-time job placement and highest average annualized earnings in the year after earning the degree, and (2) the bottom 10 percent of degrees reported by the university in terms of lowest full-time job placement and lowest average annualized earnings in the year after earning the degree.
Additionally, Florida requires every postsecondary institution that disburses state financial aid to annually provide each student receiving student loans with up-to-date information on their student loans: the student's total amount of borrowed student loans, total potential loan repayment amount, monthly loan repayment amounts for the total amount of borrowed student loans, and the percentage of the borrowing limit that the student has reached at the time the information is provided.
Recently, the Florida Legislature directed the Board of Governors of the State University System of Florida to publish an online dashboard designed to assist students and families in making better-informed decisions about educational options and future employment opportunities. The interactive tool allows users to explore data at the system-level and by individual institution, including information on salary, graduate employment, student debt, and additional educational opportunities.
Carnevale predicts that state legislators may eventually reduce support for less lucrative degree programs at public institutions to a smaller number of more efficient providers and require online education. Federal value-based educational funding may not be far behind, with federal legislation pending.
Unless successful conversations among stakeholders to examine how to react to those trends are begun soon, enormous contentiousness is likely to ensue at many institutions, Carnevale says. A failure of less prestigious and less well-endowed liberal arts institutions to recognize these pressures and respond successfully could doom some of them, he adds.
Many institutions are evaluating how to become more efficient. Some institutions are examining three-year bachelor's degree programs to facilitate entry into the workforce sooner. The cost-benefit equation is increasing pressure on community colleges, where enrollment continues to decline, says Joshua Wyner, the founder and executive director of the College Excellence Program at the Aspen Institute.
"The differential between regional publics and community colleges actually has been shrinking. And so on the cost side of the equation, we're seeing at community colleges, as public support has dropped, the tuition has increased," Wyner says. "On the other side of the value equation, something like half of the credentials that community colleges offer don't confer on graduates a family- sustaining wage job without additional education."
The solution is better alignment with future outcomes, Wyner says. "Community colleges are going to need to deliver many more short-term credentials that actually have labor market value," Wyner says.
An example of a community college that has adjusted to this reality is Orlando, Florida-based Valencia Community College, Wyner says. "Valencia will not offer a short-term certificate that results in graduates earning less than $15 an hour in wages, and they are constantly asking the question, 'how do we truly make these things stackable.' They are delivering about 1,000 certificates per year as part of their accelerated skills training program. To do that, you have to know where the demand is, know what the wages of the jobs are in the community, and then deliver the skills that students need to upskill to the jobs that are needed as quickly as possible."
Still, nearly every higher education leader interviewed extolled the importance and value of a general liberal higher education in terms of basic intellectual problem-solving, evaluation of different viewpoints, democracy, and social engagement.
"I am a strong believer that the liberal arts approach is more important now than ever, and I speak as a trained mathematician," says UMBC's Hrabowski. "I think that broad education, teaching people how to learn, and the humanities, social sciences, and the arts will be more important as we think about what it means to be human and how we interact across cultures, across groups. We need that broad education, so we can think creatively about ways of solving problems. We don't just simply need people who are robots, who are technically trained."
Hrabowski notes the example of Kizzmekia Corbett, a UMBC graduate who co-created the Moderna COVID-19 vaccine: "She graduated with a double major in biology and the social sciences, and that background of the social sciences helped her to understand the challenges of building trust in the population, trust in science and medicine." Hrabowski, who is Black, notes, "as a result of that, she convinced my wife and me to be in the first pilot for the Moderna vaccine, to really show people of color how important it is and be able to talk about it. Most people don't realize how many people don't trust the vaccine or medicine, and so you need people with that kind of broader perspective that comes out of an education in the liberal arts.
Editor's Note: This article is continued in the November/December issue of Trusteeship magazine and examines other aspects of the college of the future: The College of the Future, Part 2
David Tobenkin is a freelance writer based in the greater Washington, D.C., area.
Endnote
* A Focus on Value: Five Questions for WGU President Scott Pulsipher (gatesfoundation.org)
Share on LinkedIn