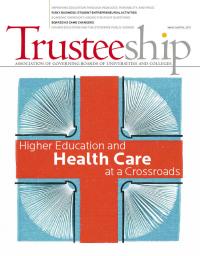 During this time of major societal demands and growing fiscal constraints, effective state higher education leadership is needed to guide public universities toward the achievement of statewide goals. But unfortunately, the increasingly complex political and economic contexts across the nation are making it difficult to develop such leadership capacity. We must rethink the roles, responsibilities, and legal status of the entities charged with keeping higher-education institutions focused on their state's public agenda.
State and national leaders are in solid agreement that America must increase the number of baccalaureate-degree and associate-degree holders among both younger citizens and adults to ensure a productive nation. There is also broad consensus that, for the nation to remain the world's top economic power, enhanced capacity for research and innovation is required—primarily at our universities.
Yet severe fiscal constraints will make addressing such challenges extremely difficult for higher-education institutions. National deficits are expected to be high for years to come and threaten federal investment in education. At the state level, the National Association of State Budget Officers (NASBO) and the National Conference of State Legislatures (NCSL) predict large budget gaps for the next several years, so cuts in appropriations are still in the offing for many colleges and universities. Additional public dollars for higher education may not be forthcoming for years.
Leadership is needed in each of the 50 states, at both the board and executive level, to:
• Shape and gain consensus around a long-term public agenda that links higher education to increasing the state's educational attainment and improving its economy and quality of life;
• Align finance and accountability with this agenda; and
• Lead long-term systemic change to achieve the agenda over political and economic cycles.
Historically, about half the states have handled statewide education issues through "coordinating boards," with responsibility to plan and orchestrate policy for relatively decentralized systems of colleges, universities, and community colleges. The other states have organized most of their public institutions under one or more statewide "governing boards." In those states, the governor and state legislature, along with largely voluntary leaders and with collaboration among system board members and executives, shape a broad agenda and address cross-cutting issues like mission differentiation and student transfer and articulation. Unfortunately, however, many of the entities established to carry out such a leadership role—whether in coordinating-board or governing-board states—no longer seem up to the task. This article will concern itself primarily with coordinating boards.
The Challenges of Statewide Coordination
Most coordinating agencies or entities—by which we mean the citizen board or commission and its executive staff—were established in the 1950s and 1960s. Their original purpose was to manage higher education's expansion and development, promote mission differentiation, curb unnecessary program duplication, referee institutional disputes, and be a "suitably sensitive mechanism" between state government and the academy. Today their common functions include statewide planning and policy leadership, maintaining data and information systems, analyzing policy and resolving problems, reviewing budgets, evaluating and approving academic programs, administering student financial aid, and licensing and authorizing non-public institutions.
Formal authority differs among coordinating agencies. Many have significant authority by statute or state constitution, while a few have only a tangential advisory role to governors and legislatures. Yet no matter the extent of formal authority in law, the agency's "power" depends most on:
• Board and executive leadership;
• A reputation for objectivity, fairness, and timeliness of analysis and advice to legislative and executive branches;
• Capacity to gain the trust and respect (but not always agreement) of both political and institutional leaders; and
• Institutional or university-system leaders who support effective and voluntary coordination to address state and regional policy issues that can only be dealt with through such coordination.
Over the past decade, the most-effective coordinating agencies have shifted from developing inwardly focused master plans to shaping a public agenda that links higher education and increasing educational attainment to the state's quality of life and economic competitiveness. Such agencies have the authority to align fiscal policies—appropriations, tuition policy, and student-aid policy—with that public agenda, incentivizing institutional support of state priorities. They have also recognized the benefits of minimal regulation balanced by accountability for institutional performance and outcomes. They have advanced their state's agenda by supporting and not intruding upon institutional self-governance.
In states with less-effective leadership, the coordinating agencies are falling short in terms of developing and advancing sound policies. Too often statewide strategic plans or master plans lack clear goals and related metrics that gauge whether those goals are being met. They tend to focus on institutional issues, often internal ones, and not state priorities or the public agenda. They are not linked to the budget or fiscal policy or institutional accountability.
Further, in less-effective agencies, administrative and regulatory functions dominate staff workloads, driving out attention to policy leadership. The policy influence of many state coordinating boards and commissions is also hurt by uneven, if not weak, citizen board appointments and by the high turnover of executive leadership. More than three quarters of state coordinating agencies have had at least one change at the top in the past five years. Any candid leader or observer of such agencies will tell you that these jobs are getting harder and harder to fill.
All of that leads to the inability of those agencies to gain the trust and respect of the governor, legislators, and other state officials, as well as college and university leaders. Such trust and respect is needed if an agency is to be viewed as objective and fair in its decisions, and transparent and responsive to requests for data, advice, and policy interpretations.
External realities can also impede effective statewide coordination. Changes in gubernatorial and legislative leaders, in some states a result of term limits, can create a loss of "memory" for the rationale and functions of coordinating agencies. Lobbying of legislative delegations by individual institutions and systems can undercut an agency's policy recommendations, particularly those pertaining to the budget or new programs. Many agencies are understaffed due to budget cuts, so over time an accumulation of legislative mandates saps needed staff time away from the more important responsibilities for strategic planning and policy leadership. Finally, increasing polarization in the policy process, particularly along partisan lines, makes gaining consensus on goals and priorities a daunting challenge.
Characteristics of Effective Coordinating Agencies and Commissions

Strong boards:

• Focus on developing and gaining broad commitment to long-term goals for the state;

• Link finance and accountability to state goals;

• Use data to inform policy development and public accountability;

• Emphasize mission differentiation;

• Insist on quality, objectivity, and fairness in analysis and consultative processes;

• Exhibit consistency and integrity in values, focus, policy development, and communications;

• Focus on core policy functions like planning, resource allocation, evaluation, and accountability;

• Demonstrate willingness to take stands on matters of principle;

• Are nonpartisan in their processes and decision making with both the legislative and executive branches; and

• Make decisions fairly among all higher-education sectors and providers.
Different States, Different Approaches
Some states are working to strengthen the leadership role of their coordinating agencies. In some cases, as in Kentucky, such a move has occurred as a result of reform legislation. In other instances, as in Indiana, the coordinating board and executive staff, with the explicit and sustained support of the governor and state legislature, have taken the lead.
In still other states, governors have been given more authority to appoint state executives and board chairs and to direct the work of state agencies. Those changes have resulted in the coordinating entity having less perceived or actual independence from direct political control. The governor appoints the coordinating-agency executive in Arkansas, Colorado, and Maryland.
In New Mexico and Ohio, the citizen coordinating board was abolished, and the state higher-education executive is now a cabinet-level position appointed directly by the governor. Ohio's actions to establish the Ohio University System, headed by a chancellor who reports directly to the governor, have created the most coherent and strategic statewide agenda in the nation. Yet its sustainability and long-term impact are in question because the chancellor ultimately serves at the pleasure of the governor. While the chancellor's term of office lasts one year into a new governor's term, it is always possible that a new governor will want a change in leadership after that term expires. In all of these states, sustaining a long-term agenda over changes in gubernatorial leadership is a major challenge.
States with two or more statewide governing boards also face difficulties. In most of those states, there is no public entity or formal venue for developing a statewide agenda that cuts across the whole higher-education system. Shaping that agenda and managing cross-sector issues, like mission differentiation or student transfer, often depend on direct intervention of the governor or state legislature and the voluntary collaboration among boards and system leaders. As in coordinating-board states, severe fiscal problems, exacerbated by turnover of board and system leadership, are undermining the capacity of governing boards to sustain attention to a broader public agenda—especially one that requires collaboration across sectors.
Are Integrated Education Systems Possible?
Meanwhile, developing a coordinated strategy across all levels of education, pre-K through graduate school, has become a growing priority in most states. For example, about 48 states are committed to implementing the new Common Core State Standards; they are working to reach agreement on an operational definition of college and career readiness and trying to align assessments with these standards across all levels of education. More states will probably consider creating, by statute or constitution, a single, overarching bureaucratic structure to achieve this coordination, such as recently proposed by Christine Gregoire, governor of Washington.
However, it is still unclear whether creating a P-20 bureaucracy, a "super coordinating agency" for all of education, will necessarily lead to the kind of integrated state strategy and cross-sector coordination that many people are seeking. Only four states—Florida, Idaho, New York and Pennsylvania—have state boards and agencies with formal legal authority for all levels of education. And, in practice, those entities do not provide the kind of strategic leadership across all sectors that the future will require. Florida, which has long had a single state board and agency, attempted to expand the role of the education secretary to lead a comprehensive P-20 entity. But that effort could not be sustained, in part because a constitutional amendment removed the public universities from the secretary's purview.
Nor have many of the state P-20 councils established over the past decade been especially effective as a means for cross-sector coordination. Advisory only, they usually lack authority, staff, and sustained support from the governor and agency leadership.
States that are making progress on P-20 issues tend to be those with, first, a strong leader of an effective state coordinating agency or state university system and, second, a strong chief state school officer, who both commit their authority, time, and the resources of their agencies to making cross-sector coordination work. Indiana, Maryland, and Kentucky are good examples of this collaborative approach.
New Models Required
For the future, states must explore how to strengthen existing entities or, if necessary, create alternative structures to ensure statewide policy leadership. This is true for states having either a coordinating or governing entity. For many states, the best option is to pursue practical strategies that would enable the existing statewide coordinating or governing agency to work better and avoid potentially costly and controversial governance restructuring.
A thorough review and updating of an existing entity's authorizing statutes can be an important step. Many of those statutes include an accumulation of legislative mandates for studies and reports that have long outlived their usefulness. Many statutes still refer to old-time "master plans." They neither make clear the entity's role in shaping and gaining consensus around a public agenda nor authorize the entity to align fiscal policy with that agenda. Engaging the state's political, civic, and business leaders in creating a broad, cross-sector, public agenda can ensure that the focus is on the future educational attainment of the state's population and the competitiveness of the state's economy—and not only on advocacy for higher education.
In other cases, the effectiveness of an entity can be enhanced by strengthening its citizen board by appointing board members charged with a clear sense of what's expected of them and their responsibilities. (See sidebar below)
 Expectations of Board Members of State Coordinating Boards and Commissions

1. To seek to be fully informed about higher-education policy and the state's colleges and universities and university systems.

2. To understand the responsibilities of higher education in addressing the public interest by fulfilling the educational needs of the state's citizens.

3. To understand where each institution fits into overall state higher-education policy and what it contributes to the state's future.

4. To understand emerging issues within a national context and their potential effects on state higher-education policy.

5. To be able to articulate cogent arguments for statewide policy positions to advance higher education (for example, for a student- aid policy or policy concerning student learning and success).

6. To understand the breadth of authority of the state entity and how to use it to accomplish state goals: how it can leverage change, use regulation judiciously, serve as a convener, and partner with other education, business, and political leaders.

7. To help advance state goals or a state policy agenda to a broad constituency that includes elected, civic, business, and higher-education leaders.

8. To be able to support positive change in state highereducation policy while being cognizant that preserving tradition, culture, and long-term stability is crucial.

9. To understand that the board's responsibility is statewide coordination and policymaking—and not involvement in institutional governance, agency or office administration, or institutional management.

10. To strengthen and sustain the agency staff, particularly the chief executive, while being an active, energetic, and probing board member exercising critical judgment on policy matters.

11. To defend the autonomy and the independence of higher-education institutions while encouraging responsiveness to state needs and priorities.

12. To represent all the people and the broad public interest of the state and no particular interest, institution, community, or geographical constituency.

13. To help enhance the public image of higher education as well as that of the board.

14. To foster openness and trust among board members and the governor's and legislators' offices, as well as the faculty members, students, and administrators from the various colleges and the public.

15. To be able to assess strategies and capacity to accomplish state goals and demonstrate leadership on needed course corrections.

16. To support and buffer agency staff with institutional or state elected leaders during difficult decision-making periods.

17. To participate in the hiring, selection, and performance review of the agency chief executive, holding him or her accountable for implementing strategic plans and agendas.

18. To be willing to forego any partisan political activity that could be disruptive or harmful to the state, board, or agency.

—"2010 Policies, Practices, and Composition of Higher Education Coordinating Boards and Commissions," Ingram Center for Public Trusteeship and Governance, AGB (July 2010). Adapted from "Statement on the Responsibilities of Individual Rights," by the University of Minnesota Rights Candidate Advisory Council.
But in states where the existing coordinating agency has lost its credibility, major change may be necessary. Establishing new entities or replacing an existing entity with a new one with a broader leadership charge may be required in states where no capacity exists, either formal or informal, to shape and pursue a broader agenda.  
If revitalizing or establishing a new coordinating entity is not appropriate or feasible, state and higher-education leadership should consider other alternatives. One possibility is a non-governmental public or private entity charged explicitly in its charter with shaping a public agenda, monitoring progress toward long-term goals, and making recommendations to the governor and state legislature on a finance policy to achieve those goals. Such an entity should include state political, business, and civic leaders.
A non-governmental body, this entity could not regulate or allocate public funds, but it could play a powerful role in shaping and gaining consensus on a public agenda—keeping the state focused on step-by-step progress toward goals across changes in political leadership and ups and downs in the state's economy. It also could serve as a watchdog in the public interest by setting high expectations for performance and highlighting problems that must be addressed (such as ensuring affordability, enhancing degree completion, improving transfer and articulation, and curbing mission drift).
To compete in the global economy, states must have diversified higher-education enterprises with the capacity to educate a highly skilled workforce and contribute to an expanding and innovating economy. Each state should have a broad-based public entity that has the authority to set clear long-term goals, align fiscal policy with those goals, and hold the higher-education enterprise accountable for progress toward those goals. If not, it should be willing to explore other ways to fulfill such crucial leadership roles.
Profile of the Typical Coordinating Board or Commission

Board Size, Gender, and Ethnicity. The typical board has 12 voting members (four women and eight men) of whom nine are Caucasian, one is African American, one is Hispanic or Latino, and one is Asian, American Indian/Alaska Native, or another ethnicity.

Age, Occupation, and Service. Two board members are 49 years old or younger, eight are 50 to 69 years old, and two are 70 or older. The average length of a single term of service is 5.5 years. Two members are retired, and 10 are currently employed. Of those employed, four are in business, two in professional services, two in education, one is an elected official or in a government position, and one is in another occupation.

Selection. The typical member is appointed by the governor, with legislative confirmation.

Board Policies and Practices. The chief executive is not a voting member of the board, but he or she routinely participates in executive-session meetings.

Over half of all board members attend 76 to 90 percent of all board meetings.

The typical board meets eight times each year, for three or more hours each time, and has four standing committees: academic programs/certification/instructional affairs, finance/budget, executive, and other committees.

—"2010 Policies, Practices, and Composition of Higher Education Coordinating Boards and Commissions," Ingram Center for Public Trusteeship and Governance, AGB (July 2010).