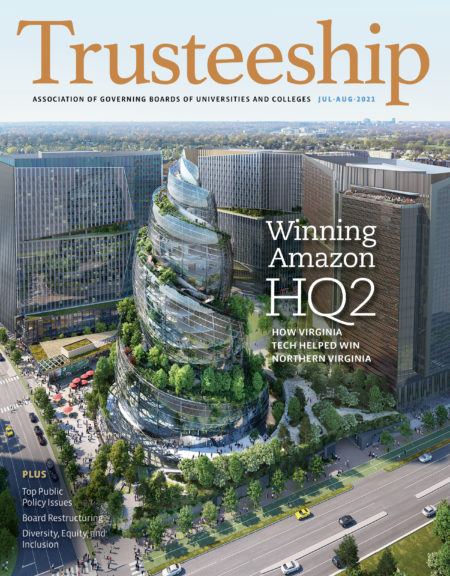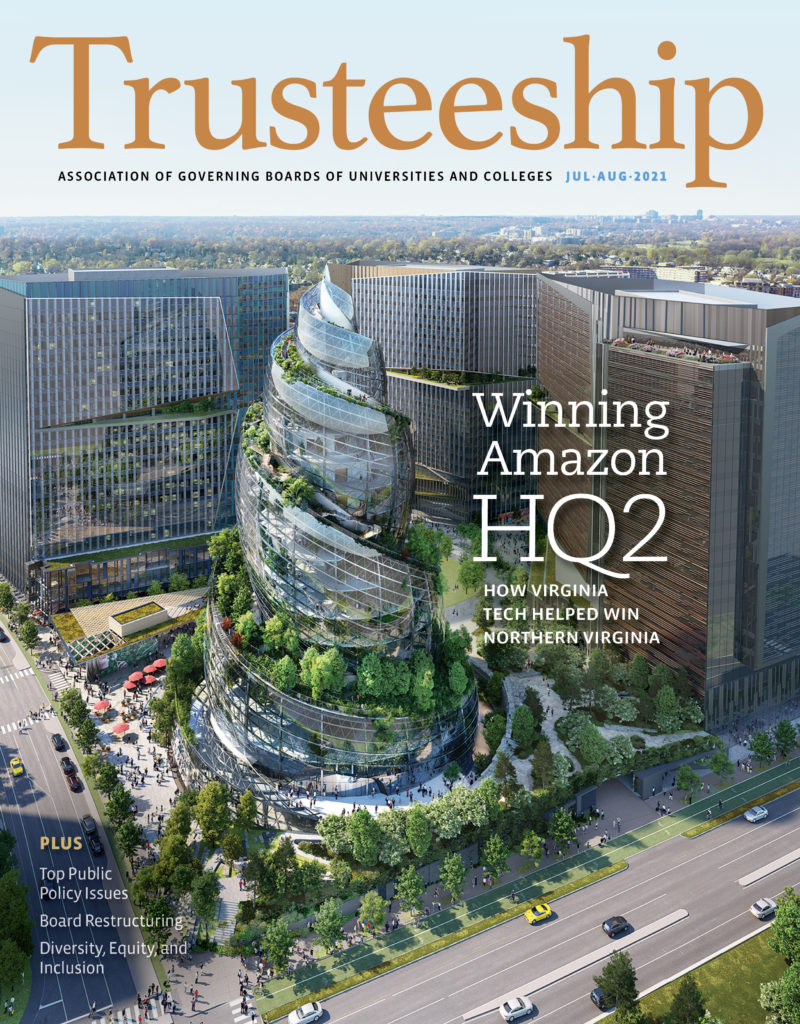 When the technology and e-commerce behemoth Amazon solicited bids in 2017 to build its second headquarters, it set off a scramble by hundreds of cities and states to land a multibillion-dollar project that would create tens of thousands of jobs for the fortunate winner.
The case can be made that no state was better prepared to grab the prize than Virginia and no institution within the commonwealth better positioned to play a leading part than Virginia Polytechnic Institute and State University (Virginia Tech).
Indeed, in hindsight, Virginia Tech and its Virginia Tech Foundation practically had a three-year head start on the fast-track competition because they already had eyes on building a new, high-tech campus in Northern Virginia.
Furthermore, Virginia's economic development arm had completed a strategic plan—literally the day before Amazon issued a request for proposals to build a second base of operations outside Seattle, or HQ2 for short—that envisioned a massive investment in computer science education and the establishment of an Innovation Campus along the lines of Cornell Tech in New York City.
The new leader of the Virginia Economic Development Partnership (VEDP) and principal players at Virginia Tech also possessed know-how and professional backgrounds that lent credibility to Virginia's bid. It stood out from the rest by emphasizing not how much the state was willing to lavish on Amazon in tax incentives, but how its college and universities could meet the e-commerce giant's insatiable need for computer scientists and other tech talents.
It all came together very quickly, and it had to because Amazon gave states and localities just six weeks to prepare their bids.
Setting the Stage
VEDP, a special-purpose state entity, had lured its new president and CEO, Stephen Moret, from Louisiana, where he had done a stint as the state's chief economic development officer before serving two years as the president of the Louisiana State University Foundation and its real estate development arm.
Moret, with an MBA from Harvard and a doctorate in higher education from the University of Pennsylvania, understood the worlds of industry and academe and how important each is to the other. For his dissertation, he had conducted a state analysis that underscored the deficiencies in every state for producing the tech talent needed for economic growth.
He also knew the rule of thumb for calculating how much revenue for states 50,000 jobs could generate, and he immediately anticipated that other states would offer tax incentive packages in the range of $5 billion to $10 billion. Even as a newcomer, "I knew Virginia was not going to do that. If we were going to win, it was going to have to be on some other basis," he said. "We had this notion of, 'Hey, what if we made higher education the centerpiece of our HQ2 bid?'"
Moret also had a gut feeling that his counterparts "would never be able to put something like that together so quickly, knowing that most had never done it before." Moret reached out to the State Council of Higher Education for Virginia, of which he is an ex officio member, to arrange a conference call with top officials from 14 public universities to gauge their willingness and capacity to expand their computer science programs.
He was also looking for help, monetary and otherwise, on the crash effort to present Amazon with a sophisticated proposal with all the requisite bells and whistles in six weeks' time. He told then Governor Terry McAuliffe that alone could cost $1 million or more. McAuliffe approved but wanted the universities to pitch in, too.
Moret didn't play favorites but did call John Dooley, the president of the Virginia Tech Foundation (who recently retired as of May 2021 and has been succeeded by Elizabeth McClanahan as of June 1, 2021). Dooley, the son and grandson of West Virginia coal miners, has been a Hokie administrator for nearly four decades, starting as the director of a 4-H center and rising to vice president for outreach and international affairs before becoming head of the foundation in 2012. On his watch, the Virginia Tech endowment has more than doubled to $1.5 billion, with the foundation managing $800 million in real estate and other assets.
"I was sitting at home, I pick up the phone, and Stephen says, 'John, I've got something I want to run by you. Have you heard about the HQ2 competition?'" recounts Dooley. He replied, "Everyone in the world has heard about the HQ2 competition," and Moret proceeded to tell him, "I've got an idea I need to run by you—and I need Virginia Tech support and the Virginia Tech Foundation's engagement."
"The governor said he'll give us $1 million for our bid if we can match it with nonstate dollars. If you guys could contribute to that, that would be great," Moret told him.
Dooley quickly got in to see Virginia Tech President Tim Sands. It took Sands "hardly any time to make that decision. He said, 'We're all in.'"
Sands, in his 2014 installation address as Virginia Tech's 16th president, had spoken of his vision of a "binary star" for the land-grant university: "a Global Innovation District" in the national capital region, four hours' drive from the home campus in Blacksburg in the Appalachians. When Dooley laid out the plan that VEDP was hatching, "it just sparked a light bulb. We had the plan in the drawer at that point and it just happened to dovetail with what the state was thinking about."
While Moret later heard some grumbling that Virginia Tech had gotten on the inside track, that was not the case. He canvassed all 14 public universities and asked what they needed to graduate more computer scientists and engineers and how they could help with the bid. Virginia Tech, he said, was simply faster off the mark.
"They wrote a check for I think $150,000 right out of the gate and offered to dedicate team members to our core team. They were not lobbying for Virginia Tech," says Moret. "They were really helpful team members, reviewing drafts of documents, suggesting how we might characterize different things from an innovation perspective."
Positioning the Entire State of Virginia for Success
The Virginia Tech participants weren't just working on their own behalf but on ways for all the universities and the state community college system to participate and share in the state's promised $1.1-billion push to expand the computer science pipeline. "They were really trying to help the whole state succeed," said Moret.
"We wanted to set a pace for the other institutions to consider… and provide that assurance to the state that we were serious about being a lead partner," said Dooley. He kept the foundation board's executive committee informed, but never asked for a formal vote of approval. At that point, "just nods" sufficed, he said.
In a similar vein, the Virginia Tech Board of Visitors was never asked to put its imprimatur at that point on the university's rapidly developing plan to build from scratch an "Innovation Campus" on a prime 3.5-acre site in the City of Alexandria just south of Reagan National Airport, two miles from Amazon's future HQ2.
Horacio Valeiras, the rector of the Virginia Tech Board of Visitors, said that body never cast a former vote either, even when the university ultimately agreed to raise $250 million to match its share of state grants under Virginia's promise to Amazon to invest $1.1 billion in expanding the tech talent pipeline.
"If you look at the minutes of board meetings leading up to that decision, you'll see nothing because there was a desire to keep all these things quiet. Amazon was demanding strict confidentiality and the state was making an offer we didn't want other states to hear about," said Valeiras, a 1980 chemical engineering graduate of Virginia Tech who runs a global investment management firm in La Jolla, California. (Valeiras is also a member of the AGB Board of Directors.)
Valeiras, a former president of the Virginia Tech Foundation, understood how well suited it was to do the behind-the-scenes work with VEDP. "The foundation could do it in a way that was better (suited) to get to the endgame and for Virginia to be awarded HQ2," he said. While the circumstances and the stakes here were unusual, public universities often look to their foundations to move nimbly when the institution itself cannot.
"This was a once-in-a-lifetime opportunity," said Dooley. "We weren't going to miss the opportunity by being caught in a snare of bureaucracy."
Assembling a Startup Team
In January 2018, Amazon selected Northern Virginia as one of 20 finalists from a field of 238—the commonwealth had hedged its bets by proposing sites in the Richmond and Hampton Road areas as well, but Amazon wasn't interested—and Virginia Tech and the foundation quickly pulled together a core group of senior officials to map out how and when it would get this Innovation Campus— essentially a graduate school connected with tech companies expected to flock to the site—up and running to meet Amazon's needs.
"We started on purpose with a really small team—four or five of us—when we were putting the concept together. We were sworn to secrecy. We even had to sign documents that we wouldn't tell anyone," said Associate Vice President for Innovation and Partnerships Brandy Salmon, who spearheaded the effort. Salmon, who has a PhD in microbiology from Cornell University and an MBA from Duke University, has long experience with business engagements.
Later Salmon's "power team," as she calls it, grew much bigger to address "every function you can think of to launch a campus," from the size of the faculty and facilities to handling community and government relations.
"You can't build a building if you don't know what you're going to put in it, and you don't know what you're going to put it in until you work with the faculty to figure out what the programs will be," she said.
The team included Charles Phlegar, the vice president for advancement, who had played an important role in Cornell University's hugely successful launch of Cornell Tech on New York City's Roosevelt Island; Catherine Potter, an attorney who had closed many real estate deals in the Northern Virginia market before coming to Blacksburg as the foundation's general counsel and associate vice president; Julia Ross, the new dean of engineering; and others from the Department of Computer Science.
Virginia Tech, the state's senior land-grant university that was founded in 1872, just 10 years after the Morrill Land-Grant Acts were passed, is familiar with operating on a large scale outside of Blacksburg. "People think of our undergraduate campus in Blacksburg as being in Virginia Tech, but we're actually all over the commonwealth," said Sands. "We have seven different sites up in Northern Virginia [alone], so this wasn't completely new."
Those extensions include a seven-story, 145,000-square-foot research center in Arlington and a graduate studies center in Falls Church. Until the first building on the $1-billion Innovation Campus opens in 2024, newly enrolled students will start their classes in Falls Church.
All told, Virginia Tech offered more than 45 graduate degree and certificate programs in the Washington metro area even before the Innovation Campus took shape.
With $800 million in assets to manage in addition to the $1.5-billion endowment, the foundation was no neophyte in the real estate world. "We have a very far-flung portfolio," said Potter, including a Corporate Research Center in Blacksburg that is home to businesses that employ 3,200 people as well as the Steger Center for International Scholarship in Switzerland. It is currently building a seafood research center in Hampton Roads.
The portfolio even extends to a 19th-century quarry that produces the signature limestone—Hokie Stone, they call it—for campus buildings. Potter notes with pride that her small staff recently spotted a tax lien sale that enabled the foundation to scoop up at minimal cost eight acres adjacent to the quarry.
"It's that kind of thing we do," said Potter. "We pride ourselves on the fact that we are problem solvers for the university and are able to work more like a private sector company."
The foundation received an anonymous gift of land for the new campus in Alexandria and is working with JBG Smith, a developer simultaneously developing a master plan for the surrounding property that envisions a mix of business, retail, and residential space. The foundation owns the campus land, and ground will be broken this summer on the first of three academic buildings, with Virginia Tech leasing 75,000 square feet and businesses the rest.
Establishing a Center for Regional Job Growth
Amazon announced in November 2018 that its second headquarters and planned 50,000 jobs would be split between Northern Virginia and the New York City borough of Queens, but the New York plan failed due to local opposition. Virginia is still counting on 25,000 new jobs, but Amazon has indicated that number could eventually grow by half.
In exchange, Moret said, the Virginia General Assembly agreed to put up $550 million in tax incentives, $1.1 billion for the tech talent investment initiative, and $195 million for public infrastructure. Amazon will get $200 million more if it winds up creating almost 13,000 additional jobs.
The package had strong, bipartisan support, generated in part because of the legislation's requirement that colleges raise funds to match the state computer science incentive grants, as Virginia Tech is doing for its $250-million share.
Moret said he knew from running the Louisiana State University Foundation how much donors love matching grant opportunities and that "legislators loved them as well."
Virginia Tech was in the quiet phase of preparing a $1.5-billion capital campaign, so the $250 million it promised to pitch in for the tech pipeline became part of that larger goal. (Valeiras is cochairing that campaign, which launched in 2019.)
"I've never been involved in a project that had more broad-based political support," said Sands. "The Republicans in the General Assembly love that [the grants] are performance-based and the Democrats love the investment in education." What's more, he added, "we're actually investing in building a tech talent pipeline that's going to be far more than what Amazon needs itself."
Moret said when Virginia began its quest for HQ2, few thought it had a shot. However long the odds, he added, the rewards "would be almost incalculable," so it was well worth the try. Virginia Tech looked at it that way, too.
Then everything moved quickly into place, aided in no small part by the fact that so many key players, including Sands, Moret and Dooley, had operated at the intersection of higher education and big business. As Dooley put it, "The stars were aligned. Things just played out perfectly." Northern Virginia was attracting high-powered tech companies before Amazon, not least because the Washington metropolitan area was already producing more computer science graduates than New York, Chicago, Los Angeles, Boston, San Francisco, and other big cities.
Lessons from the Amazon HQ2 Story for Universities and Institutionally Related Foundations
So, what are the lessons of HQ2 for other universities and their foundations?
"Think big," said Sands. Once Virginia Tech won, it had "to bring our best people to [the] delivery team, even though they're stretched and doing other things for their day jobs. You have to get the best people in the room and do it."
"We did not have to go out and find new people to put the concept together," said Valeiras.
But Virginia Tech did have to make wise choices of partners, including getting approval from the City of Alexandria for the Innovation Campus on a shopping center site that had housed a multiplex movie theater and big box stores. With its partner JBG Smith, the foundation's Potter and her small team got that done in 14 months, with help from outside counsel who were experts with the local zoning requirements and regulations.
"This was a team effort. It wasn't just me. We had outside counsel. If there's one thing I can say, when it comes to real estate, everyone says it's the location, location, location. It's also the jurisdiction, jurisdiction, jurisdiction…. It was absolutely critical for us to have that outside counsel," said Potter.
Ground will be broken this summer on the Innovation Building. The new crop of master's degree candidates is already starting classes at the Virginia Tech Northern Virginia Center in Falls Church. The university hired Cornell University Dean of Engineering Lance Collins to be vice president and executive director of the Virginia Tech Innovation Campus. For now, Collins and his staff are operating out of space the foundation has leased in the Potomac Yards headquarters of the National Industries for the Blind, just blocks from where the new campus will soon rise.
Collins, like Phlegar, also played a role in Cornell's successful creation of Cornell Tech, which has not gone unnoticed by other states and major universities. The University of Michigan plans to open a $300-million Detroit Center for Innovation in downtown Detroit focusing on high-tech research and education, and the University of Illinois is building a new Computer Design, Research, and Learning Center at its Chicago campus.
Collins said that when the Innovation Campus is completed in 10 years, it will have 50 faculty and, along with Blacksburg and Alexandria, award 750 master's degrees a year, compared to 100 now.
He is grateful to his landlord, the Virginia Tech Foundation, and what it has pulled off in partnership with the developer, JBG Smith, with plans to develop 60 more acres into "a frontier technology district that will build off all the expertise Virginia Tech is bringing. That is extremely exciting," Collins said. "Proximity matters in this kind of world. The idea of bringing a lot of [leading] technology companies [close together] has incredible potential."
From the first, partnerships have paved the road to success in the competition for HQ2.
"The big lesson we learned was you have to align with your partner and then build trust," said Sands. "If either of those two things fail or deviate, things start to fall apart.
Christopher Connell is an independent journalist and former education writer for the Associated Press. He is the author of AGB's Top Strategic Issues for Boards 2020–2021.
Share on LinkedIn