Trusteeship: September/October
Volume 27, Number 5 // September/October 2019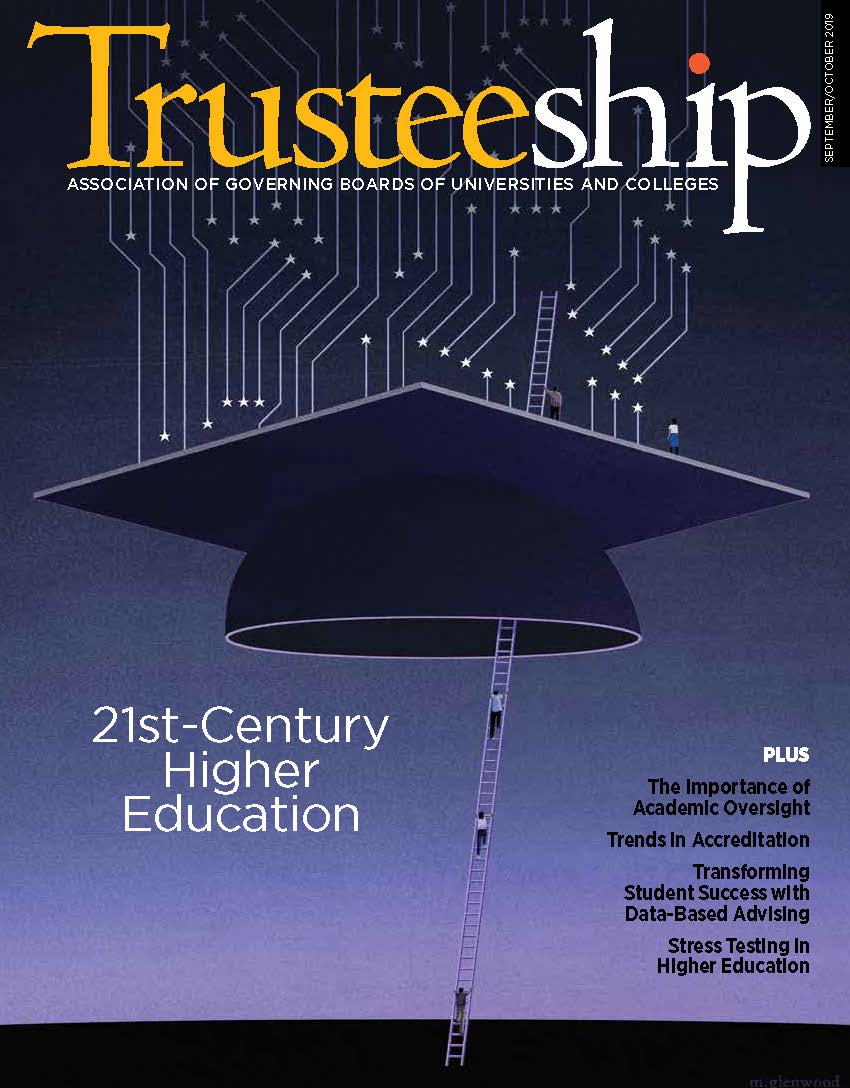 Table of Contents
Features
The 21st Century Is Here: Is American Higher Education Prepared?
By James B. Hunt, Jr., JD, and Javaid E. Siddiqi, PhD
Colleges and universities nationwide are grappling with a wide variety of challenges and disruptors. But perhaps the most pressing issue facing higher education today is the need to prepare students to succeed and prosper in the global knowledge-based economy of the 21st century.
Stress Testing in Higher Education
By Verne Sedlacek
Among the most important fiduciary responsibilities of a governing board is maintaining an institution's long-term health. Stress testing is one of the primary means of doing so.
The Transformation
By Timothy M. Renick, PhD
A highly enterprising student-support initiative at Georgia State University has eliminated equity gaps among its student population and demonstrated to the higher education sector that it is time to elevate expectations—to recognize that race, ethnicity, and income level are no longer predictors of student success.
Trends in Accreditation: What Matters to Governing Boards
By Judith S. Eaton
Accreditation is becoming increasingly important in matters of board governance. As there is more attention on the success of student outcomes, there is a greater demand for accountability from accreditation.
The Importance of Academic Oversight
By Mary Dana Hinton, PhD
Ensuring a high-quality academic experience for all students depends on a board that understands its responsibilities with respect to the stewardship of an institution's academic mission.
Departments
On My Agenda
Enhancing the AGB Member Experience
By Henry Stoever
Perspective on the News
A sampling of national higher education news
Legal Standpoint
Policies and the Law
By Steven Dunham
Focus on the Presidency
Allies in Innovation
By Alison Davis-Blake, PhD
View from the Board Chair
The Essential Work of Trusteeship
By John Littel, JD
Inside AGB
New Guardians Podcast Episode and Video
Schwartz Moderates SHEEO Panel on Reimagining Public Higher Education
AGB's Letter to Secretary DeVos About the Proposed Accreditation Regulations
New Staff at AGB
A Question For…
Melissa Cheyney, PhD
How Can Higher Education Institutions Support Student Parents?
Share on LinkedIn