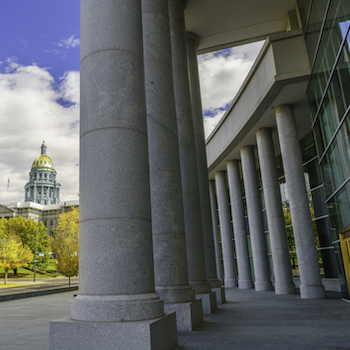 One of the greatest strengths of the U.S. higher education governance model is that board members have one foot in higher education and one foot in other fields and industries—making them astute thought partners. They will often also have knowledge and personal or professional connections that could be tough to emulate at the administrative level. Those skills and networks are two reasons why AGB has long promoted board member participation in public policy advocacy. In fact, we specifically call on board members to advocate on behalf of students and institutions in Principles of Trusteeship: How to Become a Highly Effective Board Member for Colleges, Universities, and Foundations: 
Principle #3: Be an Ambassador for Your Institution and Higher Education 

Advocate on Behalf of Your Institution and Higher Education

Play an active and supporting role as an ambassador on behalf of your college or university—active in terms of being ready, willing, and able to reach out to individuals and supporting in terms of following the administration's lead on issues, messages, and timing. Become comfortable articulating the institution's strategy and priorities in your own voice. 
I encourage board members of both public and private institutions and systems, as well as foundations, to think about their circles of influence and reflect on what opportunities they can leverage to share information about key higher education priorities to policymakers at the state and federal levels. In a world in which the value of higher education is being questioned, an articulate message coming from a trusted board member can have a significant impact. For example, a board member may be in prime position to rally allies in the business community to elevate higher education in the state or region. 
With that said, board member advocacy should be seen as part of a larger public policy strategy, helmed by the president and senior administrators, especially those in legal affairs, government relations, and communications. It does little good to have a board member act on a separate agenda or independently from a coordinated strategy. Not only is it less effective, but the confusion it can cause will likely detract from the institution's key messages and weaken its arguments. It can also cause unnecessary conflict amongst board colleagues and senior staff. Instead, engaged board members should always speak with the board chair and the president to discuss how they can add value and support agreed-upon strategies. For example, Grand Valley State University paired the president, vice president of the student association, and the vice chair of the GVSU Board of Trustees to highlight the value that higher education institutions bring to the state—and how valuable a one-time increase in appropriations could be after a year of responding to COVID-19.  
Another opportunity for board advocacy involves joining or representing the institution with advocacy coalitions or organizations. AGB recently released a podcast about the Colorado Trustee Network (CTN)—an organization of public higher education trustees who support meaningful change in Colorado's approach to higher education. Frequent AGB blog readers may remember this post about the CTN. 
Foundation and alumni board members are also in an excellent position to serve as higher education advocates. As with institution and system board members, ensuring alignment in messaging is key. Lawmakers sometimes don't understand how endowment assets are accumulated or distributed to the college or university, or the purpose of an affiliated foundation. Outside of institutional efforts, elected officials may not often speak with recent graduates about the transformation that can come from the college experience. Consider the impact of a president, board member, student, and public official discussing the positive impact of postsecondary education on the individual and the region. The University of Washington's UW Impact brought together students, alumni, board members, and staff from multiple institutions to advocate on behalf of higher education to state officials. Readers can learn more about that effort from our 2019 podcast episode "Engaging Alumni in Advocacy."  
Board advocacy can be a powerful tool when it's done effectively. I encourage board members to regularly discuss advocacy and current state and federal public policy issues in appropriate committees and with the chief executive and senior staff. AGB has a number of resources to help you understand the policy landscape and what board members can do as champions for higher education.
Opinions expressed in AGB blogs are those of the authors and not necessarily those of the institutions that employ them or of AGB.
Share on LinkedIn