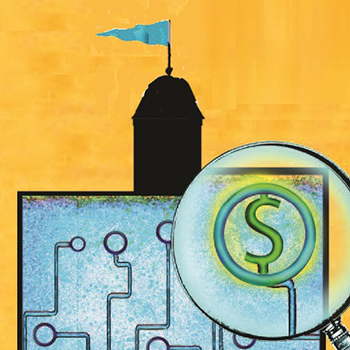 While fundraising overall has surged in recent years, far outpacing other university revenue sources, growth hasn't been equitable across higher education institutions. Many colleges and universities have seen a slowdown in the past few years; about one-third are raising less now than they were even in the sluggish economy of the early 2010s.
What can explain these low fundraising returns amid so much wealth and opportunity? Our research at EAB shows that it comes down to how well institutional leaders can answer three critical questions:
Do we have enough prospects in our fundraising base?
Do we have the right resources for fundraising?
Do we have the right priorities in our fundraising plans?
These three questions reflect the three constraints on fundraising growth: prospects, resources, and vision.
The Prospect Constraint: Capitalizing on a Growing Prospect Base
While the number of high-net-worth households has grown by nearly two-thirds since before the Great Recession, many fundraising teams are making unforced errors that lead to undercultivated prospect populations.
In particular, our research surfaced a tendency for advancement leaders to put the best prospects in the wrong portfolios, overload major gift officers with prospects that they don't have capacity to cultivate, and prioritize alumni participation over pipeline development.
The Resource Constraint: Aligning Resources with Institutional Ambition
While prospects are necessary, a large prospect base alone is not sufficient. Indeed, our models show that nothing predicts fundraising as well as the resources that a college or university puts into advancement.
On average, every net new full-time equivalent (FTE) adds over $1 million to an institution's top-line fundraising totals. Yet amazingly, more than 70 percent of institutions have cut fundraising resources in the past five years—even before the pandemic arrived.
Thankfully, we seem to be entering a new era in which presidents' and chancellors' campaign ambitions inspire adequate investment in advancement. Still, investment without a smart, data-driven strategy about how to use those resources can lead to low returns and disappointed stakeholders.
Highly effective institutions invest not only in frontline positions but in support roles as well. They make sure to align their compensation and benefits with market realities to attract (and retain) the best talent. Lastly, they make sure to broaden their recruiting networks to bring more high-potential candidates into the industry.
The Vision Constraint: Creating Pathways for Transformative Impact
Philanthropy has been revolutionized in recent years by the emergence of impact-driven donor-investors—a new type of ultra-high-net-worth donors who give to whichever organization will help them change the world, irrespective of their previous connection to it.
For many institutions, the emergence of the donor-investor has thrown into stark relief the inadequacies of their fundraising vision. Generic priorities and transactional asks dominate campaign materials and solicitation strategies. Rare is the campaign pillar that donors can't find at nearly any other institution.
Our research has surfaced best-practice institutions that are recasting their fundraising priorities and campaign pillars around transformative impact, extending those inspiring giving opportunities to pipeline donors as well as those giving major and principal gifts, and reorganizing their teams so their frontline officers are focused on the most visionary multidisciplinary asks they can be making.
The years to come undoubtedly will bring more volatility. Higher education leaders must be absolutely certain they are doing everything they can to loosen the constraints holding back their fundraising growth to ensure they are poised to weather the storm
Jeff Martin is senior director, research at EAB.
Opinions expressed in AGB blogs are those of the authors and not necessarily those of the institutions that employ them or of AGB.
Share on Twitter