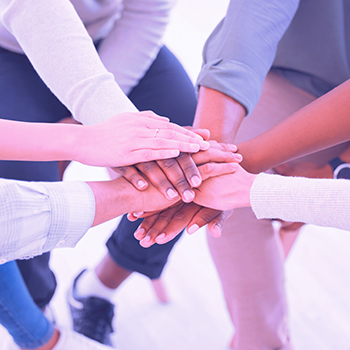 In late March, the Council of Board Professionals convened in person for the first time since its formation. The gathering was part of a larger set of events including the Board Professionals Conference and the National Conference on Trusteeship. It was so special to be back in person after three years of virtual conferences. While virtual options can be great and bring people together, there is nothing like the hugs and high fives of colleagues. To reconnect in person. To catch up. To learn. To laugh. To share.
As you've probably read before, the Council of Board Professionals mirrors other councils that AGB supports—the Council of Presidents, for example. The Council of Board Professionals is a kitchen cabinet of sorts for AGB President and Chief Executive Officer Henry Stoever and the entire AGB team, providing insight, testing ideas, and sharing information.
Henry described AGB's work as a coach, curator, and teacher. And a BP quickly piped up that board professionals share that work. We coach our trustees, presidents, colleagues, and campuses on good governance practices. We are a listening ear, a supporter, a challenger, and a cheerleader for our organizations and for the importance of governance. We are curators who help to plan exceptional experiences. We also curate knowledge and information to help deliver the right information at the right time. We are teachers. We are armed with knowledge and often provide it before anyone even knows they need it. Like teachers, we know how to adapt to the learning styles and needs of each person. We help provide unbiased information. We bring forward the latest data, ideas, and methods. AGB is helping us be better coaches, curators, and teachers with new and upcoming publications and programming.
Cristin Toutsi Grigos, AGB's vice president for content and program strategy, shared insights into upcoming programming priorities. Specifically, Cristin discussed AGB's relentless focus on effective content delivery through a variety of media. Some new content we can all look forward to includes work on an updated statement on external influences on universities and colleges, a publication on shared governance for agile institutions focused on change management and innovation, a publication on board retreats, and a new booklet highlighting best practices for committees on student success.
During hallway conversations, breakfast with colleagues, and chatter between sessions I heard a regular refrain: "AGB is listening to us. I feel like I'm contributing in a meaningful way, and I feel like I'm being heard." I want to offer my own hallway talk to the conversation. It starts with a thank you to AGB for bringing us back together. For engaging board professionals in new and meaningful ways and to listening. To the entire AGB team: thank you.
If you were able to gather with us at the Conference for Board Professionals, I also want to thank you for making an investment in your success and an investment in our profession. If you weren't able to make it, know we missed you. We all hope that you'll join us next year to learn, laugh, share, and be together.
Katie Herschede, EdD, is the vice president for strategic initiatives and chief of staff at Widener University.
Opinions expressed in AGB blogs are those of the authors and not necessarily those of the institutions that employ them or of AGB.
Share on LinkedIn