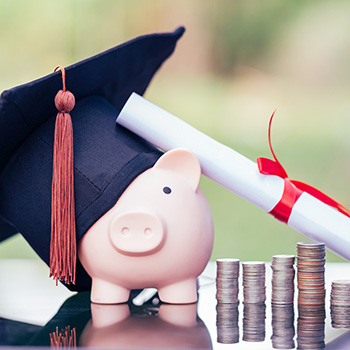 The top submission for the 2020 Word of the Year was "unprecedented." As you think back to 2020, you'll likely recall why so many people felt that their lives had been turned upside down. And since then, even more has changed about society and how we interact with each other.
As a student, I experienced twists in my path that were unexpected. My parents couldn't afford to pay for any of my college education. As I forged ahead regardless of the circumstances and worked to pay for college on my own using a combination of scholarships, grants, and work-study, I was surprised to learn during the summer after my sophomore year, according to the institution's formula, I had worked too much; the school declared me ineligible for work-study entering my junior year. Just as I began to comprehend not returning to school, I was saved by a scholarship. Because someone put a scholarship for the university in their estate plan through the university foundation, I was able to continue my education.
From that moment forward, I wanted to learn everything I could about university advancement. I spent years in advancement offices with the goal of helping students rise above experiences like my own. I completed a master's in higher education administration and a juris doctor with the goal of helping donors put universities in their estate plans. After serving in advancement for 26 years and in leadership roles for 17 of those, I joined EAB to help schools make these important donor connections and provide relief to students feeling the financial crunch.
Just as I've navigated twists and turns in my own career path, the people with whom we connect have also learned to adjust to countless changes over the past few years. As advancement leaders, we need to understand and anticipate those changes to stay relevant, informed, and effective. From one advancement leader to the next, the thoughts below may help you move forward.
Leverage Today's Technology
Reprioritize your channels. To reach more of your prospects and retain your current donors, it takes will, determination, and an understanding of the ins and outs of their preferred communication media. Though phone outreach may have performed well for your office for years, for many, its heyday is behind us. Eight in 10 adults don't answer calls from unknown numbers, so unless you have an established connection with a particular donor, it is unlikely that you'll have a conversation with them. A smarter use of your time is outreach through digital channels, such as paid search, paid social media, email, and text. You can derive meaningful insights from these platforms' reporting dashboards in real time. While the phone may never be obsolete, and should still stay on your radar, its relevance and effectiveness are waning.
Utilize digital payment options. After bringing donors to the table, the last thing you want to do is turn them off with outdated payment systems. Digital payments are not only here to stay, even in higher ed, but they are gaining adoption every day, among all ages. Services like PayPal, Zelle, Venmo, Apple Pay, and Cash App simplify the payment process for consumers. Further, despite recent headwinds, don't sleep on accepting cryptocurrency.
Extend your reach with virtual meetings. Maximize your use of Zoom to spend time with donors at a distance. Virtual meetings make it convenient for you to get in front of people and learn more about them. Explore the possibility of holding webinars or one-on-one sessions with key segments of your donor base. Remember to follow up on these as you would with any in-person meeting. If donors are Zooming with their grandchildren, they may just Zoom with you.
Use data-driven targeted segmentation. Rather than sending the same message to your entire donor base, craft meaningful messages for specific segments, applying very specific data that now are accessible.
Think beyond the major. For the sake of segmentation, labels are easy. It seems obvious to reach out to business grads for donations to business programs. But in doing that, you may be missing unique opportunities. Often, graduates' interests may have change since they were students. That means that you may be spending valuable time contacting graduates about the wrong giving opportunities. Tracking donor interests in your customer relationship management can provide talking points for your conversations and explore new areas of support.
Consider extending the scope of your team. Higher ed is feeling the staffing crunch of the past few years. Instead of spending endless hours on hiring a position with historically high turnover, consider hiring an industry expert to help you with annual giving campaigns. It may even be the more cost-effective option. You could reduce the strain on your team and gain bonus outcomes such as more meaningful data and insights, and the peace of mind that the staff is consistently available.
It's difficult to predict the next big thing in advancement, but an experienced, outside view can assist meaningfully. By deeply leveraging today's technology, and having a committed marketing partner at your side, you can position yourself for the twists and turns of our "unprecedented" future.
Brad Shafer is a consultant and principal at EAB.
A version of this blog post appeared on the EAB website.
Opinions expressed in AGB blogs are those of the authors and not necessarily those of the institutions that employ them or of AGB.
Share on LinkedIn