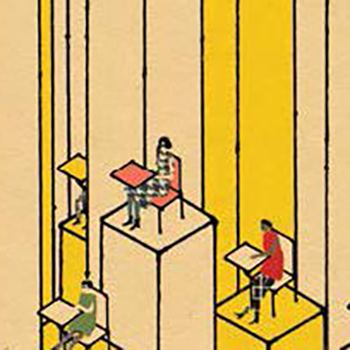 The topic of the August session of the AGB Council of Board Chairs was "Anticipating Strained Board-Constituent Relations." The primary question put to the group was: "Are You Ready?"
In advance of the session, the following list of potential factors impacting the campus environment and its constituents was offered to give participants opportunities and challenges to consider.
External Factors
Impact of COVID
Inflation
Declining number of prospective students in the pipeline
Impact of the Supreme Court Dobbs Decision: enrollment, hiring, health services
Impact of the Supreme Court Environmental Protection Agency Decision: regulating emissions and climate change
Proliferation of mass shootings and campus safety issues
Negative public sentiment about higher education
Political interference or undue influence
Internal Factors
Decline in the real value of salaries
The "Big Quit": exodus of employees across all industries
Presidential retirements and resignations
Hunger and housing insecurity
Student mental health
Student skepticism regarding administrative engagement and privacy concerns
Increased student expectations or demands for agency in decisions
Challenges to the principles of free speech and academic freedom
Disconnect between diverse student bodies and the lack of diversity on boards and in institutional or system leadership
Council ambassadors David Maxwell and Jill Derby offered an overview of these topics while emphasizing the challenges institutional leaders and boards face in addressing these issues as they emerge in an environment that has changed (and continues to change) in significant ways. There is definitely consensus that new approaches and creative solutions are needed in this post-pandemic world—across all sectors of higher education.
Value Proposition
With a broad and inclusive menu of topics laid out for board chairs to consider, members started the discussion around the issue of the value proposition of a college degree, a topic of central concern across the broad higher education landscape. Surveys continue to confirm that the majority of people recognize the economic value of a college degree, but there remains significant public skepticism about the enterprise itself and the cost burden imposed on students and their families. On many boards, price is front and center. Targeting the right market to meet enrollment goals was emphasized as was using data to determine market leverage or effectiveness. The market is not uniform and varies according to place and time. A stark but realistic proposition was laid out by a former university president and board chair—higher education continues to be too expensive and out of reach for a significant portion of the population.
AGB President and CEO Henry Stoever posed the question of whether evolving the concept of "value proposition" to "price/value proposition" might move the conversation into a more positive context. In addition, concerns were shared about the number of students—particularly in this post-COVID period—who are choosing not to return to campus, or those who are opting for alternative-credential programs. Major employers such as Google have been foregoing a traditional degree requirement for a number of jobs that formerly required one.
Enrollment and Diversity, Equity, and Inclusion
The community college sector is especially impacted by declining student enrollment following a period of campus closures and remote learning brought about by the pandemic. With an excess of jobs available in the current labor market, many students are choosing work opportunities over returning to continue their studies. The loss of students remains a serious concern to institutional and system leaders and their boards.
An important discussion took place around student body diversity. There is a need for trustees to expand their awareness of the profile of students at their institution(s), and the need to emphasize the requirement for greater diversity—particularly at private institutions. Many alumni serve on the governing boards of our colleges and universitas and board education may be required to help modify their view from the past of how it was when they were on campus versus today and the changing composition of the student body. It may take strong leadership, from both the president and the board, to make the case for and advance diversity and equity initiatives.
Several points were made to underscore the prominence and importance of conversations related to diversity, equity, inclusion happening on campuses and in boardrooms across the country. Among them were:
If you are not actively supporting a diverse student body, you may find yourself on the short end of recruiting students over the next decade.
We do our students a disservice if we fail to adequately diversify our student bodies, for the world into which they will graduate to work and engage is a multicultural, diversified space.
Across the country, our board, administrative, and faculty profiles should more closely reflect our student population and communities.
Students themselves are adding their voices in support of diversity and equity initiatives.
HBCUs are having different conversations about diversity that align with their missions, goals, and challenges.
Mental Health
A robust discussion of graduation rates as an ongoing challenge to most of our colleges and universities. Retention rates and how we help our students persist in their studies brought out the topic of student mental health, which is an issue of new intensity throughout the higher education environment. Between 20 percent and 25 percent of students arrive on campus with some prescription of psychotropic medication. Added to that reality are the disruptions and dislocations caused by the pandemic and the psychological stress on many students of isolation and remote learning.
Adding to the pressure on campus health providers is the conundrum that may be facing them in the wake of the Supreme Court's Dobbs Decision. Going forward, navigating the variation in state laws surrounding this matter will prove challenging to the staff of campus health facilities who deal with the implications of this dramatic change, as with all the related issues of their student populations.
What's the Board's Role? (Board Chairs and Bringing the Work of Boards into Focus)
The overriding question that lies behind all these serious issues facing higher education is "What is the board's role?" Given the range of quandaries and questions confronting our nations' colleges and universities, the overriding issue of how governing boards who meet three to five times a year can best impact the serious challenges their institutions face is the critical question in our era of governance. The board chair's central role emerges as vital to this challenge. Agenda time and meeting topics for discussion are determined by the board chair and president in a collaborative process. Boards need to prioritize their time and focus on the most critical issues confronting their institutions. Board chair engagement in agenda setting is critical to this limited time equation. Hearing reports is important but allowing time for critical discussions and questions is essential and necessary.
Practical recommendations that board chairs can institute to focus on board priorities while considering time and meeting limitations:
ensure an educational segment in each board meeting,
hold an annual board retreat,
develop a list of strategic issues with the president for systematic inclusion in meeting agendas,
ensure that new trustees receive effective orientation and understand their governance responsibilities,
ensure board member visitations to the campus(es),
find ways to recognize the service of board members who serve without compensation,
incorporate social activities into board meeting planning, and
pass a resolution at the conclusion of each trustee's term of service recognizing their accomplishments during their time of service, which also helps to preserve institutional knowledge.
In these and other capacities, the leadership of the board chair is vital to the effective functioning of the board. The nature of board leadership can certainly be challenging at times. AGB's publication, Effective Board Chairs: A Guide for University and College Chairs, includes strategies for board chairs about how to engage board members and build consensus around governance challenges and opportunities. This toolkit is another effective resource.
The topics laid out to council members elicited a spirited discussion with engagement from all participants. The initial question asked, "Are You Ready?" was not answered in specific ways by the group of board chairs, but by the range and depth of challenges confronting boards everywhere.
Thank you to AGB Mission Partner RNL for its support of this council.
Jill Derby, PhD, is a senior consultant for AGB, a senior fellow, and an ambassador for the Council of Board Chairs.
Opinions expressed in AGB blogs are those of the authors and not necessarily those of the institutions that employ them or of AGB.
Share on LinkedIn