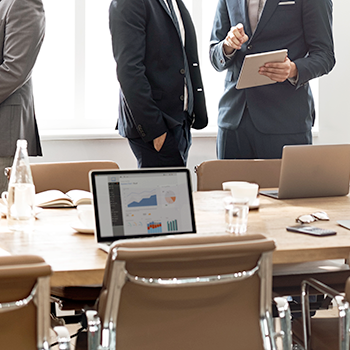 Most higher education boards are steered toward new technology by younger, tech-savvy board members or administrators. But at Mississippi State University, a board member who was set to retire sold his colleagues on the modern approach.
"Before [the board member] retired, he served as an executive for an oil production company in Texas and asked if we'd ever considered migrating to an online portal," says Lisa Hearn, Mississippi State's assistant to the executive director of development.
The suggestion and the resulting efficiencies gained from having migrated to an online board portal were invaluable to Hearn, who was responsible for organizing board meetings, retreats, and other events for the university's 47-member board that met formally three times each year.
"Having to stop other projects I'm responsible for in order to put together separate board books for each member was really stressful," Hearn says. "It took a lot of time and a whole team of people to make it happen."
Now the Mississippi State board has up-to-date board information, anytime, anywhere, from contracts to bylaws. Hearn and her team have reduced the time they spend creating board books by 25 to 30 percent.
These are just a few of the benefits a modern, digitized board intelligence platform can offer to higher education boards:
More Than Just Saving Time
The University of Wisconsin–Eau Claire Foundation board employed the traditional approach to board meeting materials for years. It also experienced the frustrations.
Michele Olson, the foundation's stewardship and planned giving director, pieced together approximately 50 large, hard-copy books for each meeting. Inevitably, she would need to make last-minute changes to the materials. That meant rushing to the printing service the foundation hired and asking the staff to stop production. If it was too late, she would rip out sections with incorrect information and replace them with loose paper that included the updated text.
"It was a lot of time, a lot of stress, a lot of paper, and a lot of cost," she says. "You can't just push a button and have 50 of those books done."
Since implementing a digital board intelligence platform, Olson and other board members can upload materials directly into a "book builder," and designated staff (those with permission to handle specific materials based upon their board duties) can update documents as needed right up to meeting time. Olson simply notifies the board members of any last-minute changes via a quick notification through the board portal.
With the implementation of a board portal, paper costs decline significantly, communication improves, and board meetings themselves run much more smoothly than with paper board books. After moving away from paper to a board portal, Millikin University in Decatur, Illinois, achieved a $9,000 annual savings—a 26 percent overall ROI.
"Now I am shredding old copies of those board books that we spent so much money, time, and resources printing," Olson says. "I'm glad we don't need to do that anymore. Every year, I think people are less and less tolerant of waste like that."
The Right Board Portal Is Easy for Everyone to Use
Whenever boards switch from hard copy to digital meeting materials, a common concern is the adjustment that veteran, established board members must make. Fortunately, the right board portal will make that transition a smooth one.
At Bowling Green State University, which recently made the switch from paper to digital, some board members were hesitant, with some even requesting they continue to receive information via paper. But Sarah Brokamp, special assistant to the vice president for university advancement, says they were all using the board portal within a year.
"Now we're at a place where we don't print anything," Brokamp says, adding that the same board members now access the board portal to find information themselves. In the past, they would ask her to find information from previous meetings.
Good Training Is Key
Despite the time and cost savings, ease of use, and elimination of paper waste, the switch from paper to portal isn't smooth without proper instruction for everyone who will use it. Hearn and Mississippi State leaned on their board intelligence software provider's customer success team to ensure smooth implementation, optimal functionality, and board member buy-in.
"We had a lot of positive feedback from members," Hearn says of the board portal implementation and training. "My greatest experience is viewing [the portal] as a one-stop shop for all board-related information. It's where we have all the board members' contact information, meeting schedules, and reference materials."
The Bottom Line
Colleges and universities are complex, multilayered organizations with vital missions. It's important for them to have an efficient, secure platform through which they can coordinate board business.
Board portals decrease the burdens on board administrators, freeing up time for them to tackle the multitude of other tasks they must address on a daily basis. The centralized access and scaled governance that board portals offer enable universities that oversee broad networks of schools, departments, and campuses located in different municipalities the ability to facilitate efficient communication and coordination.
Board intelligence solutions offer a secure platform for higher education institutions to collaborate, access, and share information. The best portals offer top-of-the-line security and permission structures that make it easy for administrators to designate and adjust access controls.
Finally, the best board portals are user-friendly and enable administrators to train new board members, giving them ample time to access and review documents prior to board meetings.
If your board is still using a paper-based meeting system, it's time to move to digital. The cost savings, efficiencies, and environmentally friendly approach make too much sense for a higher education board to dismiss.
Matt Maxwell is senior consultant, AGB OnBoard.
Opinions expressed in AGB blogs are those of the authors and not necessarily those of the institutions that employ them or of AGB.
Share on Twitter