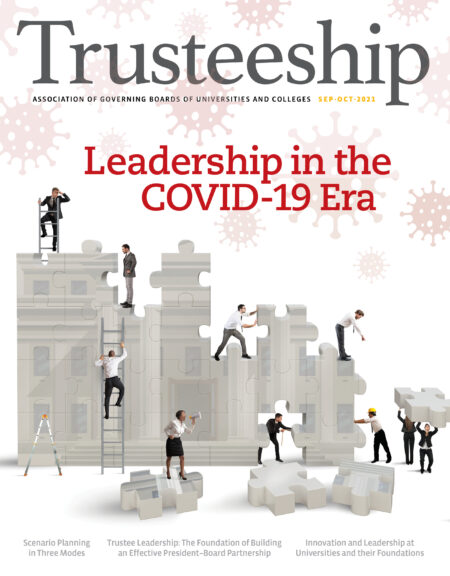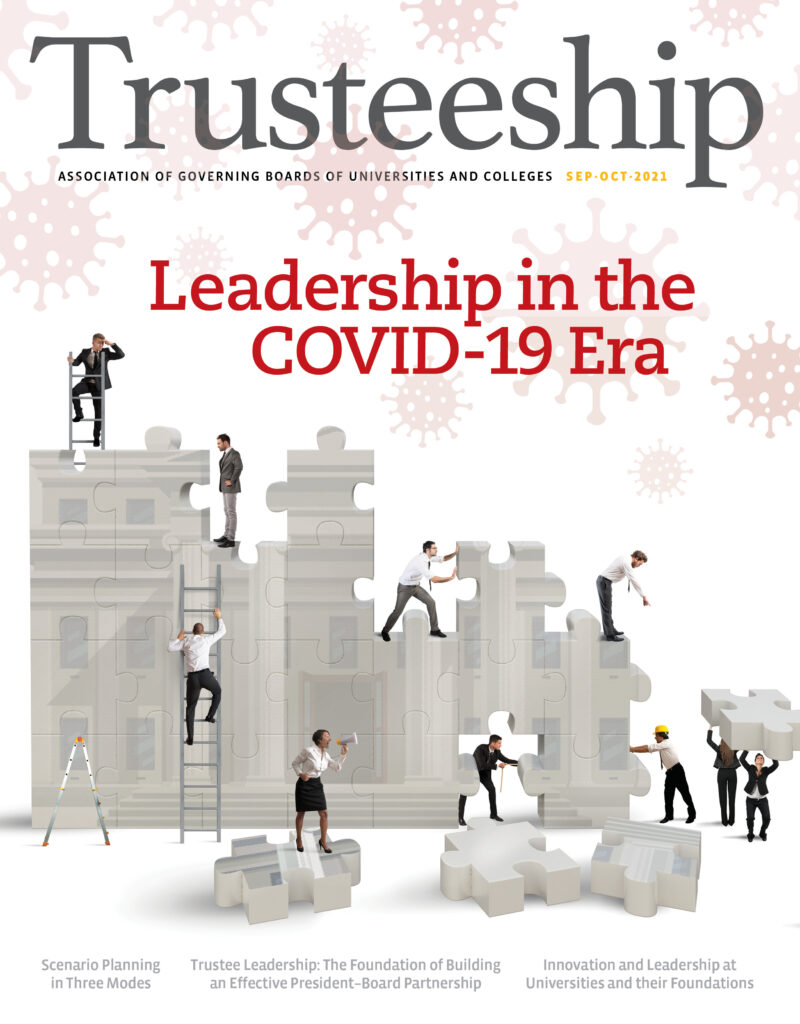 Takeaways
---
The COVID-19 era is characterized by the lingering health effects of COVID-19 and its variants, further disruptions caused by its second- and third- order consequences, and reemerging problems masked during the height of the pandemic.
Presidents with the right personal qualities for this time display grit, a focus on the business as well as academic sides of the enterprise, pragmatism, social intelligence, imagination, a team orientation, and integrity.
When recruiting new presidents, boards should secure hard evidence that the top candidates possess the essential leadership traits required for the COVID-19 era.
Incumbent presidents with the potential for highly effective leadership going forward should be supported in developing their leadership skills.
Following Franklin Roosevelt's inaugural speech and a conversation with the new president in March of 1933, conversation with the new president in March of 1933, Supreme Court Justice Oliver Wendell Holmes rendered judgment: "a first-class temperament." It is not clear if he was referring to Franklin or Teddy. Apparently, Holmes thought less of one of the Roosevelts' intellectual capacity since he qualified his praise with "a second-class intellect." But the venerable justice got it right in recognizing that personal leadership qualities upstage pure intelligence in fraught and uncertain times.
Today's challenges demand college and university presidents* display exceptional qualities of temperament, personality, and character to meet the realities of a time best described as the COVID- 19 era. This article suggests that relevant personal qualities top the list of qualifications when it comes to recruiting new leaders and supporting incumbent ones. It identifies seven leadership traits that together represent highly relevant characteristics for college and university presidents in this era. It concludes with strategies for recruiting leaders with these traits and for building leadership skills in incumbents who are willing and able to learn them.
The recommendations draw primarily from more than 200 confidential interviews focused on the performance of seven presidents with four to eight years at the helm of their current institution. Separate interviews of the president as well as trustees, faculty members, students, staff, donors, and others began just before the outbreak of the pandemic and continued through its later stages (October 2019 to May 2021). Several of the interviews occurred face to face, although the majority were conducted on a virtual platform.
In addition to commentary provided in individual and group interviews and separate conversations with presidents and trustees, other pertinent indicators of performance contributed to the findings. Presidents' self-assessments, annual performance reports to the board, prior evaluations, reports of actions initiated in response to the pandemic, and signature accomplishments provided additional evidence of performance, both effective and less so. Institutions represented included well-known research universities, public and independent institutions, liberal and creative arts colleges, as well as institutions within public university systems and those with their own independent boards of trustees.
Each review sought answers to three fundamental questions. How well has the president performed over the last two to five years, including but going beyond actions during the pandemic? What is their potential for leadership going forward? And what personal qualities appear to drive their performance?
Temperament, personality, and character are terms frequently used to describe leadership attributes. Temperament usually refers to one's basic approach to life inherited genetically; personality is often defined in terms of specific traits; and character points to distinctive features as in "strength of character" to refer to a person with backbone. In this article, I use terms like "personal qualities" to refer to the ensemble of these characteristics unless the context clearly calls for one of them.
The COVID-19 Era
The effects of the pandemic will not end like the last curtain fall on a disturbing melodrama. Public health experts hedge their predictions of the duration of the pandemic with highly variable factors such as vaccination rates globally and the virulence of new strains of the virus.1 No one really knows how long the health impacts of COVID-19 or the consequences of the pandemic will endure.
Current evidence favors a longer duration than anyone wishes. Variants to the COVID-19 strain are proliferating. Massive infection rates in India with its population of 1.4 billion, and in most developing countries, suggest the virus will not depart soon. Resistance to vaccinations in the United States and elsewhere may well delay if not preclude herd immunity from effectively eradicating the virus. At this writing, the highly contagious strain called the Delta variant is spreading rapidly. The unfortunate likelihood is that the pandemic in varying degrees of severity will be an unwelcome guest in our homes and places of work, often the same location, for years to come.
The immediate impact of the pandemic on colleges and universities has been much less severe in the near term than many feared in January and February of 2021—yet the numbers are dramatic enough. Community colleges have been hard hit with almost 10 percent enrollment losses. This compares to about a 4 percent drop for higher education overall. According to a Chronicle of Higher Education report, the higher education workforce dropped by about 13 percent, mostly from the ranks of lower-wage service workers. For the 650,000 people who were fired or furloughed and their families, the pandemic has been devastating.2
Even when health threats diminish, second- and third-order consequences of the pandemic and responses to it will shape the foreseeable future. Colleges are already experiencing the effects of preferences for and against distance learning, intensified competition in both virtual and physical space, and a loss of interest in the humanities in favor of health care and STEM disciplines. These trends were gathering steam before the pandemic, but COVID-19 accelerated their growth. Instead of imagining a post-COVID-19 return to normalcy, it is more realistic to expect a disrupted future full of surprises, a COVID-19 era.
A Crisis-Prone Business
Government relief measures, as welcome as they are, buy time but not solutions. They feed the habit of deferring tough choices until there are no choices left. The CARES Act (Coronavirus Aid, Relief, and Economic Security Act) of 2020, plus its supplement and this year's ARP (American Rescue Plan) channeled $77 billion to higher education, with about half of that amount committed to students. Welcome as these cash infusions have been, they do not right the structural imbalances plaguing many institutions.
Crises that hibernated during the height of the pandemic are reemerging with renewed vigor. Requiring vaccinations as a condition of returning to face-to-face instruction will not preclude a long list of campus-centric crises that demand foresight and leadership. The list includes instances of sexual abuse, alcohol- and drug-fueled violence, racial bias and conflict, hate crimes, cyberattacks, and athletic scandals to name only the most likely and impactful. Added to this list is the inevitability of emergencies ranging from floods and tornadoes to armed intruders to a possible renewal of the current or spread of a new pandemic.3
The punchline is that the lingering effects of the pandemic coupled with old problems reawakening will call for presidents equipped with the right temperament, personality, and character to meet the challenges of the COVID-19 era.
Crucible Moments for Presidents
The beginning of the COVID-19 era provides what David Brooks describes in The Road to Character as a "crucible moment." In Brooks' terms, it is the time of "testing" and "altering ordeals" that both reveal and contribute to the building of character.4 Most presidents earned praise for leading a rapid and effective response to the pandemic. "He put the health and safety of the students and the community first," was a common observation whether the president was thought to be highly functioning in other ways or not. The choice about continuing in the presidency arises as the pandemic seems to recede, but its long-term consequences remain both pressing and ambiguous. This reality precipitates the crucible moment in the lives and careers of many presidents.
Several presidents reported that the challenges of the pandemic rekindled their enthusiasm for the job. For others COVID-19 pushed them to a personal tipping point leading them to announce retirement or a return to teaching, if fortunate enough to hold a backup appointment as a professor. A third group preferred to let events unfold before making critical life, career, and family decisions.
One president said that the pandemic confirmed that she was exactly where she belonged at this point in her career. She had considered other positions, but the thought of trading a familiar set of challenges for new ones made little sense. She identified personally with the college's high-access mission and progressive culture. In addition to a sense of calling, she confessed to finding the challenges of the era, including disruptions beyond the pandemic itself, to be exhilarating.
After deep soul searching and conversations with a few close friends, another president chose not to seek a contract renewal. He was justifiably proud of his leadership during the early phases of the pandemic. "I got the college though a tough round of furloughs and layoffs," he said. His faculty members appreciated his decisions to put the safety of the community first above budgetary considerations. Having restored his university to a stable position as the pandemic receded, he felt it time to release the reins of leadership to a new president with a more vigorous outlook.
Crucible moments for presidents tee up questions for their boards. Trustees ask themselves if the person they hired for a different era has what it takes to lead in the uncertain years ahead. Vice presidents, deans, and members of the faculty are concerned as well since their careers and livelihoods hinge in some measure on the president's effectiveness. In recognition of the perilous times, presidents weighing their options often seek greater job security. Longer-term contracts and post-presidential sinecures in academic departments are on the table. Not surprisingly, the executive search business is booming. One search consultant said she expected turnover to mount as more presidents tire of the stress of the job and more boards think that the challenges ahead may demand "a different direction" than the incumbent can provide. The task of the search firm, she added, starts with helping the board identify the essential leadership traits for the future, then actively recruiting candidates who possess those traits.
Traits of Leaders in the COVID-19 Era
Seven personality traits combine to make up the right personal qualities for effective leadership in the COVID-19 era. This roster of talents draws from the more than 200 interviews and other evidence of presidential performance described earlier, as well as the author's experience as an advisor and performance coach for presidents and boards. The features include both hard and soft traits. It emphasizes the importance of both in the personality of effective leaders.5 The optimal personal qualities for the times feature resilience, pragmatic attention to the business side of the enterprise, sensitivity to the motivations and feelings of individuals and groups, the ability to reimagine the future, and the courage to champion the academy and its values.
Grit
Grit is composed of two components, according to psychologist Angela Duckworth, "passion and perseverance."6 Duckworth's research supports the view that grit trumps most other positive qualities when it comes to doing the hard work of leading in challenging environments. Leaders with grit display a steadfast commitment to goals, emotional independence, and the mental toughness to spring forward in the face of setbacks and criticism.
Enterprise Perspective
Enterprise leaders exercise their authority vigorously to enable their institution to adapt to a dynamic, uncertain, and highly competitive environment.7 This brand of leadership encompasses the entire enterprise, but emphases the business side without which the college and its mission are at risk. The enterprise mind-set appreciates that colleges and universities are not businesses, yet they need to be managed "like a business" in many respects. These leaders tend to be highly analytical. They insist on metrics to evaluate their own and others' performance, as well as the status of the enterprise itself. The personal qualities of enterprise leaders are akin to Ron Warren's depiction of personality traits of effective executives in general. In Personality at Work, Warren finds that successful executives are conscientious, achievement oriented, and harbor a thirst for innovation.8
Pragmatism
Pragmatic leaders will accept substantial success when total victory in not in the cards. They adjust quickly to changing circumstances without grieving over desirable options that are no longer possible. "Good ideas that work" are much preferred to ideals and strategies that offer little chance of success. They practice the art of the possible in pursuit of goals and prefer facts over models or theories of what ought to be.
Social Intelligence
Daniel Goleman popularized the term "emotional intelligence," defined as facility in recognizing and controlling one's own emotions.9 Social intelligence includes Goleman's notion of self-awareness but goes beyond it to recognize the ability to interpret the attitudes of others in a social and political context. Sensitivity to the politics of groups such as faculty senates, boards of trustees, and legislative committees are at home in the wheelhouse of socially adept executives. Leaders with this trait display empathy, likeability, and occasionally charisma. Introverts can be effective when they apply their habits of observation and reflection to interpreting behaviors in political and other social settings.
Imagination
Crises like the pandemic and its aftermath monopolize the attention of leaders, and nearly everyone else. Presidents with well-developed imaginations balance the demands of the moment with consideration of alternative futures. The philosopher Jonathan Lear says that "imagination's job is to help us live a creative life in response to the future" (emphasis added).10 Innovation is the outcome of imagination at work.
Imaginative leaders pay attention to external threats and opportunities that will emerge over time. Evolving dynamics such as changing student demographics and demands, the potential of new and emerging technologies, and the changing nature of employment and work are grist for their imagining and reimagining the future. They also solicit novel ideas from others and recognize valuable ideas and strategies whatever their source.
Team Leadership
Presidents need to recruit and develop teams that are diverse, assertive, and imaginative. As challenges facing presidents have mounted, so have expectations that presidents will assemble senior teams who work together to achieve common goals. The growing participation of first-generation, immigrant, and students from low-income and minority backgrounds creates the need for senior teams that reflect the life experiences of diverse student cohorts. The most effective teams include members who challenge the status quo and present alternatives to the chief executive's own ideas. The most effective executives welcome constructive disagreement. To the extent that very leader has limits in their repertoire of skills, a high-functioning team helps fill in the gaps.
Integrity
The habit of doing the right thing regardless of the short-term discomfort it might entail defines integrity. As David Brooks writes in The Road to Character, "if you don't have some inner integrity, eventually your Watergate, your scandal, your betrayal will happen."11 Unfortunately, this insight applies all too well to the presidents implicated in the wrongdoing at Penn State, Michigan State, Liberty University, and a host of other institutions where breaches of integrity caused lasting harm.
Leaders laboring in the vineyards of the academy must champion their institution's mission as well as the best values of the academy. Presidents who come to the job from business or military backgrounds can be especially credible among audiences skeptical of academic values. Making the case for academic freedom, tenure, high standards, student success, and the other social and economic virtues of higher education is most persuasive when it comes from the top.
Recruiting Leaders for this Era
Identifying the right personal traits is the easy part of the job. Recruiting executives who possess them is more challenging. Personal flaws hidden during the recruitment phase will surely reveal themselves soon after the candidate is hired. Penetrating superficial descriptions of candidates' strengths is the key to a successful search.
These practices will increase the odds of finding the right candidates for this era.
Actively recruit a small number of candidates with the relevant executive experience and attitude. Recruiting means seeking out those not actively in the market for a new position and persuading them to consider your presidency. This contrasts with the passive model of advertising in the usual outlets coupled with relying on the available candidates on a search consultant's rolodex.
Exercise candor in the announcement and other communications that specify the problems the successful candidate will need to address. Honesty early in the process helps weed out those aspiring to a presidency who are unprepared to embrace the rigors of the job.
Focus on the leadership traits such as those described in this article as the essential criteria for top candidates. Pedigree is important in the academic world, but it is no substitute for a history of performance that demonstrates genuine leadership in difficult circumstances.
Now that travel has become safer, consider campus visits and additional interviews with people not on the candidate's reference list. Face-to-face interviews will more likely uncover strengths and weaknesses that might not otherwise be revealed until after the candidate is on the job. Interviewers should seek evidence of character through questions like these: How does the candidate respond to pushback and failure? Does she or he appear to learn from mistakes? How does the would-be president handle difficult decisions and uncomfortable situations? Asking if the candidate has ever fired someone can be a telling indicator of the ability to make tough decisions.
Require professionally administered and interpreted personality assessments of top candidates. Compare the results with information gathered in interviews with their superiors, peers, and subordinates to confirm consistency between a candidate's rhetoric and their actual leadership qualities.
Supplement obligatory letters of reference with forensic investigation. This research seeks to uncover possible legal, ethical, or criminal elements in the candidate's past. Equally important it seeks evidence of grit, imagination, social intelligence, and other key traits based on a candidate's actual performance as distinct from testimonials in reference letters.
Consider top candidates' life history in overcoming adversity as indicators of strength of character and grit. This approach supports a serious consideration of individuals from disadvantaged backgrounds over the privileged who may have been denied the opportunity to develop perseverance though hard experience.
Developing COVID-19 Era Leaders
Supporting incumbent presidents with potential in developing their leadership capacity is a wise investment. In the author's experience, about 70 percent of current executives can benefit from leadership development. Another 15 percent—those who are already top performers—can improve somewhat through coaching and other forms of leadership growth.12 Lack of talent, blindness to their own faults, or a stubborn unwillingness to change afflicts the remaining 15 percent who cannot or will not learn to adapt to meet the demands of the COVID-19 era. A speedy and graceful exit for the last group opens the way for more competent leadership.
A leadership assessment, a personal leadership development plan, and follow-up actions to actualize the plan are the stepping stones on the path to converting a potentially able president to a truly effective one. The assessment part requires an external third-party review focused on the president, the board and governance practices, and the senior team. A personality assessment tool, such as the LMAP 360, helps in identifying strengths and areas for development.13
The goals of development need to be clear, practical, and few. Total personal transformation is unlikely. Instead, the target should be measurable improvement in the areas that can make a difference in the president's performance where it counts most.
Conclusion
Challenges of the COVID-19 era call for presidents with the right set of personal traits for leadership in this unique time. The most important responsibility facing boards going forward is to discuss the most relevant traits for their institution, then recruit an executive with those virtues or support the current president in developing them.
Terrence MacTaggart, PhD, is a senior consultant and senior fellow for AGB Consulting. He has held the chancellor's position at the Minnesota State University System and on two occasions at the University of Maine System.
Endnotes
Sarum Charumilind, Matt Craven, Jessica Lamb, Adam Sabow, and Matt Wilson, "When will the COVID-19 pandemic end?" McKinsey & Company, March 26, 2021, https://www.mckcom/industries/healthcare-systems-and-services/our-insights/ when-will-the-covid-19-pandemic-end.
Dan Bauman, "A Brutal Tally: Higher Ed Lost 650,000 Jobs Last Year," Chronicle of Higher Education, February 5, 2021, https://www.chronicle.com/ article/a-brutal-tally-higher-ed-lost-650-000-jobs-last-year.
Terrence MacTaggart, Crisis Leadership for Boards and Presidents: Anticipating, Managing, and Leading Beyond Pandemics, Disruptions, and Ethical Failures (Washington, DC: Association of Governing Boards, 2020).
David Brooks, The Road to Character (New York: Random House, 2015), 13–14.
Rich Karlgaard, The Soft Edge: Where Great Companies Find Lasting Success (San Francisco: Jossey-Bass, 2014).
Angela Duckworth, GRIT: The Power of Passion and Perseverance (New York: Scribner, 2016),
Terrence MacTaggart, The 21st Century Presidency: A Call to Enterprise Leadership (Washington, DC: Association of Governing Boards, 2017).
Ron Warren, Personality at Work: The Drivers and Derailers of Leadership (Chennai, India: McGraw Hill Education, 2017),
Daniel Goleman, Emotional Intelligence: Why It Can Matter More Than IQ (New York: Bantam Books, 1997).
Jason Kelly, "Life as We Know It," The University of Chicago Magazine 113, 3 (Spring 2021): 19.
David Brooks, The Road to Character, 12.
Terrence MacTaggart, "Developing Presidential Leadership Amid a Pandemic," Trusteeship, January/February 2021.
Ron Warren, Personality at Work: The Drivers and Derailers of Leadership, 23.
Share on LinkedIn