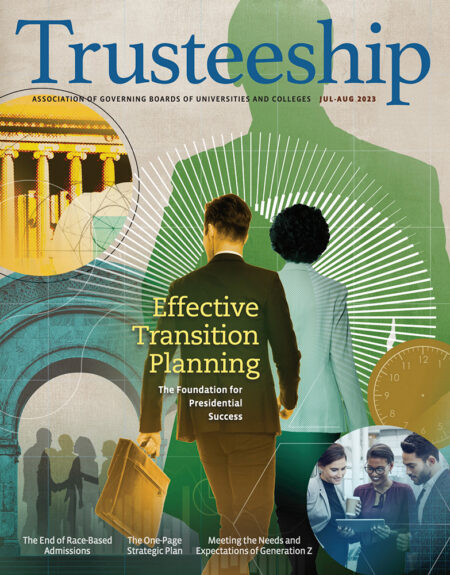 When you were growing up, I am sure you heard your parents or a teacher say, "Don't put all of your eggs in one basket." In my youth, I wondered why I wouldn't want all my eggs in one basket—after all, it would be easier to carry my eggs. With this thought in mind, I volunteered to gather eggs from my grandmother's hen house when I was about eight. Guess what happened? After collecting some glorious eggs, I tripped and broke them all. Grandma was not happy.
I begin with this story because it is not unlike some of the thought processes and scenarios institutions face today—placing all their educational eggs in one basket. With more institutions struggling to stay afloat, diversification of revenue streams is not only a good idea—it is necessary for sustainability.
Back in the late 1990s when I considered working on my doctorate while also working full-time as a single parent, I knew I would have to find a university that provided students with choices for access and scheduling. I did not have the time to drive to campus after a full workday, sit in class, then drive another hour home several nights a week. Thankfully, online education was becoming available, and I jumped at the opportunity to further my education with the flexibility I needed.
Fast-forward to today after the pandemic forced higher education leaders to pivot to online learning. For most, it allowed their institutions and students to continue; however, for some this was not the case. Institutions that had already dipped their toes into online learning did not have as much trepidation about this pivot. For those institutions that had not embraced this modality, however, the road was not as smooth. As with any industry, we in higher education must keep looking forward, try to visualize what is next, and prepare for different scenarios as best we can.
This is no different than in any other business. Consider Domino's Pizza. When I was in college, Domino's first burst on the stage as a quick and easy source of pizza at all hours of the day. Slowly, as more competitors emerged, Domino's began diversifying its offerings to include pasta, wings, sandwiches, and salads, etc. It also was an innovator in designing an app its customers could use to order pizza.
What does this comparison have to do with higher education? Just like Domino's, colleges and universities are facing fierce competition within and outside of their industry, with innovations that are being adopted quickly by their customers—the students. There are also elevated expectations among both students and parents of a solid ROI (return on investment) on the dollars they spend on higher education. The institutions that succeed will be those that innovate, adapt, and diversify to meet the expectations of their constituents, as well as the fiscal needs of the institution.
As noted in the third edition of RNL's book Strategic Enrollment Planning: A Dynamic Collaboration, "Institutions that develop strong strategic enrollment planning (SEP) systems will have the best chance of capitalizing on an increasingly turbulent environment." Diversification of revenue streams is one way to be prepared. What else can campus leaders do to help solidify their institutions' sustainability? One approach that we have observed in our work with hundreds of institutions is a significant emphasis on graduate education, especially professional graduate programs. This makes sense with the projected decrease in high school graduates and the opportunity to tap into groups of current undergraduate students, adults with an undergraduate degree, or those that stopped-out before obtaining a master's degree.
My colleague Todd Abbott, senior vice president of RNL, notes that diversification is critical for the sustainability of higher education; it is no longer possible for institutions to rely on the status quo. He notes that nearly 100 accredited institutions have closed since 2016 or are planning to close, often due to an over-reliance on one type of student or one mode of instruction. Institutions need to embrace different modes of instruction, such as online education, and consider innovative programs and services to meet the changing needs of students. By diversifying their offerings, institutions can better adapt to the changing landscape of higher education and increase their chances of long-term success.
As noted, online and graduate offerings are two principal areas for diversification, but Abbott stresses that there are three others for institutions to consider: the international student market, corporate partnerships, and non-degree programs.
The market for international students experienced a decline in the mid-2010s and was further impacted by the global pandemic. Despite these temporary disruptions, the United States still has the most sought-after education system in the world, so developing opportunities in this area can be a critical source of enrollment. The impact of this population on an institution's net tuition revenue also cannot be overstated. However, Abbott notes, institutions must have a well-thought-out plan in place and rely on data to guide their next steps if they are looking to pivot into international enrollment. Understanding how to use data effectively helps institutions make informed decisions, respond to changes in the market quickly, and use resources efficiently. By having a solid plan and being able to adapt to changing circumstances, colleges and universities can better position themselves to attract and retain international students to bolster enrollment as well as net tuition revenue.
Developing corporate partnerships can also bring several benefits for colleges and universities—creating new revenue streams, enhancing existing student opportunities, promoting research and innovation, enhancing faculty engagement, and building institutional reputation, all of which can be extremely valuable for today's smaller private colleges and universities. With thoughtful planning and execution, partnerships can really be beneficial to the long-term sustainability of an institution.
The trend towards instant gratification and the desire for flexible, on-demand education is also driving the growth of non-degree programs, Abbott notes. By offering short, focused courses that can be completed quickly, colleges and universities can attract students who may not be interested in committing to a full degree program. Non-degree programs can take many forms, from professional development courses and certifications to boot camps and online learning platforms. These programs can provide students with targeted education and training that can help them develop specific skills and advance in their careers.
For institutions, offering non-degree programs can be a smart way for institutions to diversify their academic portfolios, generate alternative revenue streams, tap into new markets, and, ultimately, stay competitive and adapt to changing student needs and preferences. Overall, non-degree programs represent an important opportunity for colleges and universities to expand their reach and impact and provide lifelong learning opportunities to learners of all ages and backgrounds. Just as an institution should not put all its eggs in one basket, non-degree programs allow learners to avoid putting all of their eggs into one basket too.
With many institutions looking immediately to online education and graduate programs, it is important to note that while online education can be a valuable tool for diversification, it is not a silver bullet. Institutions must carefully consider their online offerings and ensure that they align with market demand and student needs. Additionally, it is important for institutions to plan for the resources and infrastructure needed to support online programs, including faculty training, technology infrastructure, and student support services. Similarly, we know that the United States Department of Education projects that graduate enrollment is expected to remain flat or experience only a very slight increase over the next several years. And given the dreaded "demographic cliff" among younger students on the horizon, it is important to recognize where potential gains can be found. While diversifying graduate academic offerings can bring significant benefits, any new programs need to align with market demand and student needs, and the institution also must provide the resources to support them. Diversification requires a strategic, data-driven approach that considers both short-term and long-term goals and the needs of a rapidly changing higher education landscape.
In all of the five key areas that colleges and universities can explore to diversify their program and revenue streams, it is important to note that the approach should be tailored to each institution's unique situation and goals, as well as to each institution's mission. Institutions that strategically invest in diversification efforts are better positioned to weather challenges and succeed in a competitive and rapidly evolving higher education landscape.
---
Linda Hoopes, Ph.D., is vice president of Ruffalo Noel Levitz, LLC.
Share on LinkedIn