Trusteeship: January/February
Volume 29, Number 1 // January/February 2021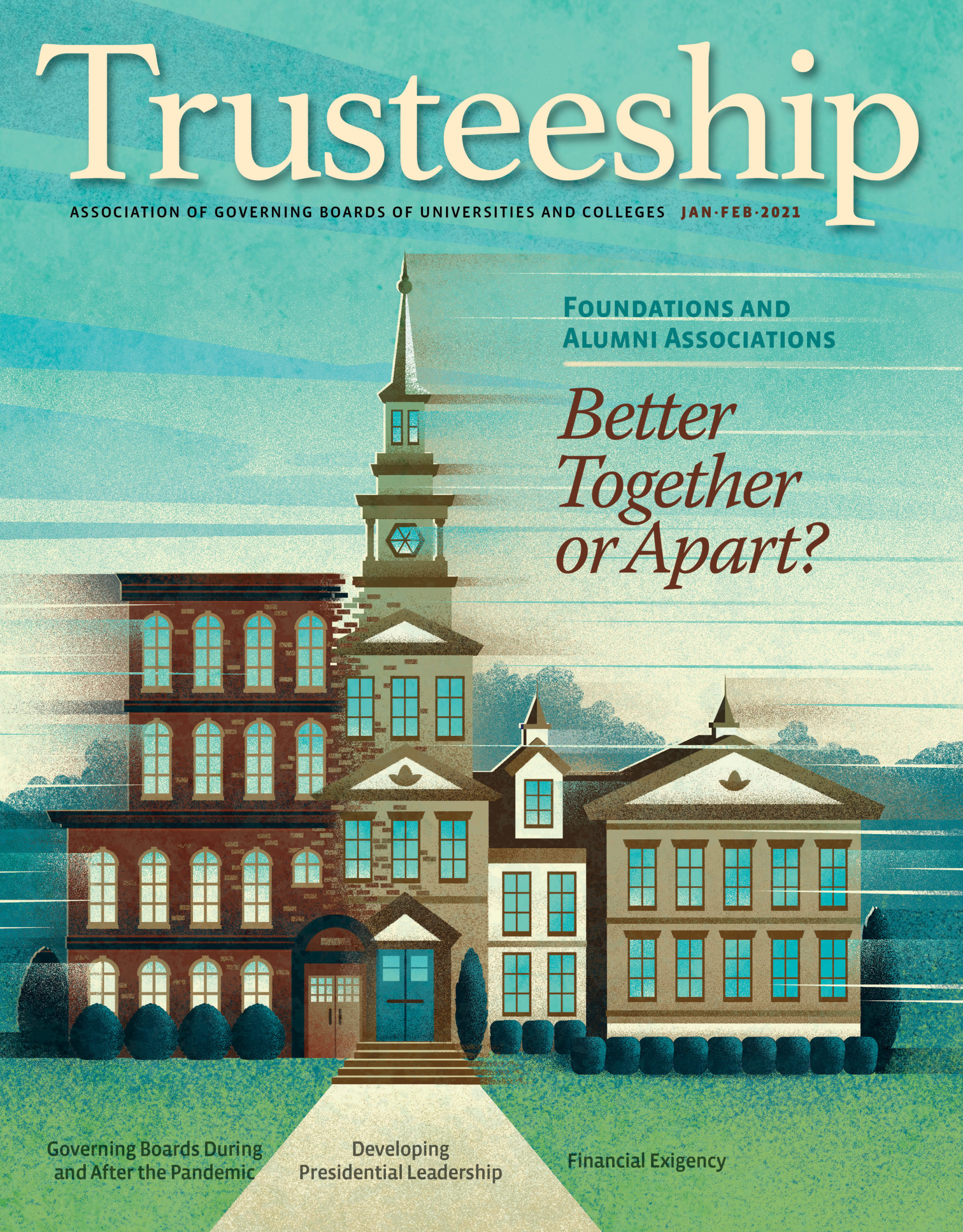 Table of Contents
Features
Foundations and Alumni Associations: Better Together or Apart?
By Christopher Connell
Alumni associations and foundations are evaluating opportunities varying from sharing operations to fully integrated alumni association-foundation models. Some institutions are taking steps to align the foundation and alumni more closely while some embark on a merger of both entities.
The Work of Higher Education Governing Boards During and After the Pandemic
By A. Lee Fritschler and Richard D. Legon
Higher education has been urged to consider meaningful change and transformation for nearly two decades. The unprecedented impact of the COVID-19 pandemic has brought an appropriate moment to ask and address a new set of strategic questions at the leadership level as higher education looks to meet the future.
Developing Presidential Leadership Amid a Pandemic
By Terrence MacTaggart
Crises like the COVID-19 pandemic are prime opportunities to engage in leadership development. Crises provide the motivation for presidents to develop their leadership skills in real time and make a positive difference for their institutions.
Beyond Incrementalism
By Susan Resneck Pierce
The COVID-19 pandemic has rendered colleges' and universities' traditional incremental responses to challenges insufficient. Governing boards and presidents must engage in scenario planning, reassess their strategic plans, and ensure their institutions are adhering to the best practices of shared governance amid the pandemic.
SPONSORED CONTENT
Your Most Important Endowment Decision
By Tim Yates
Why Boards Need to Prioritize Cybersecurity 
By Sebastian Hess
Departments 

On My Agenda
AGB's New Year's Resolution During Our 100th Anniversary
By Henry Stoever
News in Brief 
A sampling of national higher education news 
Inside AGB
AGB Launches New Initiative on Justice, Diversity, Equity, and Inclusion
AGB Releases New Book on Fundraising Campaigns
Legal Standpoint 
What Makes a Good Higher Education Lawyer?
By Steve Dunham
Forum 
Integrity in Managing Financial Exigency
By Michael Bérubé
View from the Board Chair
Shared Governance and Financial Exigency
By David Maxwell
A Question For… 
Davis Jenkins, a senior research scholar at the Community College Research Center
What Can Community Colleges Do to Succeed After the Pandemic?
By Elena Loveland