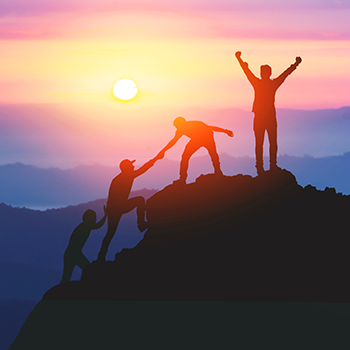 You are viewing the Institutionally Related Foundation version of this CEO Update. System and Institution versions are also available.
As a new foundation chief executive begins their tenure, their first 100 days are crucial to launching a process of listening to and engaging with their community, establishing their leadership priorities and expectations, building an effective team, and shaping their vision for the foundation's future.
A foundation board has an important role to play in supporting its chief executive officer's success in these first 100 days and beyond.
The foundation board must nurture, empower, and champion the new foundation chief executive officer, helping to set the tone for the executive's growth and authority in a new role.
Why it matters: While transitions in any leadership are disruptive, changes in foundation leadership can interrupt important relationships with donors and arrest the progress of campaigns. An anticipated wave of college and university presidential transitions may also trigger increased turnover among foundation CEOs.
Foundation boards must work diligently and collaborate closely with institution leaders to help ensure the success of new foundation CEOs.
Consider these recommendations.
Discuss the value of an executive coach. A first-time foundation CEO role can be profoundly challenging, requiring a new executive to forge a close partnership with the institution president and earn the trust of staff members who may be embedded in units across the institution. Further, sometimes the CEO is reporting to and working closely with a governing board for the first time, which brings its own set of challenges. The new CEO and board should discuss the value of an executive coach to help the CEO transition effectively.
Executive coaches are not only valuable during transitions. Just as executive coaches can be extremely helpful for new foundation board chairs and committee chairs, they can be effective confidants, advisors, and subject matter experts for foundation CEOs.
Go Deeper: Reflect on the value of an executive coach in transition, or anytime throughout the chief executive officer's career. To find an experienced coach for your current or new foundation CEO, contact AGB Consulting at consulting@AGB.org.
Initiate CEO succession planning as soon as the new leader is hired. The best time for a foundation board to start succession planning for the chief executive role is the first day a new leader is hired. This is not a signal of concern with the new leader, but rather an acknowledgment of the critical role they play in leading the foundation and supporting the institution.
Understanding the transition process in the moment offers the chance to learn what works and what doesn't, confirm who needs to be involved, and understand the potential pitfalls and missed opportunities.
Consider creating an ad hoc transition committee, and assign leadership of this committee to a seasoned member of the foundation board. Ideally, the transition committee will oversee the process prior to the first day and will continue to do so through the first 100 days. Ensure the composition of the transition committee covers the essential responsibilities of the foundation CEO.
For example, which member of the transition committee will help introduce the new CEO to the full board? First impressions, from both the governing board and the new executive, will inform priorities and expectations to influence a long-term, successful board-CEO partnership.
Which transition committee members have institutional knowledge that can help the CEO hit the ground running?
The transition committee may include members of the foundation leadership team, the head of the alumni association if separate from the foundation, campus leaders, and select foundation board members.
The transition committee's work is not unidirectional. To be successful, the new chief executive officer must play a role in asking pertinent questions, developing new relationships, and identifying and prioritizing constituents.
Avoid stepping into management. Foundations that have operated without a permanent chief executive for extended periods, either due to a sudden departure or a longer search process, may have had some board members step in to fill critical needs. Board members must give the new CEO their full support and allow them to establish their preferred operating methods.
Sometimes transitions can be rocky despite best intentions. During the normal course of events, the board should express its support for the CEO and work with the institution president as appropriate.
Although there are exceptions for negligent or improper behavior, the board should usually be the staunchest advocate of the CEO while holding them responsible for managing the foundation.
Go Deeper
 Questions for Board and Committee Chairs
What is the cadence of communication that you set with your new CEO?
How is the board collaborating with the institution president to onboard the new foundation CEO and ensure their success going forward?
If there is an ad hoc transition committee, what should its charge be, who should lead it, and who should be members? When should it sunset?
What opportunities from a CEO transition should the board consider?
Questions for Board Members
What advice can you share with your new CEO, and when is it appropriate to do so?
When was the last time your CEO succession plan was renewed?
What is the board's role in maintaining continuity between CEOs? How can it do so without overstepping into management?
Questions for Chief Executives and Leadership Teams
For current chief executives, what is your role in succession planning and CEO transitions?
For new chief executives, how will you develop relationships with key institution leaders, stakeholders, and constituents?
For new chief executives, how will you learn about foundation functions for which you may not have been responsible in your prior professional roles?
For leadership team members, how can you support transitions in a way that supports continuity with minimal unplanned disruption?
The first 100 days are not the end of a new CEO's transition. They are the beginning. With these recommendations in mind, I hope your board will plan for the first 100 days, and then the next 100. Determine what the CEO's first year might look like, and don't be afraid to adapt to changing conditions.
As summer approaches, I trust you will find an appropriate balance to stay both energized and relaxed in your work. Take advantage of these next few months by perusing a book you find during our pre-summer sale. Then share what you learned with your fellow board members!
Share on LinkedIn