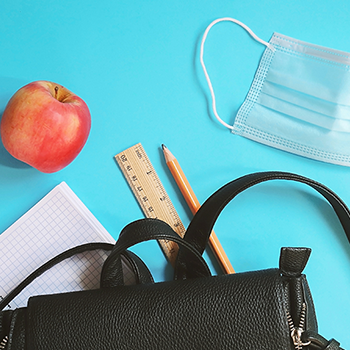 You are viewing the System version of this CEO Update. Institutionally Related Foundation and Institution versions are also available.
Welcome to a new academic year! The buzz of students, faculty, and staff on campus is invigorating, and I trust you will take some time to experience the energy that permeates the heart of your campus community. Given the time of year, I encourage you to reflect upon your system board's role in overseeing the health of your students, faculty, and staff.
The obvious place where many boards will start is the ongoing response to the pandemic. The past few years have been a whirlwind, upending the normal campus routine and related health policies. Despite the fact that many vaccine and mask mandates have ended at the state and federal levels, COVID-19 continues to infect—and reinfect—members of your campus community. Although the pandemic has transformed into a minor concern for some, the consequences for those most affected are still echoing throughout our lives.
According to a recent Trusteeship magazine article, the Center for Collegiate Mental Health at Pennsylvania State University reported that 94 percent of surveyed students indicated COVID-19 has negatively impacted at least one area of their lives. For example, consider the pandemic's effect on new freshman students coming straight from high school. Some of these students have spent more time behind a computer than face to face in a learning environment, and some experts are concerned about the learning loss, both academically and emotionally, that stemmed from missing in-person participation. Unfortunately, some of these students may not be as prepared as previous cohorts to engage in the college experience without additional support. Gathering information about how this issue is affecting your campuses can yield important insights as your board oversees student success.
As much as the COVID-19 pandemic has dominated the campus health conversation, it would be a mistake for boards to focus exclusively on the pandemic. The U.S. Supreme Court's recent opinion in Dobbs v. Jackson, overturning Roe v. Wade, has broad implications for students and staff, influencing the way that colleges and universities recruit, enroll, retain, and engage with stakeholders across their campus communities and health centers.
Reviewing system health policies is an opportune time to discuss the effect that campus health has on student success. I encourage boards to use the diversity of their members' experiences to understand the impact of health policies on the various stakeholder groups on campus, from those with disabilities to those caring for loved ones, to ensure all can flourish. System boards especially need to consider what health policies are systemwide and what may need to be campus-specific based on institutional contexts.
Questions for Board and Committee chairs
Do you plan to discuss campus health in your future board and/or committee meetings?
How are your board and committee receiving information regarding campus health outcomes?
Questions for Board Members
How are campus health policies intersecting with your oversight of student success?
What barriers to accessing mental health services exist, and how can your board policies help overcome these barriers?
Does your budget adequately account for system needs for mental and physical health, especially when considering each specific institution's context?
Questions for CEOs and Leadership Teams
What information do you share with your board to provide a comprehensive picture of physical and mental well-being?
Has your administration explained to the board the broad strokes of the current regulations surrounding Title IX and sexual harassment, and the strategic implications of the recently proposed regulations? For insights regarding the U.S. Department of Education's recently proposed Title IX regulations, please read AGB's latest Policy Alert.
Nominations Open for the AGB John W. Nason Award for Board Leadership
Each year, AGB recognizes select governing boards that have demonstrated innovation and exemplary leadership with the John W. Nason Award for Board Leadership. Nominations are now open, and institutions, systems, and foundations are invited to apply. This year, special criteria will focus on board leadership that has resulted in the advancement of the educational mission and the success of all students in just, equitable, and inclusive ways. Recognize your board's exceptional leadership by submitting your nomination by October 14, 2022. Learn more and apply at AGB.org/Award.
Thank you for your hard work and commitment to serving as consequential, strategic thought partners focused on long-term institutional vitality and student success—for all students. To empower your efforts to govern with knowledge and confidence, please visit your Personal Home Page and engage in the other new, complimentary AGB member benefits, available now.
Share on Twitter