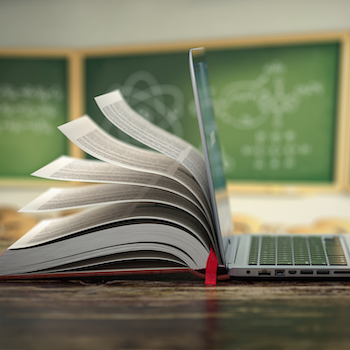 What role will technology play at your traditional college going forward? How will it help you achieve that ever elusive scale you have been seeking? Most private college trustees and presidents have been asking themselves these two questions recently, even if not out loud.  
In a matter of two weeks in 2020, colleges that had resisted teaching online for two decades became proficient in online and hybrid learning and have been using these platforms for nearly two years.  
Now what?  
Do traditional universities reflexively jettison the two-dimensional world for completely in-person engagement? Do they remain completely online? Or is there some combination of the two? 
Two Lessons from the Pandemic 
When it comes to remote teaching and learning, there are two great lessons from the pandemic:  
Those who resisted teaching online for decades were right. It's not the same. 

 

Those who championed online education were also right. It's a lot better than we knew. 

 
Three Benefits and Limitations of Online Learning  
The benefits and limitations revealed during this forced experiment can be broken down into three categories: 
Content:

Conveying and accessing content has not been the province of the classroom for some time now. Students long ago mastered the internet to find the information they need to succeed in class. During the pandemic, our traditional colleges simply added to the number of ubiquitous online resources.

 

Concepts:

Gaining nuanced understanding of complex subject matter was more challenging for some and impossible for others studying remotely. The difference among various learning styles became more obvious during this period, and the benefits of personalized attention were exposed.

 

Community:

Most students and faculty missed the informality of bumping into one another in the hallways, stopping by for office hours, and the authenticity of physical presence. 

 
Neither "online" nor "in-person" are adequate categories to hold all of these attributes together going forward, however. We need a third way of thinking about what we do now: Connected Learning.  
Connected Learning emphasizes the strength of the relationships that students make with one another and with faculty on the traditional campus. As we now know, technology doesn't impede connectedness, it facilitates it, especially when distance or disease make sitting together in a seminar room impossible.  
Three Types of Educational Offerings 
A holistic approach to Connected Learning requires us to convert the three insights from the pandemic into three complementary types of educational offerings. Together, they create a student experience greater than any one of them can create alone.  
1. Transactional: It's time we come to grips with the fact that our students are learning calculus on Khan Academy, history on Crash Course, and physics from an MIT professor on YouTube. Most private colleges will never be able to compete with these outlets, but we should learn from them and join them. We still have a responsibility to convey content. But of all the things we do, this is the most scalable.
Now that we have learned to use technology more effectively, let's use it for what it is really good for, conveying content once and having it repeated without human intervention for as many students as possible. This will allow us to focus on what we do well, increasing and deepening understanding.
2. Translational: Simply conveying content is not enough. This is where we begin to see the advantages of mixing in place-based and in-person educational interactions. Even though some of the most complex laboratory experiments and explorations can be done virtually now, hands-on work in the presence of a teacher or tutor still exploits those cognitive connections between learning and doing in ways that are harder to replicate online.
Be specific about the points of the student journey when a carefully crafted balance of remote and in-person interaction may be necessary. Labs, service-learning, internships, week-long intensives, and even office hours come to mind. Capitalize on what can be done efficiently with one or with many online and invest the time and attention reclaimed into making the in-person encounters even richer for students grappling with and trying to internalize complex concepts.
3. Transformational: Most of us think about private colleges as being particularly effective at guiding students through meaningful transformations. This is the real payoff of residential colleges. Imagine how much better we could be at this particular part of the college experience if we became more proficient at delivering content online, concept comprehension experiences in a hybrid format, and saved the bulk of in-person and residential education for those experiences geared to help students clarify and achieve their aspirations.
Undergraduate research, faculty mentoring, residential life, athletics, and student development are all examples of experiences that could be more intentionally designed to help students identify pathways for growth, pursue those pathways with built-in accountability, and sustain the life-changing effects with re-engineered alumni development and lifelong learning initiatives.
For so long, many private colleges felt as if using technology would compromise personal transformation as the hallmark of independent education. But it doesn't have to. It can, in fact, have the opposite effect, freeing us to get even better at it.  
David Rowe, PhD, is AGB Consulting's practice leader for private higher education and foundations. Previously, he served as the president of Centenary College of Louisiana, the president of Lake Highland Preparatory School, and interim president of Lancaster Theological Seminary. 
Join David Rowe and Vice Chancellor of Online Operations at South College Amy Hilbelink for our complimentary webinar Beyond Zoom: How Private Colleges Can Use Technology to Scale at 11 am on December 16th.
Opinions expressed in AGB blogs are those of the authors and not necessarily those of the institutions that employ them or of AGB.
Share on Twitter