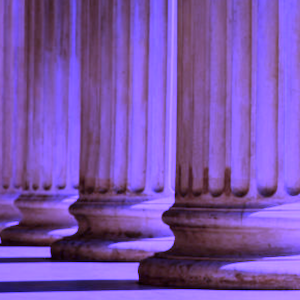 On June 30, 2023, the U.S. Supreme Court struck down the Biden administration's student debt relief plan.
While the plan provided up to $20,000 in individual debt relief to eligible Americans through its interpretation of the secretary of education's authority to waive or modify the existing student financial assistance provisions of the Higher Education Act (HEA), the Court, in a 6-3 decision, held that the secretary of education does not have the authority to modify the HEA to the extent of canceling $430 billion of student loan principal.
What Board Members Need to Know
Chief Justice John G. Roberts Jr. delivered the Court's majority opinion and argued that while the secretary of education could "waive or modify" existing HEA provisions authorizing financial assistance programs under the authority granted to the secretary in the Higher Education Relief Opportunities for Students (HEROES) Act, moving to provide so much debt relief would be considered rewriting that statute from the ground up.
According to the chief justice, "statutory permission to 'modify' does not authorize 'basic and fundamental changes in the scheme' designed by Congress." The secretary's modifications "created a novel and fundamentally different loan forgiveness program."
The Biden administration had argued that the HEROES Act gave it the authority to waive or modify statutes that determine federal student loan programs during emergencies like the COVID-19 pandemic.
Six Republican attorneys general brought the suit, arguing that the secretary of education lacked the authority to forgive federal student loans under the HEROES Act.
After the Court's decision, the Department of Education announced its intent to conduct negotiated rulemaking pertaining to authority under the HEA, rather than the HEROES Act, to provide loan forgiveness. The department will be seeking to regulate the authorities granted under Section 432(a) of the HEA that allow the modification, waiver, or compromise of federal student loan provisions. This process, which is likely to take many months, entails a public comment period that includes written submissions and hearings that started on July 18.
Borrowers are expected to begin repaying their loans after October 1, 2023. The Department of Education recently announced a 12-month "on-ramp" period to help borrowers ease into repayment. Payments will be due and interest will accrue during this period but will not capitalize at the end of the period. Additionally, borrowers will not be considered delinquent, will not be reported to credit bureaus, and will not be considered in default during this period. Nor will borrowers have their loans turned over to debt collection agencies.
Student debt relief will continue to be a political issue in the 2024 elections. Given that the Court has blocked the Biden administration from providing such relief under the HEROES Act and the administration is pivoting to its authority under the HEA, the political tensions on this issue remain high.
There is insufficient support in Congress to move forward on this issue in a bipartisan manner. Expect opponents of the administration's new approach to challenge it in court when it comes out and Congress to not play a role until after the 2024 elections at the earliest.
The Biden administration also finalized its new income-driven repayment plan after the Court decision.
Why This Matters
The decision once again highlights questions regarding the value of higher education to the public. The White House claimed that the plan would have canceled the full loan debt balance of roughly 20 million borrowers. However, many experts agreed that the plan was not a solution for future student debt challenges.
Student loans are an important conversation topic for governing boards. AGB outlined the impact of the president's loan program In an earlier policy alert. Subsequently, AGB Council Ambassador Lisa Foss and the Council for Student Success described the linkage between student debt and student success. Student loan debt can have serious negative consequences for institutions' student success efforts.
Governing boards should seek not only to understand the levels of debt that their students are accepting but also to recognize the impact that debt has on retaining and graduating students. Just as important, boards should understand the effect that loans have on students even after they leave the institutions.
To gain a greater understanding of this impact, disaggregating student data can highlight specific challenges that different student groups face, based on race, ethnicity, income, gender, and other characteristics.
High levels of student loan defaults will negatively affect an institution's cohort default rate, a government metric based on the number of borrowers entering repayment, that is used to help institutions manage their student loan default rates. This could jeopardize institutional access to Title IV funding.
Given that the student loan payment pause has continued since March 2020, default rates will be uncharacteristically low for another year or two. Boards should ensure that their institutions' administrations are monitoring their cohort default rates and updating their boards as necessary.
Questions for Board Members
What is our institution's cohort default rate? How is that rate likely to change over the next three to five years?
What is the median level of student loan debt for enrolled students disaggregated by program, year, and other student characteristics such as race, ethnicity, gender, and income?
How does student loan debt affect borrowers' ability to remain enrolled, graduate, and be economically successful after graduation?
What is an acceptable level of student loan debt for graduates of our institution?
How many students withdraw due to overwhelming costs?
What can the institution do to reduce costs to students?
What is our tuition strategy and how does it support our goals for student success?
What advocacy measures has the institution taken to lobby state or federal lawmakers to better support student and institutional needs?
Additional Resources
"Biden, President of the United States, et al. v. Nebraska et al.," Supreme Court of the United States. June 30, 2023.
"Supreme Court Blocks Biden's Debt-Relief Plan," Inside Higher Ed. June 30, 2023.
"Linking Student Debt and Student Success," AGB. August 2, 2023.
AGB Policy Alert: President Biden and Department of Education Cancel Some Student Loan Debt, AGB. September 7, 2022.
"On My Agenda: Institutional Vitality in an Era of Student Debt Crisis," Trusteeship magazine. November/December 2022.
Share on LinkedIn