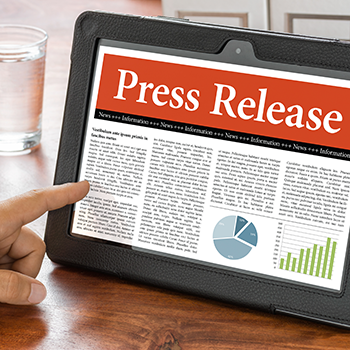 For Immediate Release
CONTACT:
Morgan Alexander
media@AGB.org
202-776-0853
WASHINGTON, DC (November 15, 2022)—The Association of Governing Boards of Universities and Colleges (AGB) announced today that it has launched the first-ever digital toolkit to equip higher education governing boards to proactively oversee equitable student success. AGB is the premier organization advocating strategic board governance in higher education. 
The toolkit is the first multi-media suite of resources specifically designed to address the board's responsibilities for student success, paying special attention to issues of equity, inclusion, and belonging. A team of governance and equity professionals developed the toolkit with support from a distinguished advisory group of student success experts and the Bill & Melinda Gates Foundation (Gates Foundation).  
The toolkit offers elements such as leadership principles, a guide to board responsibilities, a planning playbook, and other resources to educate, inform, and inspire governing boards to address equitable student success across their campuses in collaboration with their chief executives, administration, and faculty. Together, these elements form an actionable learning strategy that sharpens board governance policies, practices, and priorities while also elevating campus-wide student success initiatives.  
 The toolkit includes: 
A

planning playbook

that helps boards map out their progress from goal setting to implementation, and includes strategies, tactics, and guided questions to achieve desired outcomes.

 

A

board responsibilities matrix

that describes the intersection of board duties and equitable student success efforts, and includes real-world examples. For instance, as part of the responsibility for selecting and evaluating the chief executive, the board should consider incorporating equitable student success metrics into recurring CEO assessments. Users can look to the Minnesota State Board of Trustees or the Arizona Board of Regents as examples for implementation.

 

A set of

leadership principles

to focus board work on equitable student success and steer boards toward effective outcomes.

 
AGB plans to add additional resources in the future, including specific workshop tools tailored to guide boards as they monitor the progress of their strategic priorities. 
"The bottom line is that boards need to understand that equitable student success is part of essential board responsibilities, not something extra," said Merrill Schwartz, PhD, AGB senior vice president for content and program strategy, who served as a co-director of the project. "Boards' leadership and support are critical to campus-wide efforts to improve equitable student success, and complement the work of faculty, staff, and senior leaders." 
In recent decades, higher education's students have grown more diverse in age, race, gender, ethnicity, economic status, geography, and more, but the strategies and practices of many colleges and universities have not sufficiently evolved to align with the needs of their students. In some cases, to address institutional sustainability, identity, and mission, governing boards may have to advocate major transformation to strengthen diverse student recruitment, retention, and graduation rates while also bolstering inclusion, belonging, and campus climate.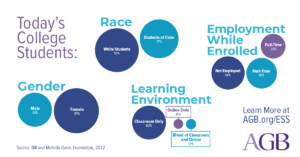 "This resource is a key element of AGB's justice, diversity, equity, and inclusion initiative," said Henry Stoever, AGB president and CEO. "When I started at AGB, the Board of Directors, staff, and I incorporated student success into the association's vision. Since then, we have worked to create practical, accessible tools and resources to help governing boards and their members oversee equity and related issues across their campuses. I am thankful for our advisory group partners, the Gates Foundation, our project leaders, and staff for their hard work, determination, and inspiration." 
Public debate about the relevance of higher education necessitates stronger evidence of its value to students, society, and employers. Cultivating equitable student success furthers institutional mission, vitality, and value, which collectively contribute to a well-prepared citizenry. It also enables students to engage in civil discourse and apply critical thinking skills that will strengthen the economy and our society. Governing boards have fiduciary duties that make them ultimately accountable for ensuring equitable student success, tasking them to exercise consequential oversight, inspire change, and develop sustainable solutions to overcome current and emerging barriers. 
"This is a terrific opportunity," said Carlton Brown, EdD, AGB senior consultant and practice area leader for justice, diversity, equity, and inclusion, who served as another co-director of the project. "Equitable student success is the transformational product of intentional board engagement and commitment to continuous learning. Focusing board attention on long-term goals for equitable student success will mean board members and other leaders will make more sustainable, data-driven decisions that benefit students, the institution, higher education, society, and the economy." 
Please visit AGB.org/ESS to learn more about how governing boards can commit to advancing equitable student success at the board, institutional, and community levels. 
About AGB 
The Association of Governing Boards of Universities and Colleges (AGB) is the premier membership organization that strengthens higher education governing boards and the strategic roles they serve within their organizations. Through our vast library of resources, educational events, and consulting services, and with 100 years of experience, we empower 40,000 AGB members from more than 2,000 institutions and foundations to navigate complex issues, implement leading practices, streamline operations, and govern with confidence. AGB is the trusted resource for board members, chief executives, and key administrators on higher education governance and leadership.
###
Share on LinkedIn