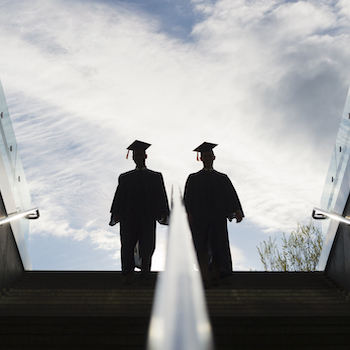 A recent meeting of AGB's Council of Board Professionals focused on the concept of shared governance from the unique perspective of the board professional position. During the meeting, David Maxwell, PhD, AGB senior consultant and senior fellow, defined collaborative shared governance as bringing all campus constituencies together to make big decisions. The traditional definition of shared governance only includes the board (oversight of the institution), president (day-to-day management of the institution), and faculty (responsible for the work of the academy) and their areas of shared responsibility for decisions affecting the institution. While the board is the ultimate authority, it delegates responsibility for key decisions and actions to the president, and it expects the president to defer to (and leverage) faculty expertise in academic matters.
Today, shared governance is often envisioned as a highly consultative process, and that is logical. To paraphrase Maxwell, a college is, by definition, a community of smart people. Why wouldn't you ask everyone what they think? But, by the same token, leaders must ask: Is consultation an end or a means to an end?
Augustana College President Steven C. Bahls' taxonomy of shared governance consists of four perspectives:
Equal rights
Consultation
Rules of engagement
Shared responsibility and strategic alignment
COVID-19 has prompted a great example of collaborative shared governance for many colleges and universities. At many institutions, the COVID-19 response team has included representatives from across campus regularly coming together to inform and/or determine the next steps related to the pandemic. The president, faculty, staff, students, and the board have benefitted from clear, shared safety objectives in service of the educational mission, and in many cases these constituent groups have gained a fresh perspective on how to work well together and communicate with the rest of the community. Now, as we learn to live with COVID-19, the lessons (skills and competencies) gained from these experiences require reflection and intention if they are to extend beyond these special task forces. The board is ultimately accountable for ensuring shared governance is effective and should be discussing this topic with the president.
How does shared governance apply to the institution-foundation relationship?
Every time we talk about foundation-institution "alignment," as in "alignment of priorities," we are also talking about shared governance. Any time multiple entities can legitimately claim responsibility for decision making—and this applies quite well to an independently incorporated foundation and its relationship to a university or system—you have a shared governance situation.
Shared fundraising and investment policies and procedures are the basis of the relationship. Any major revenue-generating undertaking between the institution and the foundation needs to be consultative, and both should identify it as a priority. Typically, a memorandum of understanding between the foundation and the institution codifies this principle. However, the relationship between the two entities is based on much more than paper. A collaborative spirit is essential to success.
How does shared governance apply to board professionals?
Board professionals frequently embody key connective tissue among the board chair and board, the president, and other constituents who have business before the board. Especially at a foundation, they are frequently able to "speak" both advancement and academic dialects and translate meaning to help everyone understand the issue at hand. Typically, board professionals are also highly organized and share responsibility for procedural integrity in ensuring discussion matters move forward.
Meg Evans currently serves as AGB's interim assistant director of programs. She is an experienced board professional in the public institutionally related foundation space and has served AGB in a volunteer and advisory role for many years as part of both the Board Professionals Leadership Group and the Council of Board Professionals.
Opinions expressed in AGB blogs are those of the authors and not necessarily those of the institutions that employ them or of AGB.
Share on Twitter