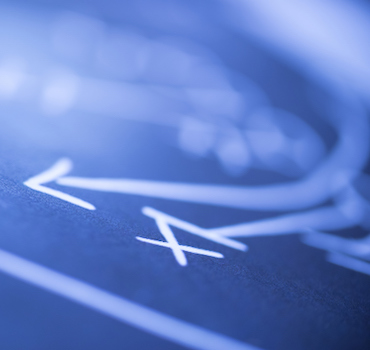 Paul Friga, PhD, is our AGB Consulting practice area leader for strategic transformation of public higher education and the clinical associate professor of strategy at the Kenan-Flagler School of Business at the University of North Carolina at Chapel Hill.
November on college campuses is a special time. We are past midterms and looking forward to finishing the first semester classes and getting ready for the holidays.  With that in mind, I am jumping forward to dedicate this month's blog to New Year's Resolutions for universities and colleges.
While the pandemic has caused much pain in higher ed (lower enrollments, financial strains, student/employee physical and mental health issues), it has also given us the green light to make some long overdue changes (more online education, virtual work arrangements, and fiscal discipline).  With that in mind, I would like to explore how we could carry the momentum for positive change into long overdue changes in governance – at the board and campus level as shown below.  My suggestions are based upon my experience as a trustee at Saint Francis University, executive board member of the UNC Athletics Educational Foundation (Rams Club), and even as chair of the Pastoral Council of a Catholic Church in Indiana.
Resolutions for Improving Board Governance:
Get More Strategic

Clarify your role related to strategy, performance monitoring, and accountability (focus on oversight)
Invest more time in strategic discussions and less on operations (goal of at least 30-50 percent of discussion time on these topics)
Discuss new strategic imperatives of the modern era (new macro trends, university focus and differentiation, long term financial planning, new student segments, new offerings, M&A, multiuniversity partnerships, and public-private-partnerships). I offer some specific ideas as to process and content to consider in the November/December issue of Trusteeship  – Time for a "Strategy Refresh" for Your University.

Restructure the Board

Move to a more ad-hoc structure based upon current issues and strategic priorities (likely will have to keep the executive, finance, and audit committees).
Recruit more diverse profiles and talent (increase diversity and specialized skills). For more details, check out this article in the September/October issue of Trusteeship: Increasing Diversity on the Boards of Colleges and Universities.
Meet more often virtually and in-person (leverage new technologies).

Increase Representation of Faculty, Staff and Students

Include campus reps at board meetings, including committees, in nonvoting roles to increase transparency and quality of input.
Spend time on campus with employees and students to learn more about their perspective and understand the culture.
Educate all constituents on the unique aspects of higher education governance. I highly recommend Jim Dean's book for this purpose:  The Insider's Guide to Working with Universities.
Resolutions for Improving Campus Governance:
Get More Strategic

Clarify your role related to strategy, performance monitoring. and accountability (yes, this is the same resolution for boards, but this focus is on execution).
Articulate the strategic vision, priorities, and initiatives on a multiyear basis and tie to resources and ROI.
Create strategy leadership positions and consider third-party resources (consultants, tech firms/software, etc.) to supplement your efforts in this space.

Examine Your Cabinet, Vice President/Vice Chancellor Structure

Take inventory of names/positions/descriptions/salaries of high-level administrators on campus.
Benchmark against peers – for example, see a sample of such work performed for a client that was interested in examining the key cabinet reporting structure.
Eliminate/restructure positions as needed for the modern environment.

Manage upward

Change the nature of meetings to be more efficient and send carefully crafted executive summary points with supporting data succinctly organized.
Focus on objective performance metrics around top priorities and report out regularly.
Think long term and offer creative hypotheses for change.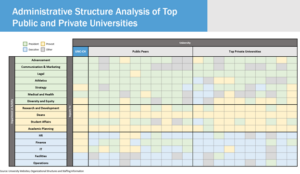 Help from AGB. 
I am the AGB Consulting practice area leader for Strategic Transformation of Public Higher Education and stand by to review your current strategic plan, identify your market differentiation, and consider ways to invest according to key priorities. I am available to schedule an hour-long call, at no cost, to review your situation — just email me at pfriga@agb.org .
Given the urgency of the times, I am hosting a special AGB monthly workshop program, "Strategic Transformation," exclusively for board members and presidents.  Our next workshop is directly related to this topic, and we are featuring two of the country's experts on governance!  You can register for "More Effective Governance Structures" here.  For more articles, slide decks, and videos on suggested strategies for your university, visit my website.
Opinions expressed in AGB blogs are those of the authors and not necessarily those of the institutions that employ them or of AGB.
Share on LinkedIn