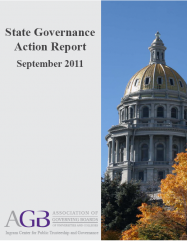 The latest State Governance Action Report (SGAR) covering current or just recently completed legislative sessions. Among the most important issues being considered are management autonomy, such as relaxed rules for purchasing, procurement, and human resources, and greater fiscal autonomy measures such as carry-over budgeting and greater tuition-setting authority. The 2011 legislative cycle and the 2012 fiscal year have prompted increased state action around several issues, but most prominent are the inter-related themes of:
• Managing state budgets, instituting performance-based funding, and implementing state-planning imperatives;
• Restructuring governance and statewide coordination;
• Decreasing state regulation and increasing institutional autonomy; and
• Advancing student success by increasing the number of college degree and certificate holders, improving graduation rates, and workforce preparation.
As state funding continues to decline as a percentage of institutional revenues, statewide governance and coordinating structures are under increased pressure to leverage performance improvements (of which college degree completion remains primary) and advance overall responsiveness to state economic and social needs.
Publication Year: 2011